Bay-based photographer Mark Hergan enjoys capturing life on the Chesapeake Bay, especially large ships near the Port of Baltimore, traditional log canoe sailboats, and other sailing regattas. We recently asked Hergan to share a bit about his boating and sailing experiences as well as his work behind the lens. He did, recounting many adventures and expressing his deep appreciation for the people who gave him guidance and opportunities along the way.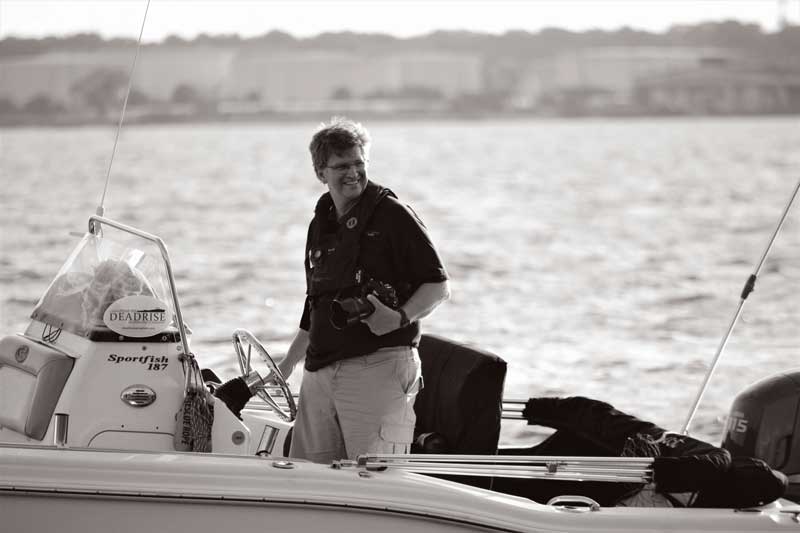 Mark Hergan
An introduction to the water
Hergan, who grew up in Linthicum, MD, was introduced to the world of angling at a young age when visiting his grandfather who lived in northeastern Pennsylvania.  However, his real introduction to boating, sailing, and marina life came later, when his father volunteered at Baltimore's World Trade Center on the observation deck. Hergan, then a young teenager, often came along, eventually landing a job at a waterfront kite store. The owners of the kite shop also hired him to clean their sailboat, which was docked nearby. Although he wasn't ever leaving the dock, Hergan became a steady reader of books and magazines about boats and boating. 
The opportunity to put his book knowledge into practice came while Hergan was a student at St. Mary's College in southern Maryland, where he was a founding member of the college's Offshore Sailing Team. Taking care of boats on the campus waterfront, Hergan worked his way up to supervising a whole fleet of boats, proving himself to be a reliable crew captain who could also fix just about anything. This combination made him a sought-after crewmember and boat manager. 
When asked about his apparently natural leadership and seamanship abilities, Hergan modestly replied, "Mostly I just wanted to do whatever it took to get more people involved in boating and sailing and for them to have a good time on the water and want to come back."
As the sailing program developed at St. Mary's, Hergan had many Chesapeake Bay cruising and racing opportunities and some very impressive bluewater experiences, including the Marion to Bermuda and Marblehead to Halifax races, the Black Sea Cup out of Odessa, Ukraine, and a winter spent cruising to and around the Bahamas.
Of boats, cameras, and kids
Over the years Hergan has owned a series of powerboats and sailboats, as well as a series of cameras. His current powerboat is an 18-foot Scout CC Sportfish, which he keeps on Bear Creek in the Baltimore area. It is from this vessel that he takes most of his on-water photos. His powerboating adventures have been many over the years, but perhaps most notable was a circumnavigation of the DelMarVa peninsula in a 17-foot Boston Whaler Montauk fitted with a 115-hp two-stroke. Like many of us, Hergan enjoys being part of a boating family and appreciates opportunities to borrow his father-in-law's Universal Litton 42 trawler and Nauset 35. 
On the sailing side, in past seasons this boater/photographer has raced his 27-foot Soverel with Baltimore City Yacht Association and his Laser in the Havre de Grace Yacht Club frostbite series. Unfortunately, the Soverel currently is on the hard awaiting repairs from damage suffered by a waterspout last year.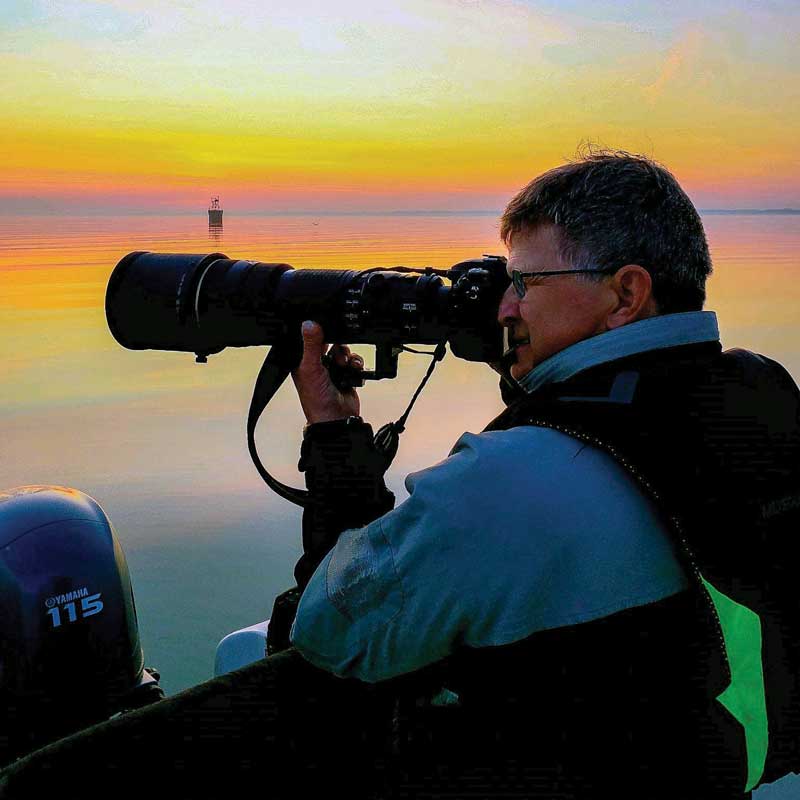 Hergan's interest in photography and cameras dates to a high school photography class and later a Nikon camera gifted to him by his wife when their daughter was born. A series of used cameras followed. Today he shoots with his Nikon D500. His favorite lenses are his Nikon 70-200 f2.8 and 300 f2.8.
As his kids got into sailing, photography and boating seemed destined to merge. "I really picked up photography while assisting with the North East River Yacht Club's junior sailing program," Hergan says. "With my Whaler I would go out and take pictures of the kids' regattas and share them with the other parents. My interest in photography grew from there. Then a few years ago a friend told me about the SpinSheet Century Club, for those who spend 100 days on the water, and I decided to keep track of my days by taking a photo of each outing." 
A love of log canoes also served to fuel his photography passion, leading to a self-published 100-page book of log canoe images. His interest in log canoes only grew last year when and he and his crew got involved with racing and maintaining the log canoe Mystery out of Chestertown, MD, while his own sailboat awaited repairs.
Deadrise Marine Photography
To share his growing collection of images, in 2017 Hergan launched deadrisemarinephoto.com. The name simply reflects his love of classic Chesapeake deadrise vessels. Hergan has also shared his work in recent years with an annual "Year in Photos" presentation at Chesapeake Bay Maritime Museum, and last May, Washingtonian Magazine published a two-page spread of his images of the massive shipping vessel Ever Forward grounded outside the Bay's shipping channel. You can also follow Deadrise Marine Photography on Instagram and Facebook.
Life on Land
Hergan resides in Bel Air, MD, with his wife and two children, who each celebrated a graduation this spring—their son from high school and their daughter from college. In his professional life, Hergan has served for nearly 30 years in the admissions and enrollment department of Stevenson University, where he currently is vice president for enrollment management.