Chesapeake angler Lyndsie Smyser has a passion for the outdoors, the environment, and angling. She shares how she got into fishing and how others, especially women, can too.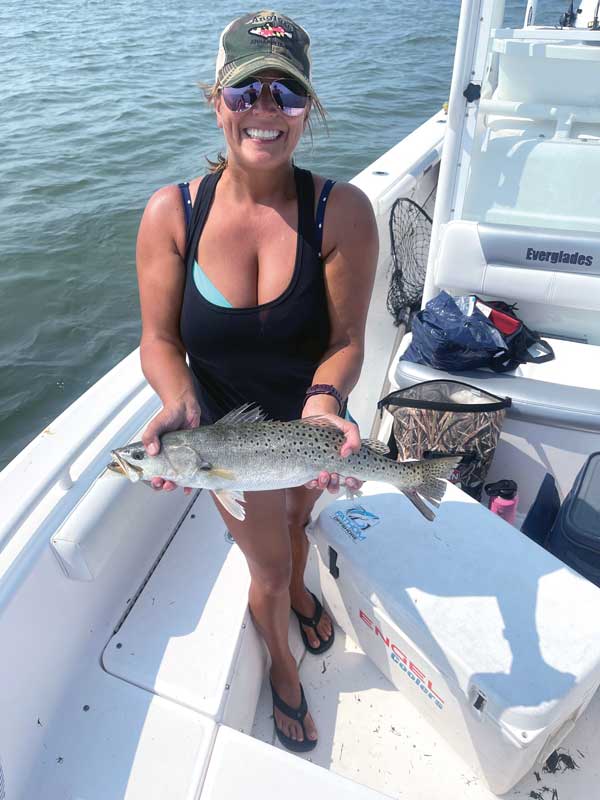 From dairy farm to the Chesapeake
Annapolis-based Chesapeake angler Lyndsie Smyser grew up on a dairy farm in southern Pennsylvania, where she could often be found hanging out with her friends at the farm's two-acre pond. There she taught herself to catch catfish, bluegill, and largemouth bass. In 2013 Smyser moved to Maryland and tried her hand at angling in the Chesapeake Bay.
Smyser says, "I've always loved the outdoors and fishing, but I found fishing here was very different from pond fishing on the farm. With very little knowledge about how to fish the Bay and not knowing where to find the resources that I needed, I didn't have much success.
"Things changed about three years ago when I took a job at Anglers Sport Center in Annapolis," she continues. "With my passion for the outdoors, the position seemed like a good fit. Working at Anglers I found the resources that I needed to really be successful fishing here, including a network of helpful people."
SUPs, kayaks, and boats
Smyser likes all types of fishing, but her favorite area for angling is from Chesapeake Beach south to Point Lookout. 
"The Southern Bay is cleaner, wider, and has a larger variety of fish," she says. "I go out with my friends on their boats, and we catch a variety of species including rockfish, mackerel, bluefish, white perch, speckled trout, black sea bass, and even flounder. Speckled trout are probably my favorite species to target. I really enjoy fishing for them in shallow water and casting to shoreline or structure using paddle tails. Popping corks are a lot of fun to use too!
"Closer to home, I live in a waterfront community on the Severn River, and I love to fish from my standup paddleboard (SUP). I catch rockfish, white perch, pickerel, and snakehead, all from my paddleboard in the Severn! I enjoy kayak fishing as well, but my kayak is pretty heavy and is difficult for me to launch on my own. I am most comfortable standing on the board while casting, anyway. If I hook something big, I'll sometimes come down to my knees to land the fish. I use a bungee cord to attach a milk crate on the back of the board to carry a couple of rods, small cooler, pliers, and other basics. During the season, you can often find me launching my SUP from the community beach in the evening after work."
A good steward of the Bay and fisheries
Smyser says she's not expert enough to weigh in on fisheries conservation beyond expressing her own personal beliefs.
"I encourage others to know the fishing regulations and to follow them. Beyond that, I can only speak for myself. I keep legal fish only if I'm going to eat them. I am conscious that my decisions in daily life, such as using or avoiding single-use plastics, can ultimately help or hurt the Bay. 
"Having grown up on a farm, I understand the value of small farms and the issues generated by large scale modern farming. I believe small-scale family farms are better for the environment and therefore better for the health of the Bay. I like the idea of harvesting my own food, and I've done some hunting for that reason. 
Growing the sport for herself and others
"Last year I was invited to become part of a ladies' light tackle team. The idea originated with Ron and Jamie Lynn Buffington of JLS Rods, a custom rod business based on the Maryland-Pennsylvania line. I met Jamie through the Anglers shop, and she invited me to join the team. We fish local tournaments and hope to encourage one another and other women to fish more often and become better anglers. We seek to widen our knowledge of angling and even boating and hope in the future to help other women do the same." 
For anyone interested in getting started with fishing or learning more, Smyser suggests hanging out at places where you'll have opportunities to talk with veteran anglers. She suggests events and tournaments organized by the Coastal Conservation Association of Maryland (CCA), Angler's Night Out at the Boatyard Bar & Grill in Annapolis, talking to staff at your local tackle shops, or connecting in online forums like the Ladies Light Tackle Team Facebook page. 
"Don't be afraid to ask questions," she says. "Most people who enjoy fishing also like to help beginners. One of the coolest things about working at Anglers is helping others get started. It's a matter of not being afraid to ask. We are all happy to share our knowledge with those who want to learn."