A couple of years ago, Keith Gunther hit the lottery. Seriously. You may remember the story I wrote about Keith and his green Jersey Skiff for PropTalk. Mick Jones at Holiday Point Marina had just painted the hull an eye-catching candy apple green. The 283 Chevy block had a fresh coat of red Rustoleum. When I interviewed Keith for the story in 2012, the boat had not been splashed. Keith was new to boat racing.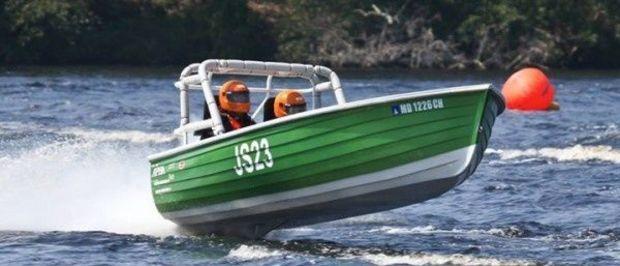 Not any more. Halfway through the first race on Kent Island, his partner turned to him, pointed to the wet spot on his jumpsuit and shouted, "Gas!" Keith said, "Nah, you just wet your pants. Let's keep racing…" Not true. It was gas. Keith pulled off the course right away. Seems his gas tank had broken loose from the pounding and vibration. Gas tanks in Jersey Skiffs take a beating. A new tank and a new mounting system followed.
The first 283 did not like running without oil (it's hard to get oil to the top end when these boats carve turns), so Keith had to find a new one, and another new one after that. For a while, every time I'd visit Island Girl at Holiday Point, there would be another dead 283 sitting outside Keith's shop. A lesser man would have taken the remaining lottery winnings and invested in municipal bonds, but not the owner of Kryptonite, JS23. Beneath Keith's quiet, reserved exterior, the exterior that speaks seldom and softly, beats a heart painted the color of his skiff. Keith stuck with it. Two years later, he has earned his place in the fleet of crazy warriors who race V8-powered rowboats around a circular course on Kent Island.
This Saturday in November, we were at Holiday Point Marina. Owner Ron Sinclair let us use the office for this interview with Keith and his son, Kevin. Joe Reid and his golden retriever, Hiatt, wandered in and out. The smell of fresh varnish floated through the open window, sweet and deep, like BB King's blues riffs. Hiatt finished his licks and hopped into the back seat of Joe's Volvo for a nap. I invited Keith and Kevin to talk with me for several reasons. I wanted to hear about Keith's development as a skiff racer. I also wanted to hear Kevin (age 21, about the same age as my son, Eric) talk about racing boats with his father. Lastly, I wanted to spend a pleasant morning at the marina sniffing fresh varnish and talking about boats.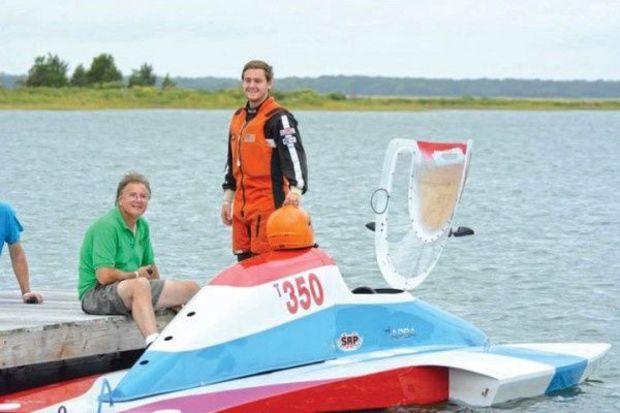 Most dads have a "father-son" dream. In the dream, the father looks like Gregory Peck in "To Kill a Mockingbird." The kids, like Scout and her brother, are a little rambunctious, but completely dedicated to their dads. Dad has some special hobby or skill, and the child shares a love of the same thing. Keith and Kevin are living their father-son dream.
Kevin says excitedly, "When I'm suited up and strapped into my boat, it gets a little hot in there. I can hear myself breathe, and I can smell my own sweat. Sometimes, the cockpit glass fogs up from my breathing and I have a hard time seeing what's happening around me. My father is on the radio, giving me information about other boats and conditions on the racecourse."
I turn to Keith, sitting a few feet from his son in the marina office. I ask him how it feels to have a son racing his own boat. He says something incomprehensible but wise in classic Keith Gunther marble mouth language. I just can't catch the words. I nod and move back to Kevin. "Kevin," I ask, "can you describe the sensation of running your new boat around the race course at Kent Island?" I lead him by describing running Island Girl, my 12,000-pound Bertram 28 out of the creek into the river. Kevin listens and pauses for a moment. With the clarity and purpose of a young man who knows what he wants to say, he states, "No, it's nothing like that. This is more like flying or sledding. The boat pops up on a plane in a second. The engine is screaming right behind your ear, and small movements of the helm produce big changes in direction. You don't just get in and floor it. You have to work your way into the fleet, find clear water so the prop doesn't cavitate, and use the foil to keep the nose down."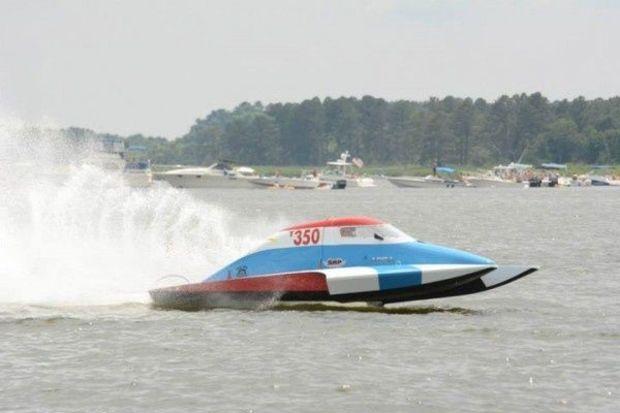 He says, "It's like being inside a video game. You're doing everything all at once and you're surrounded by the smells of gasoline, coolant, saltwater, exhaust, and sweat. In the background, through the earpiece inside my helmet, I can hear my Dad talking to me quietly, slowly … 'Little left,' he mumbles. 'Not too much … that's it.'"
We talked for about 30 minutes. Keith sat quietly listening to his son describe the boat, the close-knit community of people who race skiffs and hydroplanes, and his competition, Courtney Stewart, Matt Henning, John Shaw, and Ciara McClure, a 15-year old girl with great instincts and no fear. Kevin raced twice in 2014. He did pretty well for a new kid. I can tell by Kevin's tapping foot that I have consumed his available attention span. My son, Eric, shows the same signs after about 30 minutes of inactivity.
I give Kevin the last word of the interview. I ask how he thinks his dad feels about this father-son partnership. Kevin pauses again. His foot rests. His eyes turn toward the linoleum floor. In a moment he looks at his father, then over to me and says, "Sometimes, when I'm getting into the boat with help from my friends, out of the corner of my eye, I catch a glimpse of my dad standing about 15 feet away, just watching. His arms are folded, and he is wearing a crooked smile. He looks proud."