When lifelong Chesapeake boater John Stefancik was recently selected as the executive director of the Marine Trades Association of Maryland (MTAM), few who knew the Maryland native were surprised. He's served as a dedicated MTAM board member for 20 years during his 24-year career at Chesapeake Bay Magazine, including nine as co-owner of the Annapolis-based media company.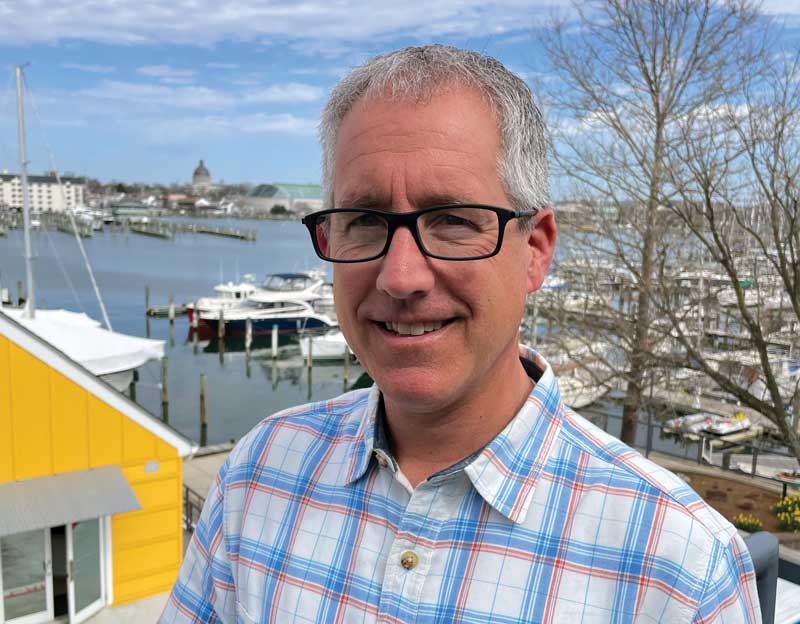 During his volunteer time at MTAM, Stefancik served as president and secretary and also assisted the association in legislative efforts, notably passing the cap on the state's boat sales tax and changing the law that once required pilots onboard superyachts visiting Maryland waters. 
"A diversity of experience plus the connections with many in the regional industry led us to choose Stefancik," said Mike Bonicker, MTAM president, who led the search committee and noted high-quality candidates. 
MTAM's new executive director also serves on other boards connected to the Chesapeake, including Maryland Tourism Coalition and the Mallows Bay-Potomac River National Marine Sanctuary Advisory Council.
Stefancik started boating earlier in life than most people. When he was only three months old, his parents took him sailing on the Severn River in their 23-foot sailboat. 
"They put me in a laundry basket on the cabin sole," he says. "Sailing was our family's biggest activity, so we went out once a month or so for the weekend or longer on a series of boats (24-, 27-, 30-, and 36-footers)… I was always very comfortable on the water." 
In addition to sailing lessons starting at the age of nine, when he was 15 years old, Stefancik's family bought a powerboat. He says, "It was a 15-foot Dixie Craft bowrider. We skied, tubed, went crabbing, everything on this boat. These days, I spend most of my time on my family's 20-foot Grady White dual console that my wife and I share with my brother Mike and his wife. We take this boat everywhere we can, mostly to raftups with friends. I also help two of my friends take care of their Edgewater 24 dual console."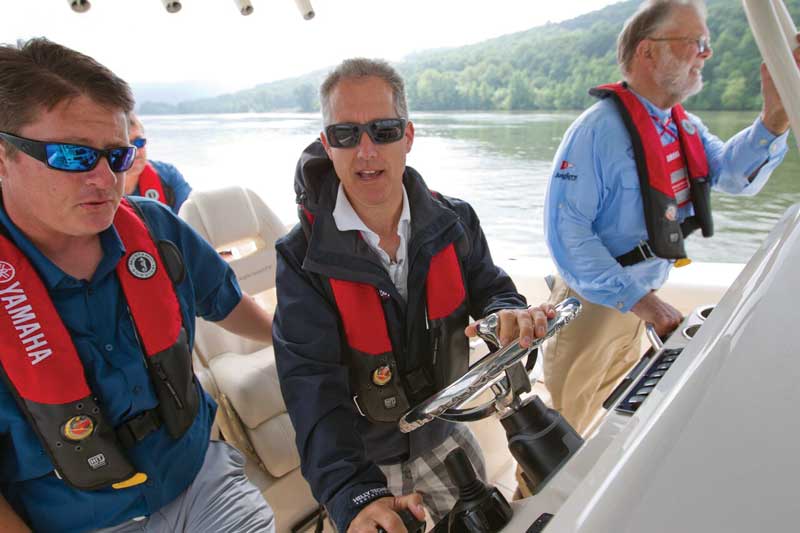 As for his career path, while working for more than two decades for Chesapeake Bay Magazine, he helped lead the business side of the media property, eventually becoming associate publisher and later, when he and a partner purchased the company, publisher.
Before this he worked for a local public relations firm in Baltimore County, using his degree in communications to represent clients serving in Maryland politics, key experience for MTAM's lobbying efforts. Before Chesapeake Bay Magazine, his prior business published Offshore (later named Northeast Boating), where he was responsible for traveling throughout the Northeast U.S. leading the advertising sales team and working with regional boat dealers and national manufacturers. These magazines also worked closely with boat shows, publishing programs for 14 events from Virginia through Maine. At these events, John founded and led onsite seminars. 
As MTAM's executive director, Stefancik outlines his two top priorities: "to elevate the profile of recreational boating in Maryland and to expand its activity with workforce development to get more young people or people looking for a second career to consider marine trades as a viable career. There's a big need for workers. We started asking marinas 10 years ago, 'How many of you would hire a mechanic?' All hands went up. Finding new people is a big priority. (The marinas) can train them. All these marinas want new employees to train."
He is quick to note that according to the National Marine Manufacturers Association, the marine industry brings in $4.2 billion to Maryland's economy.  
He says, "The Chesapeake Bay, especially Maryland, is packed with marine facilities. There are as many right here as you'll find coastally between here and Maine. Boating here in Maryland is special for many reasons, but important ones are the density of facilities and availability of work."  
Founded in 1977, MTAM represents the recreational boating industry and seeks to improve experiences on state waterways while encouraging safe practices and reasonable standards for boaters and the industry. The association encourages and promotes education and workforce development. Learn more at mtam.org.