Captain Sarah Lawrence is passionate about boating safety. She is the owner of Chesapeake Boating Academy, works in the family TowboatUS business, and is a 100-ton USCG Captain, NSBC instructor, US Powerboating instructor, US Sailing instructor, and American Sailing Association instructor. (You might remember we recently wrote about Capt, Sarah and a cement sailboat that TowboatUS Kent Narrows and Knapps Narrows sunk to serve as an artificial reef). 
Could you tell us a little about yourself?
Hi! I'm Capt. Sarah and I grew up in the marine towing and salvage business: Tow Jamm Marine/TowBoatUS Kent Narrows/Knapps Narrows, which was established in 1989 on Maryland's Eastern Shore. I would help my dad on the boat with tows and salvages, and in the winter, we would pull graphics, re-paint boats, and get ready for the next season. My Mom, Mary Gilmer, would run the 24/7 dispatch with our VHF high point tower and over phones. 
We spent winters cruising aboard our sailboat down the ICW to the Bahamas and back. After college I moved to the Bahamas and lived aboard my sailboat for nine years where I met my husband, Adam. We moved to Maryland in 2018 to help in the family business and five years in we have added three new boats to the fleet and made a big focus on boating safety. Today in the towing business I occasionally run the boats, dispatch, and spend most of the time in marketing and safety outreach. In 2022 I opened Chesapeake Boating Academy, an on-water training school located in the Kent Narrows. I have a 21-foot training boat and do three-, eight-, and 16-hour hands-on lessons. Our life revolves around the Bay, boating, and our family, and we wouldn't have it any other way! 
Did you grow up boating on the Chesapeake Bay?
Yes! I grew up spending summers sailing at Miles River Yacht Club and then sailing on the dinghy team at St. Mary's College of Maryland. I loved racing FJ's, 420s, Lasers, Bytes, Lightnings, and anything else that floated! Today I sail aboard Vayu, a J/80 that races out of Annapolis Yacht Club. We also spent many days on the water tubing and waterskiing or kayaking around the marshes. The Bay offers such a diverse landscape to explore.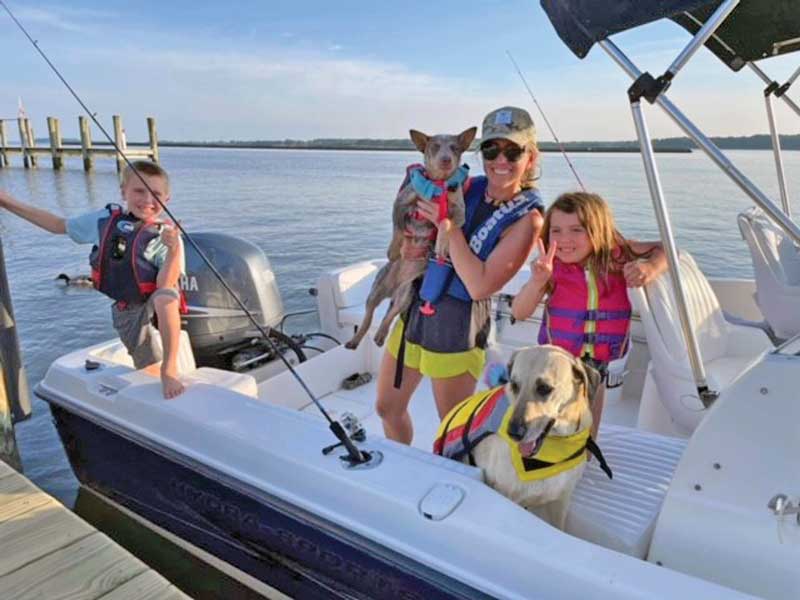 When getting a call for a tow, are there common problems you often see?
It really depends on the time of year. We do a lot of tows back to the dock for engine problems (overheating, throwing a belt, etc.). It's a good mixture of everything—battery jumps, fuel drops, un-groundings… Salvages are generally more common after big storms. 
What is the most rewarding aspect of your work?
Interacting with boaters and people in our community. Knowing that we helped people who were having a bad day on the water and turning it into a good day on the Bay. Providing lessons to new or experienced boaters and seeing their ah-ha moments and confidence grow is so rewarding! 
Do you have a favorite class that you teach?
Precision Docking and Boat Handling is my favorite. Docking is generally a huge source of anxiety for boaters and giving them a skillset and methods that they can use to tackle different docking situations is the best! 
Favorite part about life on the Chesapeake?
Crabs, sailing, cruising to remote beaches or historic towns, migratory birds, watching my kids learn and explore here (in no particular order, except crabs. Crabs are always first!). I also love the Bay because there is usually always a place to go boating, even with different wind directions—lots of creeks and rivers to sneak around in for protection. 
We saw that you and your family are working on restoring a houseboat. Could you tell us about that project?
Yes! We bought a 1989 Holiday Mansion 39-foot houseboat, and my husband Adam completely gutted it and has rebuilt it. If you told me 10 years ago or even five that we would have a houseboat I would've said NO WAY (it's the deep-rooted sailor in me)! Now we're all obsessed with our new addition to the fleet, which we named Slow Jamm. Our towboats are named Tow Jamm so Slow Jamm will give our family and captains a place to relax, slow down, and hang out. We plan to anchor her out a lot this summer. She can also be used as a mobile command center. You might find us eating crabs on the top deck or practicing docking alongside of her—you never know!