Kashad "Kay" McPherson is a licensed U.S. Coast Guard Captain with his Master 100-ton inland credentials. Formally serving in the U.S. Navy Reserves and operating commercial/recreational vessels in the DMV area, Captain Kay McPherson has nearly 10 years of experience on the water. He's married with three kids and has one on the way.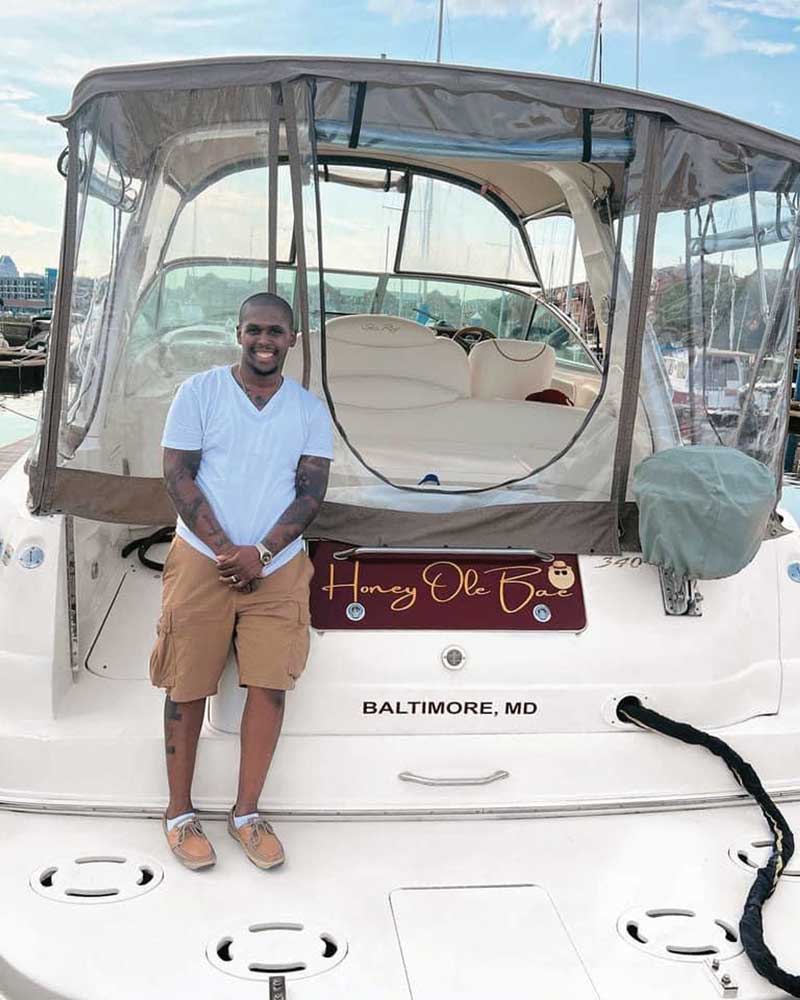 Could you tell us a little about your background?
I joined the Navy Reserves in 2011. I was home after boot camp for a couple of months, and I was looking for a job. My cousin worked for the Baltimore Water Taxi, and I got a job there too; I was about 19 or 20. I had never really spent much time at Baltimore's Inner Harbor until I started working down there, and outside of the Navy reserves, I hadn't been really introduced to the maritime industry until then.
When did you get your captain's license?
I fell in love with working as a deck hand, and after a few years of working there, I got deployed overseas in the Persian Gulf for about a year. When I got back to Baltimore, I ended up going back to the water taxi, and around the end of 2016/early 2017 I took my Coast Guard exam to get my 100-ton captain's license. In May of 2017 I started working as a captain at Baltimore Water Taxi and worked there as a captain until 2018. At that time I was looking for different gigs. Once upon a time I had a dream to move to St. Thomas and grow sweet potatoes, start a charter… Then, I got married and had a few kids, and that kind of put a halt to that dream. 
You also do work in DC, correct?
By 2018, I came out to the Potomac in Washington, DC, working for DC Water. During the mornings I do trash and debris removal in the channel out near The Wharf. I'm on a trash skimmer that's about 50 feet long, and it picks up just about everything you can imagine. I've picked up porta potties, mannequins, all the way down to plastic bottles. There's always something new out there. Normally I do that about eight hours a day, Monday through Friday. Once I leave from DC, I come straight to Baltimore to Anchorage Marina, and I do charters. 
How did your business, Vibe and Wave Charters, come about?
Before I started the business, I worked as a captain for hire in DC and Baltimore for people who had their own boat/yacht and wanted to do bareboat charters. I was trying to get different types of gigs, some private, some commercial. I spent a few years doing a lot of party cruises, eco tours, stuff like that.
Eventually I got my first boat which was a '93 Rinker. That did not work out. I was going to use it for family, but by that point in 2019, I said I was pretty much going to go all in. There were lots of 20-hour days. Then, I got the boat that I have today which is a Sea Ray 340 Sundancer. We officially started doing charters on that boat last year. I still occasionally do captain for hire stuff, and I'm trying to get a nonprofit started. 
My boat is called Honey Ole Bae because my favorite wings are honey Old Bay and honey lemon pepper. I love Old Bay seasoning in general. When I was on break, I would eat honey Old Bay wings all the time, and I was eating them one day when I was thinking about a name for my boat. 
Similar thing for my business name, Vibe and Wave Charters. I was out on the water trying to come up with names, something real cinematic. But I'm not really like that at all, I have a very laid-back vibe. And I wanted to give people a very laid-back vibe out on the water. Bringing luxury to laid back is our motto. No matter the type of excursion, we just try to make it as laid back as possible. That's the kind of vibe we want. I was out on the water, and I think it was a small craft advisory and everyone waves to each other and so I was like, 'let's make it Vibe and Wave.'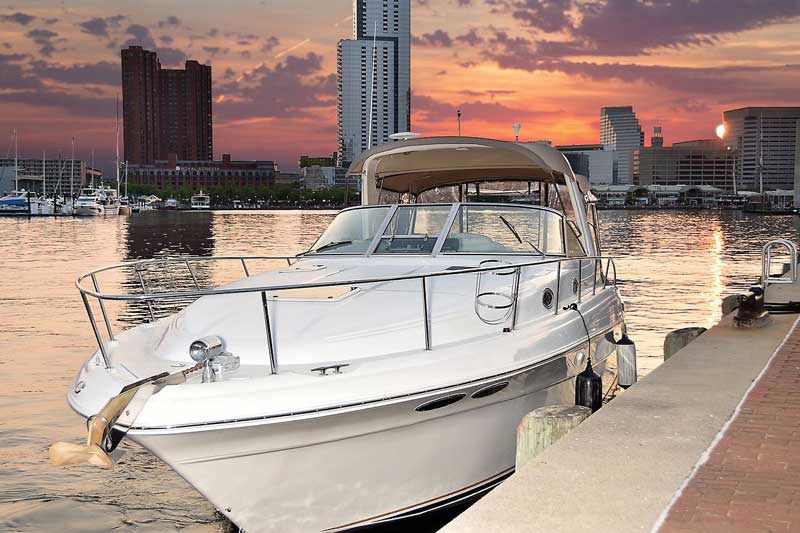 Do you have a favorite charter?
My favorite charter lately is always the sunset cruise. It brings on a different aura to the city, and the people definitely love it. Normally I pick up from either Fells Point by the Sagamore Pendry or from right behind the National Aquarium and I try to take them out to Canton Waterfront Park so we can turn around and chase the sunset downtown.
What are your plans for a nonprofit?
Right now, we're in the process of getting all the credentials started. I'm a Maryland boating safety instructor and I also have NSBC instructor certification. I'm trying to get a free program started, really for anybody who wants to get out on the water, but primarily ages 13-19/20, to get them training out on the water. For most younger people, it's too expensive. So, we wanted to get younger people introduced to the maritime industry and get them on-water training, allowing them to get more sea time, and eventually help them get their captains license if they want to. There aren't too many training programs in Baltimore that deal with powerboating, especially when it comes to that age group. They are mostly for adults. Eventually, we're trying to get a smaller boat that could fit about four people, just for training, and do it all for free.
It's still unofficial, but it will be called Stay Afloat Boating Foundation. We're trying to get everything on paper. Hopefully by the beginning of next year, if not sooner, everything should be in place. The main thing is getting another boat I could use for training. I know a lot of kids that would really love to be out on the water, but also may be a little scared because they don't have the experience. I want to get them introduced to it so they can see it's less intimidating than it looks.
Favorite part about living and working on the Chesapeake Bay?
Honestly, just exploring the Bay in general. Being from Baltimore, I didn't get out on the water much until I was 19 years old. Once I really started going out on the Bay, I realized I had been in a shell. My first time going across the Bay from Kent Narrows, I had never known how big it was. I didn't have a lot of people around to tell me about the Eastern Shore or Solomons Island. 
The Bay is big, and growing up, I just didn't' know it. I was like 'there's the Inner Harbor that leads to downtown and that's it.' But when I started going places like Hart-Miller Island, North East, Deale, Shady Side… it opened my eyes a lot. Just going up and down the Bay is an amazing trip. There's always something new to see. It's never the same, it's always a brand-new experience, and a brand-new place that I've never been to that I can cross off the list. It's a beautiful place.  
For more Bay People interviews, visit proptalk.com/category/bay-people.