After six years at the Chesapeake Bay Foundation (CBF) as a Maryland fisheries scientist, advocating sustainable fisheries policies to protect important Chesapeake Bay species such as rockfish, oysters, and blue crabs, Dr. Allison Colden has changed roles. On April 24 she was named CBF's Maryland executive director. Last month, we reached out to the Virginia Beach, VA, native to learn more about her early interest in fisheries science and how her work is evolving.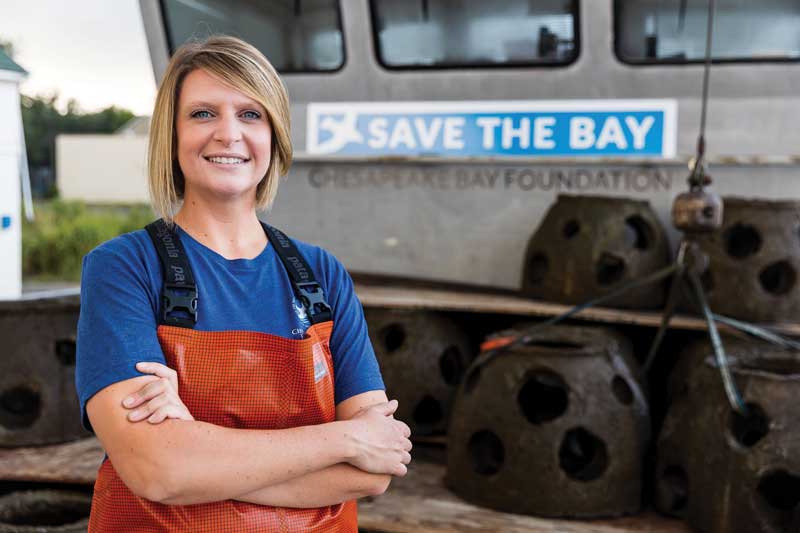 Here are her responses to PropTalk's questions: 
Did you grow up boating and fishing? 
I grew up on the confluence of the Bay and ocean, so a lot of people assume that. I did spend a lot of time at the Virginia Aquarium and Marine Science Center and got fascinated by the critters, so my connection to the Chesapeake really started by natural curiosity. 
How did you get into fisheries science? 
Getting back to that same experience, they used to have this cool exhibit where you could climb to the top of a sort of tower and tong for oysters as traditional watermen did. I got interested in oysters specifically. I was fascinated by the plight of the oysters. It baffled me that something so important could be devastated—how could this have happened? When I went to college, I was a biology major and environmental science minor. I would write all of my papers on Chesapeake Bay fisheries and oysters to the point where my professors wanted me to change the subject. In graduate school I wanted to do research but wanted it to be applied and inform resource management. That's how I ended up at the Virginia Institute of Marine Science (VIMS). I knew this was where I needed to be.
How has your fisheries work given you an understanding of water quality challenges?
One of the things about water quality is that people have difficulty connecting to it. When you're out on a boat, you're not in the water, so understanding water quality, pollution, or dissolved oxygen doesn't always translate well. But you can say, "Did you notice that it's easier to catch rockfish in this one place? The rockfish are squeezed into this one area because of low oxygen at bottom and high temperatures at the top (which will make you think you're a much better fisherman than you are)." That's one way to understand water quality firsthand. 
How has your first month as executive director gone? 
It's a lot! I'm learning a lot of new things. My parents always say that if I could be a professional student, I would. It's been fun to delve really deeply into some of the subjects that CBF works on when it comes to water quality—urban storm water management, agricultural runoff, and all these things that I wasn't working with before. 
What are your top priorities as CBF's Maryland executive director? 
In terms of CBF and the broader environmental community, our focus is on the fact that we're quickly approaching 2025 and we're not going to meet our big cleanup goals. We need to determine our next stops from here. There's tremendous value in continuing this task. 
What can boaters do now to help improve Chesapeake water quality?
Learn about the existing laws and programs out there. Make sure the marinas you use are part of the Clean Marina Program, be prepared for accidents and spills, and use the pumpout (no discharging)—those things are ways that boaters can directly help. Boaters out on the water can be important 'eyes and ears.' They may be the first ones to see algal blooms or fish kills and report that to the Maryland Department of the Environment (MDE). Have your eyes open and reach out when you see things happening on the water. Also, be an advocate for clean water. Fishing and swimming: these things require good water quality. Be actively engaged in contacting local officials about the waterway.  
Do you have any fun outdoor plans this summer? 
We're going on our first RV trip next week. I like to get out on the beach, go kayaking, and do paddlesports and am looking forward to getting out on the water.