This year, the Annapolis Boat Shows will combine its two spring shows into one expanded 2021 Bay Bridge Boat Show. From April 15-18, the Bay Bridge Marina in Stevensville, MD, will host the largest, in-water power and sailboat show in the Mid-Atlantic. Attendees will have the opportunity to climb aboard hundreds of boats, both power and sail, as well as shop the latest in marine gear, equipment, and accessories. An exciting number of educational opportunities and on-board activities will also be offered for all boaters to experience.
"Spring marks the awakening of the boating season on the Chesapeake Bay, and what perfect timing for the rebirth of our spring shows," said Paul Jacobs, president of the Annapolis Boat Shows. "By moving our Spring Sailboat Show to join forces with the Bay Bridge Boat Show, we will present two shows in one." Show attendees can enjoy the beautiful spring setting on the Eastern Shore featuring ample parking options with transportation, boats of all sizes and styles on land and in water, a large food court, a VIP Experience, and area dealers prepared to deliver new and brokerage boats available for immediate sale. 
The Bay Bridge Boat Show has expanded to a four-day event, inviting guests to attend Thursday through Sunday. All boaters are encouraged to attend, no matter if you are a sailor, powerboater, paddler, or angler—this show is for you. Tickets are now on sale at annapolisboatshows.com.
The Annapolis Boat Shows is committed to producing shows that ensure the health and safety of all in attendance. Show management is working with state and local health officers to comply with all recommended protocols and will follow strict guidelines defined in the show health and safety manual.
Show Times:
Thursday, April 15: 12 to 6 p.m.
Friday, April 16 and Saturday, April 17: 10 a.m. to 6 p.m.
Sunday, April 18: 10 a.m. to 5 p.m.
Tickets:
Thursday: $10
Friday: $12
Saturday: $15
Sunday: $12
Children 12 and Under: Free
For safety reasons, no strollers and no pets are allowed.
VIP Lounge Ticket with Parking: $85. Ticket includes boat show admission, reserved on-site parking, and exclusive access with unlimited entry into the VIP Lounge—an elegant lounge with comfortable seating, delicious complimentary cuisine, wine and spirit tastings. 21 and over. Valid for one day only.
VIP Lounge without Parking: $65
Parking:
Directions: From Annapolis, head east on Route 50. After crossing the Chesapeake Bay Bridge, take the first exit on the right for Kent Island (Exit 37). Then, follow the signs for Boat Show Parking.
Two parking options will be provided for all show attendees, Thursday through Sunday. Free parking with show shuttle service will be located in the Target parking lot (200 Kent Manor Drive) or, guests can pay $10 cash for on-site parking at the show. On-site parking is limited. All parking proceeds go towards the Kent Island High School Swim Team.
Show Features:
Try before you buy at the PropTalk Demo Dock
More than 100 exhibitors on land
More than 100 fishing boats from more than 35 manufacturers
Sailboats of all styles, shapes, and sizes
VIP experience 
Educational seminars
Custom rod building lessons
Food court
Prizes
Free parking available off-site with free shuttle to and from the show
Try Before You Buy at the PropTalk Demo Dock
Dealers will be conducting demonstrations and sea trials at easy to access demonstration docks, featuring new model boats, pontoons, center consoles, bow riders, jet boats, catamaran deck boats, and more.
This is the current lineup for the Demo Dock. Be sure to check for updates at annapolisboatshows.com.
All Star Marine: Clearwater 2508 CC and Stingray269 DC
Annapolis Hybrid Marine: ePropulsion Spirit 1.0 Plus
Annapolis Yacht Sales: Arrow Cat 320 and Grand Golden Line G850HL
Brig Inflatables: Eagle 3.5, Eagle 6.7, Eagle 8, Navigator 520, Navigator 610
Honda Powersports: Seaborn LX 24 and Sylvan L-3 DLZ Bar
Intrinsic Yacht & Ship: Invincible 33 Open Fisherman (featured in the May PropTalk!) and Invincible 36 Open Fisherman
North Bay Marina: Godfrey Sweetwater 2286, Godfrey Monaco 255 SB, Hurricane SunDeck 2200 DC, Hurricane SunDeck 191 OB
Pasadena Boat Works: Manitou 25 XT
Annapolis Harbor Boat Yard: Seakeeper
Educational Courses:
Diesel Maintenance Course: Presented by Cruisers University, April 14-15. Master Class with Jim Zima from Great Lakes Diesel. This two-day, hands-on class will provide a preliminary and in-depth review of how a diesel engine works. All aspects of general and yearly maintenance will be covered. Cost: $400 per student; multi-day admission to the show is included.
2021 Offshore Medicine: Presented by Cruisers University, April 16-18. This course offers relevant and practical training for the largest and most remote wilderness on earth. Full participation earns Offshore Emergency Medicine certification by Wilderness Medical Associates International. Cost: $1095 per student; multi-day admission to the show is included.
Registration for both classes can be found at annapolisboatshows.com.
Free Seminars:
Boat Buying 101
Docking and Line Handling
Sailing Annapolis to Bermuda
Weekends on the Chesapeake
All classes will be held Friday, Saturday, and Sunday at the same times each day. No pre-registration necessary, but limited seating is available. First come, first served. Seminar schedule and speakers are subject to change. Show admission required.
Health and Safety:
The health and safety of all in attendance is the highest priority of the boat shows. You can find a full list of safety policies and procedures at annapolisboatshows.com. Below are some highlights.
All attendees will be encouraged to purchase tickets in advance and all tickets will be mobile friendly to encourage a touchless entry into the shows.
Everyone must wear a face covering at all times, if required by the county health department. Allowable coverings include approved face covering over nose and mouth.
CDC-approved face coverings will be made available at all show entrances in designated dispensers for anyone who does not have their own covering.
When parking off-site, 50 percent of bus seats will be blocked off, encouraging social distancing. Family members will be allowed to sit together.
Distancing etiquette: six feet minimum between non-related parties.
The show will promptly close at 6 p.m. Everyone is asked to leave 30 minutes after closing to allow for nightly cleaning and disinfecting by the Clean Team.
Bathroom facilities will be single stall only, with constant deep cleaning.
We Hope to See You There!
Team SpinSheet, PropTalk, and FishTalk will be at tent space F32. We know the show will look a little different this year but we look forward to seeing boaters of all kinds back at the Bay Bridge Marina. Stop by our booth to say hello and grab the latest issues of our publications.
For more information, exhibitor lists, and to purchase tickets or register for an educational seminar, visit annapolisboatshows.com. 
Fun Outside the Show Gates:
Chesapeake Heritage and Visitor Center (CHVC): You will definitely want to begin your visit to Queen Anne's County here. CHVC serves as Queen Anne's County official welcome center and is the central hub for the highly acclaimed Cross Island Trail. Staff can assist visitors with directions, information, and local destination points of interest. While at the visitor center, be sure to check out the Chesapeake Legacy Museum. Here you'll find interactive informational displays dedicated to the history, heritage, and culture of Queen Anne's County. The museum also features a rotating artists series, displaying artwork with an emphasis on the Eastern Shore. Take the elevator or the spiral staircases to the outdoor viewing tower for breathtaking 360 views of the Kent Narrows Waterfront.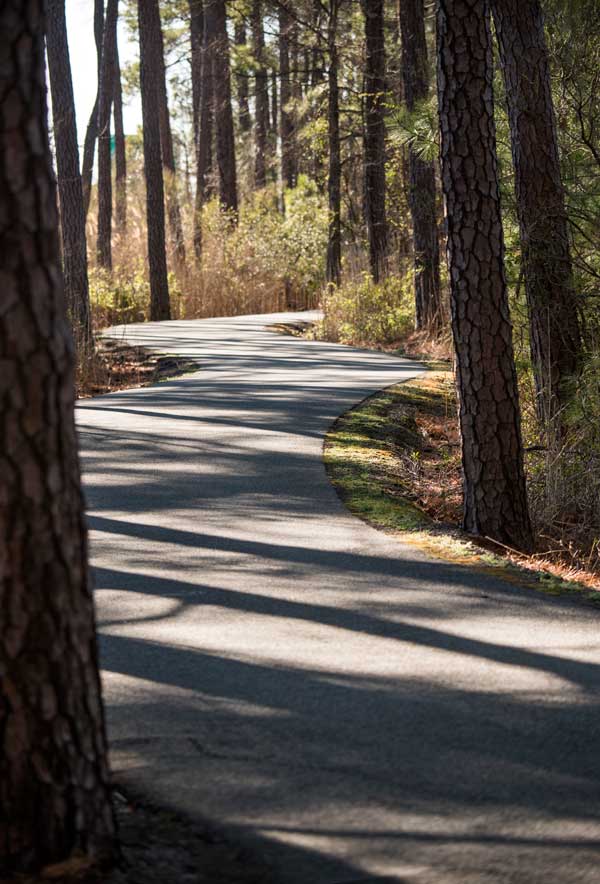 Also located on the property is the entrance to Ferry Point Park which includes a 530-foot boardwalk that takes visitors over marsh and onto a trail leading to open space, a wooded area, and a beach overlooking the Chester River. For questions, call (410) 604-2100 and go to visitqueenannes.com for hours of operation.
Cross Island Trail: The Cross Island trail is 6.5 miles long, spanning east to west from Terrapin Park to the Chesapeake Heritage and Visitor Center at Kent Narrows, with future plans for expansion. The trail wanders through farmlands, meadows, and woods accented with ornamental trees. Flanked by park benches, it crosses several creeks with wooden bridges, offering a spectacular view of waterfowl and wetlands. Portable toilets are available year round, and pets are allowed on leash.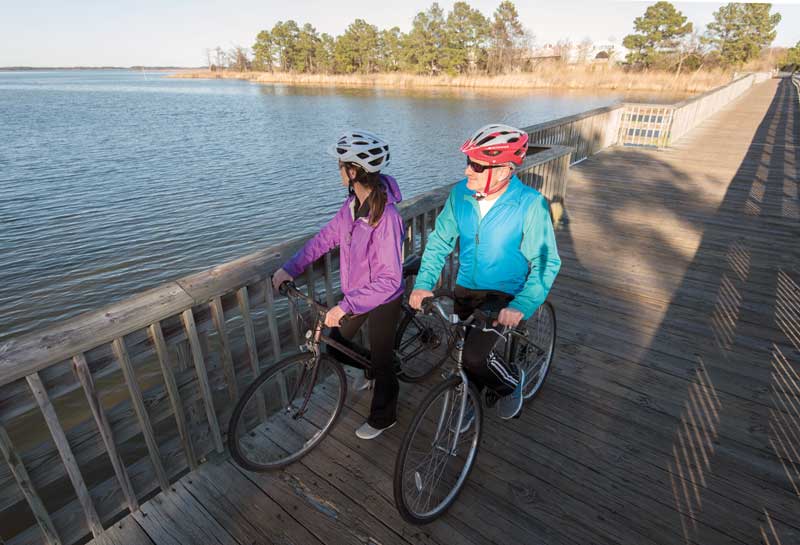 From east to west, off-street parking is available at the Terrapin Nature Park, Old Love Point Park, Castle Marina Road, the Chesapeake Heritage and Visitor Center, and the public lots beneath the Kent Narrows US 50/301 Bridge. These lots are open daily from Sunrise to Sunset.
Terrapin Nature Park: This 276-acre nature park features a 3.25-mile oyster chaff walking trail, which meanders through wildflower meadows, wetlands, tidal ponds, woodlands and sandy beaches. A gazebo and wheelchair-accessible boardwalk afford a spectacular view of the Chesapeake Bay Bridge and park benches located along the trail provide a brief respite. The trail connects to Queen Anne's County's Cross Island Trail system. Nearby free parking for the Cross Island Trail system is available at Old Love Point Park. Portable toilets are available year-round.
Chesapeake Bay Environmental Center (CBEC): The 510-acre preserve known as CBEC is deeply committed to environmental sustainability by providing opportunities to all people desiring authentic outdoor recreational and educational experiences that contribute to the health of the Bay. Spend an hour or a day exploring native woodlands, tidal marshes, and meadows through specially designed self-guided experiences. There is no admission fee to explore the property on your own, but donations are appreciated to help maintain trails. Visit bayrestoration.org to download the self-guided experiences brochure.
For even more ideas from waterfront dining to ways to get out on the water, check out visitqueenannes.com and qac.org.