It seems that the Baltimore Water Wheel, also known as @MrTrashWheel on Twitter, picked up a hitchhiker yesterday. The solar-powered water wheel was launched during the Spring of 2014 and collects trash in Baltimore's Inner Harbor before it can enter the Chesapeake Bay. It has been known to collect up to 19 tons of waste in one day! But on Wednesday, it picked up a rather unexpected hitchhiker.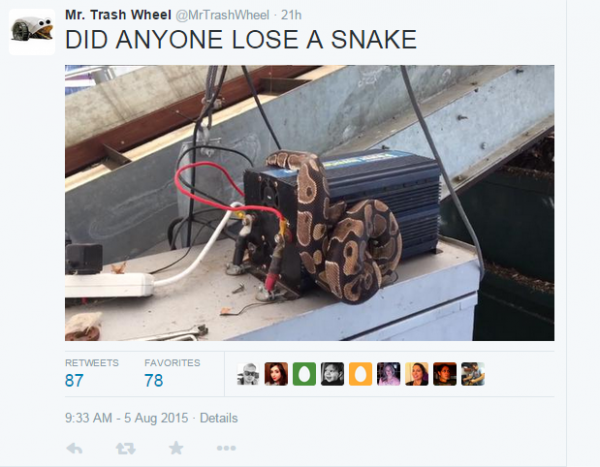 Members from the Waterfront Partnership went to inspect the wheel after a particularly heavy storm swept through the region and were quite surprised to find a ball python wrapped around the control box. Perhaps he was trying to soak up some warm solar power after that heavy rain... Luckily the snake was alive and well and was removed without incident. To catch up on the latest news, click to Mr. Trash Wheel's Twitter, 
here!
Curious about how the water wheel works? Check out this awesome time lapse video of Mr. Trash Wheel in action.
https://youtu.be/K0ELGa-mCOg