Most of us know at least one amateur boatbuilder who has taken over a basement or a garage to build the perfect boat. Some of them even reach completion and will fit out the door! But when I learned that Richard Hawse had been building My Way, a 46-foot sportfish in his Pasadena backyard for over five years, I had to pay him a visit and see for myself. It was indeed worth the trip.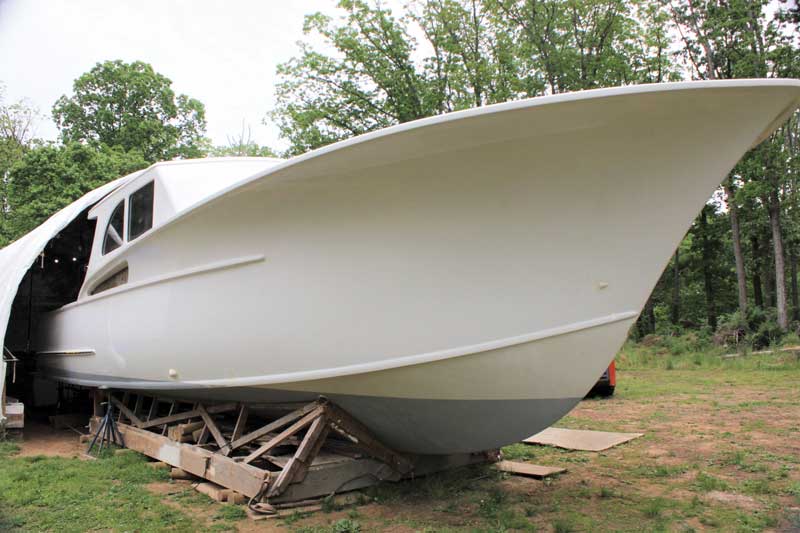 I asked Richard how this project got started. "I was working at Gibson Island Boat Works with Mike Lohr, and Mike and I were talking about building a boat. I was fascinated that he had been in the boating industry so long; I had one of those thoughts: 'If he could do it, why couldn't I?' I worked with this guy every day; I saw what he did. So, I decided if he could help me build the jig portion of it, I could build a boat. We started playing with some designs he had. And then one morning he asked me if I wanted to go look at a jig he found on Craigslist. It was this exact boat you are looking at."
"We bought the jig on Craigslist," he continued. "We spread it out in the seller's front yard. It was missing a bunch of pieces. We figured out that we could replace what was missing by duplicating the other side of the jig. We bought it and put it on a trailer and brought it home. I built a small tent in my backyard, and we installed a strong back, which is basically a level surface 40-some feet long. We erected the jig, made it all plumb and true, started to put all the stringers in, and put the chines in. After that it was pretty much standard cold-molded construction, meaning upside down on the jig. I put the transom on it and laminated the stem out of mahogany. Most of the structural members are Douglas fir. Then we put meranti on the bottom, and three layers of three-eighths Okoume. I skipped one layer so I could put foam between the ribands to stiffen the hull side up. The hull sides have a single layer of 1708, and the bottom's got 1700, 1800, and 1700 stacked on top of each other stem to stern."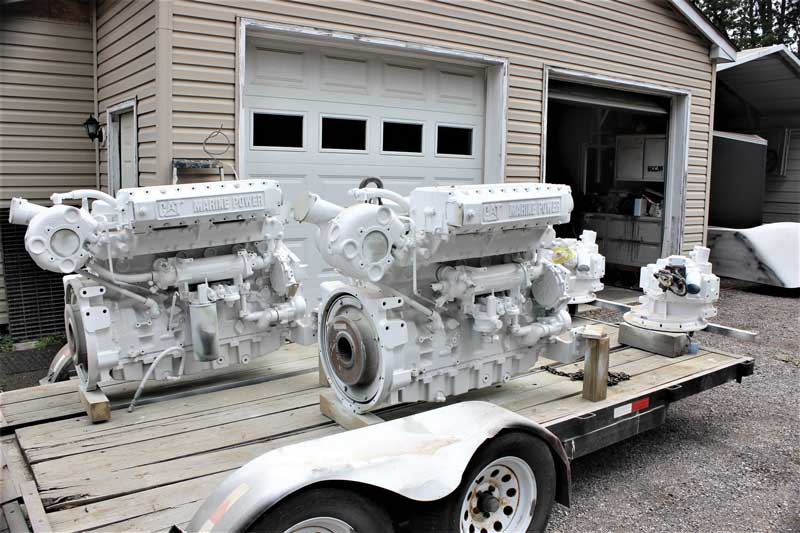 After completing the hull, I asked Richard about the next step. "I hired a crane to turn the boat over, and I had a 46-foot bare hull. I also had no plans or drawings to refer to for the interior layout. I had to decide what I wanted to build—a fly bridge, an express, or a walkaround. I had always wanted a fly bridge and admired other fly bridge boats. I was always a fan of Ricky Scarborough's 40-foot fly bridge boats that he built; they were just gorgeous little vessels. This hull had never been built as a fly bridge, and it was going to be heavier than the express, and needed power. These engines (twin Caterpillar C- 12s) are the biggest ever put in this hull, so that's what I decided to do."
I asked how he went from an empty hull to a complete boat with no plans to guide him. Richard answered, "A fly bridge boat was what I wanted, so I started looking around online at some of the plans and designs that other people had come up with over the years. I went to Paul Mann's website and he showed me everything I needed to know to build an old school Carolina fly bridge boat. I was lucky to discover that hull number one, from this jig, was commissioned by Sonny Briggs as an express cruiser and that it's in Florida with a set of engines very similar to mine. I was able to go down and measure important distances, bulkhead locations, shaft log locations, things like that. It basically had a very similar fuel tank design. I essentially measured and recorded every single dimension and distance I could think of. I brought all that information back and laid it out here in the shop. I moved and changed some things to accommodate what I wanted, but it was very similar to the way that boat was laid out."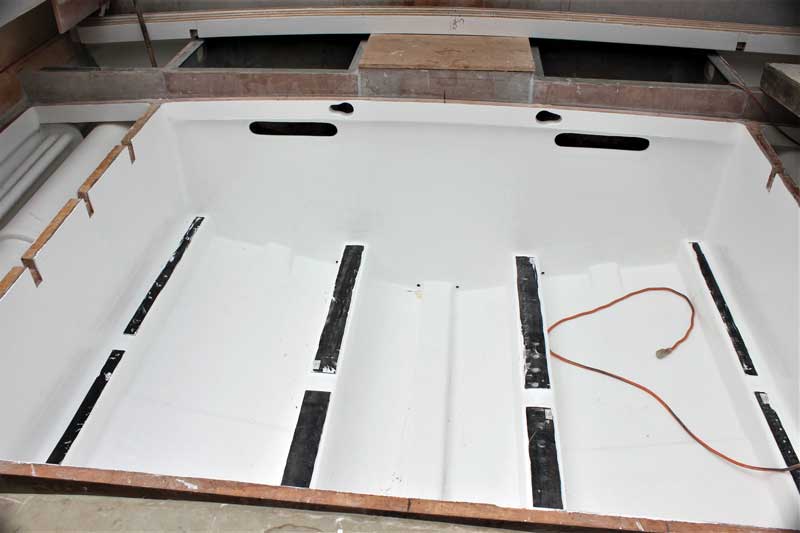 "I was not a professional boat builder," Richard continued. "I had done a lot of repair and restoration and small boat stuff, but I never worked with epoxy and never did much serious wood working. There were some builders who were very generous and helpful to share details: Jarrett Bay in North Carolina, Paul Mann, and Weaver sometimes, and I learned a lot. A lot of guys will share their boat building process with pictures. So you can look at these pictures and kind of reverse engineer the process to find how they laminated this or how they built a bulkhead or foamed in that. I relied on this help for construction from stem to stern, especially from Paul Mann. He essentially shows you how to do all of this if you are willing to put forth the effort."
I asked what the plan is for the next steps. "I'm going to install the fuel tank next and install the aft deck shortly after that; it's already built. After that I'll build out the lazarette area and the mezzanine boxes. The console is ready to go into primer and so is the bridge. I'm actually ahead of schedule. I carry my schedule in my head, and I'm relentless. I was supposed to install the fuel tank on the Fourth of July, so I'm a week and a half ahead. The interior should be completed by next summer and she should be ready to head south by December of next year," he concluded.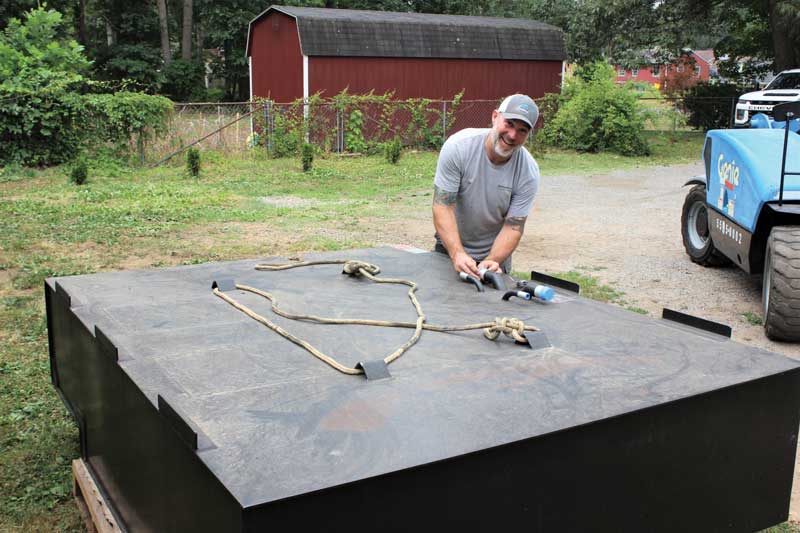 When asked what advice he'd give to other home boatbuilders, Richard replied, "It's a commitment that you must understand you can't turn back from. If you begin the process and then try to sell the boat, I think you are giving up on yourself. It's a big commitment. I've been working on it for five years and the rest of my life has continued, more or less normally. It is possible."  
Author's note: Richard Hawse is 47, lives in Pasadena, MD, with his wife, two kids, and dogs. He has been working in the marine industry most of his life and, in addition to his boat building, he is the founder and proprietor of Maryland Marine Electronics, specializing in marine electronics repair and installation.
Specifications:
My Way
Carolina Style Sportfish
Length: 46 feet
Beam: 15 feet
Fuel Capacity: 660 gallons
Engines: Twin Caterpillar C-12 Diesels
Horsepower: 715
Performance: To be determined