As we enjoy the "lazy, hazy days of summer" and the recession vanishes into the realm of good riddance memory, some effects still linger. Although builders are building again and buyers are buying again, there is a notable lack of good used boat inventory, especially with powerboats.

As Hawk Ennis of Hawk's Yachts explains, "When the recession came, builders stopped building, so now there is a whole segment of the market that's missing: 2009 to 2016 boats that are not available for resale. Because of that, there is a huge demand for good, used late-model boats, of which there are very few, so the '05, '06 and '07 boats that are out there are selling at a premium. All the brokers around here are feeling it. Jonathon Foster on the hill is down to five boats and he usually has 100. The upshot is that demand is way up, and it is hard to meet it." Older boats and deferred maintenance have both contributed to a major uptick in business for area boat shops, a story I hear repeated often.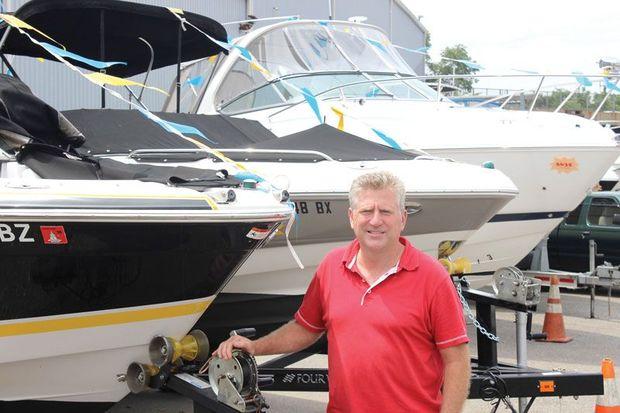 Brit Lilly of Lilly Sport Boats in Arnold, MD, is a man of few words, but his brisk report sums up a busy season so far. "We have a race boat I cut into a million pieces and just finished putting back together and painted. And the usual stuff around the shop. We're still slammed busy."
Alex Schegel of Hartge Yacht Yard in Galesville, MD, reports, "This past winter was the busiest winter I can remember. Spring is always busy, even in the worst economies, but the summer and fall can make or break a good year. I hope good times continue throughout the summer and fall. Continuing on the 55-foot Trumpy bottom rebuild, we just uncovered the port shaft log. It is an interesting configuration fashioned of two timbers side by side with one half the shaft alley precisely cut into each piece. The engines are forward and under the wheel house making for long shafts at a shallow angle, therefore long shaft logs that are 9.5 inches wide, by 7.5 inches deep and close to eight feet long.
While the rest of the boat is double planked, the plank over the shaft log is one piece. The shaft alley was protected from destructive marine life with a lead pipe that was secured to the plank with small screws 3/8 inches apart. The replacement pipe will be bronze. There are notches into the log inboard and outboard where the frame ends fit. Support for the shaft log is provided at the ends by floor timbers, and it is further supported by bulkheads. It has curves and twists to match the shape of the bottom. In comparison, fiberglass boats just need a place to bolt on a stuffing box or a hole to glass in a fiberglass tube."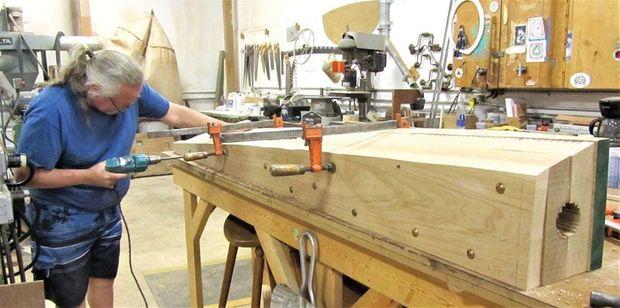 Nate Baugher of Maritime Applied Physics in Baltimore, MD, sums up progress on the fleet of water taxis his company is building. "Boat three, Thurgood's Justice, is moving along great and will be heading to paint at Anchor Bay this Monday. Boat two was handed off a while ago, but there were some USCG loose ends still. The boat should be in service shortly. Boat Four's hull and roof are fitted out, and we will be welding out the skins by the end of the week. Things are moving right along."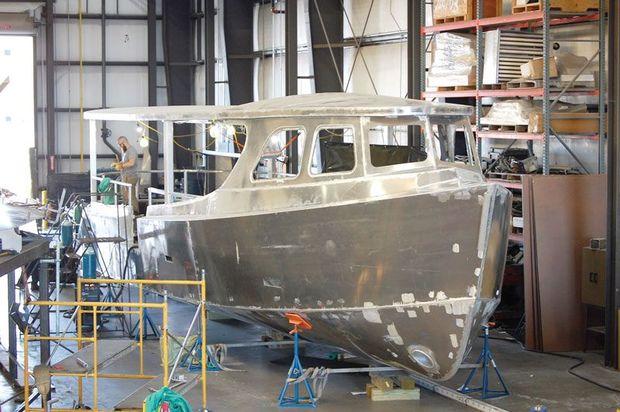 From Mike Glyphis at Eastern Shore Boat Works in Ocean City, MD, we get an update on the custom sportfisherman he has under construction. The boat was featured in the June Proptalk article about custom boat building. "The bottom is on. We are going to start setting rib bands and then side planking," he says.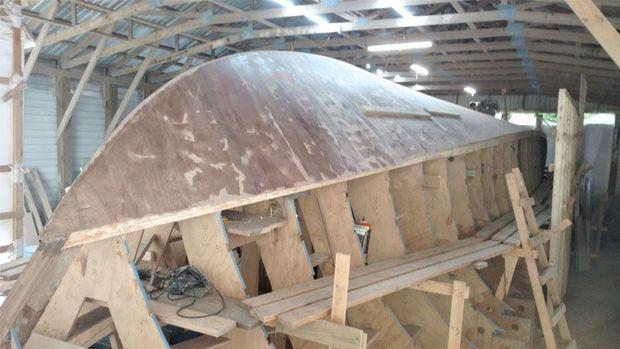 John Patnovic of Worton Creek Marina reports that stringer repairs are going well on the 74-foot Spencer Fun Day. The boat was wrecked off Puerto Rico, salvaged, and is being rebuilt at Worton Creek. "The starboard side chine and stringer repairs are complete and port side underway. Once the port side stringers are finished, we will start applying divincell foam coring and fiberglass."
Dave Hannam with Classic Watercraft Restoration in Annapolis reports in during the dog days of summer on the following new wooden boat projects in the shop. "Victoria is a 1960s Penguin, hull #6129. She was just refitted with a new center-board trunk, transom, and topside. All the interior has been stripped, the chines and gunwales have been replaced, and final templating up of the bottom is now completed. Next up, new skins on the hull and a shiny new paint job. Next in line, CWR is making space for yet another classic, a 1954 Sea King. This woody is getting a new deck and some new coatings. Also in the works is such a cute little 10-foot grandfather-built, mahogany skiff in for new coatings. This classic, notably named Huckleberry Finn, will be stabilized in preparation for the youngest captain grandson in the family for lots of summer fun on the Bay!"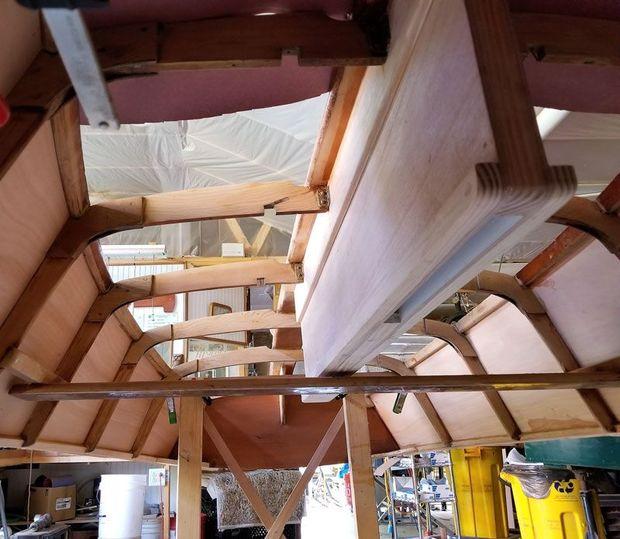 From St. Michaels, MD, Chesapeake Bay Maritime Museum boatyard manager Michael Gorman reports that work continues on the historic restoration of the 1889 bugeye Edna E. Lockwood. "Each of the nine logs making up her new hull are pinned together, and shipwrights are moving on to fitting chunks in her bow and stern over the summer. It was a busy spring in the boatyard, with the hull flipped via crane in April and the two wing logs pinned to the rest of the assembled hull in May. In September, Edna's topside will be moved to the new hull so that shipwrights can begin to marry the two, an important step in the restoration project. New stems, hatches, and additional structure will be installed this fall, and sails will be sent out to have new ones made.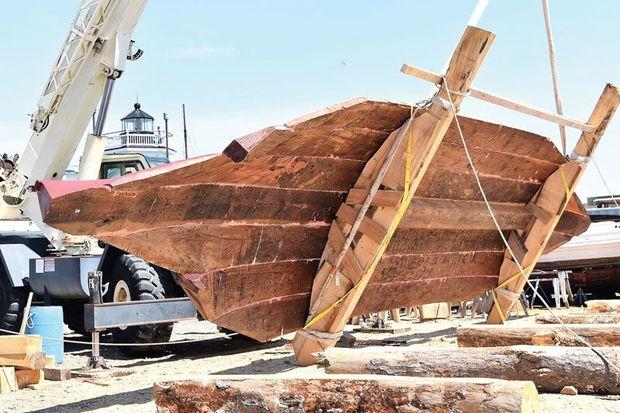 The team is restoring CBMM's queen of the fleet and National Historic Landmark Edna E. Lockwood by replacing her nine-log hull in adherence to the Secretary of the Interior's Standards for Historic Vessel Preservation. Shipwright apprentices working on the project are generously supported by the Seip Family Foundation and the RPM Foundation. All work takes place in full public view through 2018, when Edna will be placed on the marine railway and launched at CBMM's OysterFest in October. To keep up with the project, visit ednalockwood.org."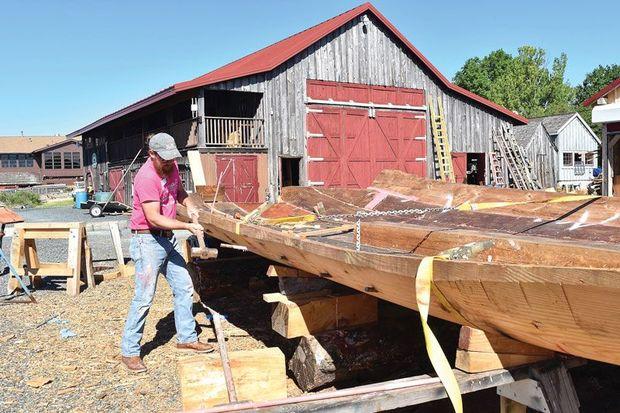 Nancy Noyes's report from Chesapeake Light Craft in Annapolis reminds us that boatshops often build things other than boats. "Building a Chesapeake Light Craft Teardrop Camper isn't much more complicated than building a stitch-and-glue kayak, canoe, or rowboat—it's just bigger, so it takes more time. For 23 years CLC has been leading one-week build-your-own-boat classes, and there was a great deal of demand for a build-your-own-Teardrop-Camper class. Thus, the team at CLC decided to expand the tried and true six-day DIY class format to 13 days to accommodate the first-ever CLC Teardrop Camper class, held in Annapolis in June 2017.Seven students from across the country assembled five Teardrop Campers, led by a team of CLC's builder-instructors. The entire two-week class was broadcast live on the web on CLC's ShopCam; live updates were posted on Facebook, and a time-lapse animation of the entire class was recorded for viewing on CLC's website. We'll run the second Annapolis Teardrop class August 7-19.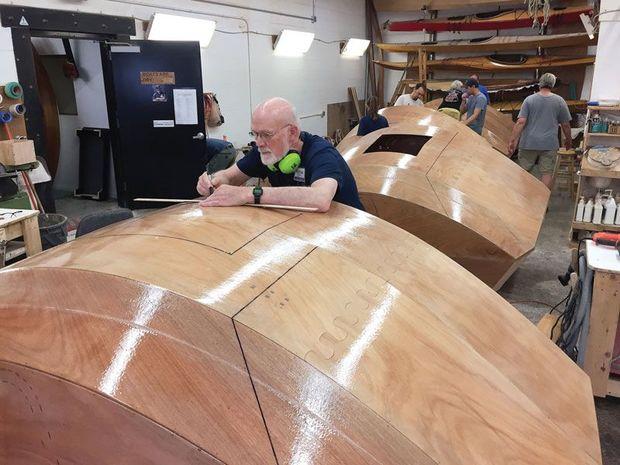 Our regular summer build-your-own-boat sessions at the legendary WoodenBoat School in Brooklin, ME; the Great Lakes Boat Building School in Cedarville, MI; the Center for Wooden Boats in Seattle, WA; and more are already under way. We'll be back in Annapolis with additional classes in September, including an additional two-week Teardrop Camper session in October. A CLC build-your-own-boat class is a great way to spend a vacation or staycation—with a take-home souvenir much better than a fading tan and a phone full of photos: a completed boat (or Teardrop Camper) ready for finishing. See the complete schedule, along with a live shopcam at clcboats.com.
by Captain Rick Franke