The Antique and Classic Boat Festival and Fourth of July are history, and the summer boating season is in full swing. By all accounts it is going to be a busy one.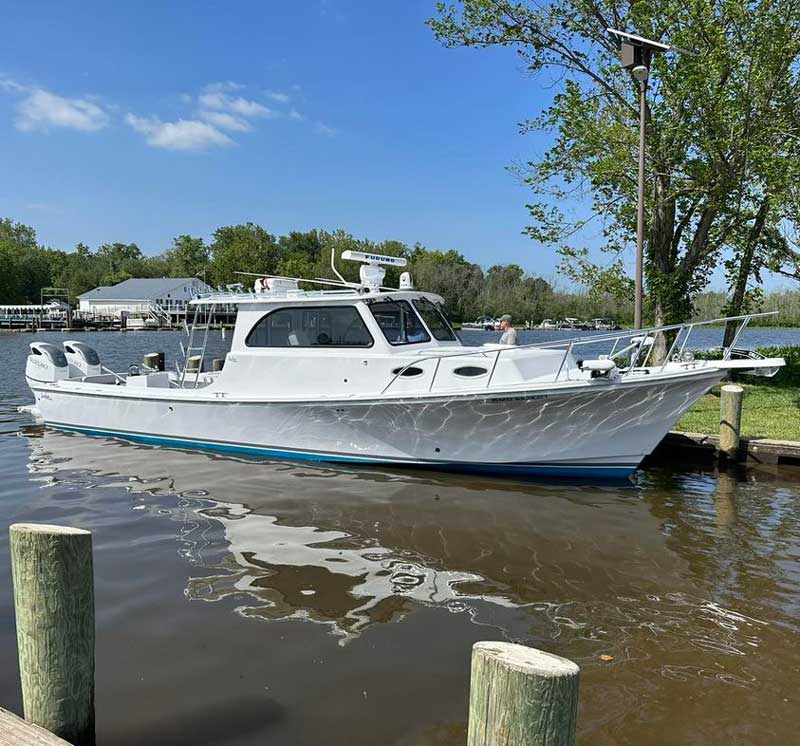 We haven't heard from David Junior from Evans Boat Repair in Crisfield, MD, for a while and it's no wonder. It sounds as if he's been very busy. "It has certainly been a while! I wanted to give you a quick update. We are staying pretty jammed up here at our yard, and are doing everything that we can to accommodate the workload. We have even hired a few new employees to add to our team. We are finishing up a new Custom 32-foot Evans for the Virginia Marine Police this month. We also hope to be wrapping up on a new Custom 36-foot Evans for a customer out of Ocean City, MD, in the next month or two. We have multiple pleasure boats in for a variety of repairs like new decks and floors, fuel tank replacements, and topside repairs. Currently, there are also two workboats in the shop including a custom 42-foot Evans that we are doing a complete outfit on including new hardtop, new topside work, outdrive to outboard conversion, and more."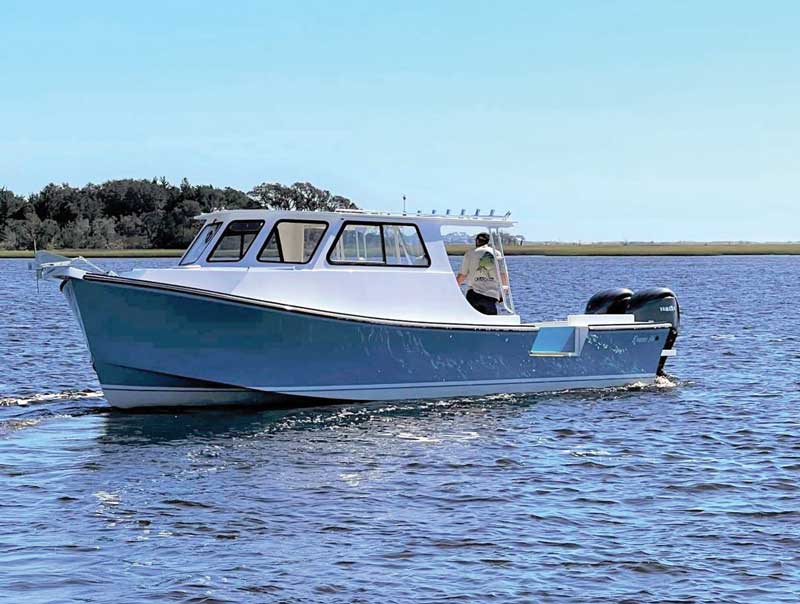 Jake Glover of Ferry Point Marina in Trappe, MD, sends us this newsy update. "We recently completed the fuel tank replacement on a 50-foot Post.  This required a significant amount of effort to accommodate the removal and new install. Thankfully all went well, and we've had a number of boat owners now interested in similar projects. A 40-foot Mabry is in the shop for a significant amount of custom fiberglass and paint work, along with a Kittiwake 23 foot which is receiving a full overhaul. The mechanics have been busy as always. Our refrigeration and air conditioning tech has been working through service calls and a new A/C install for an Irwin 35-footer."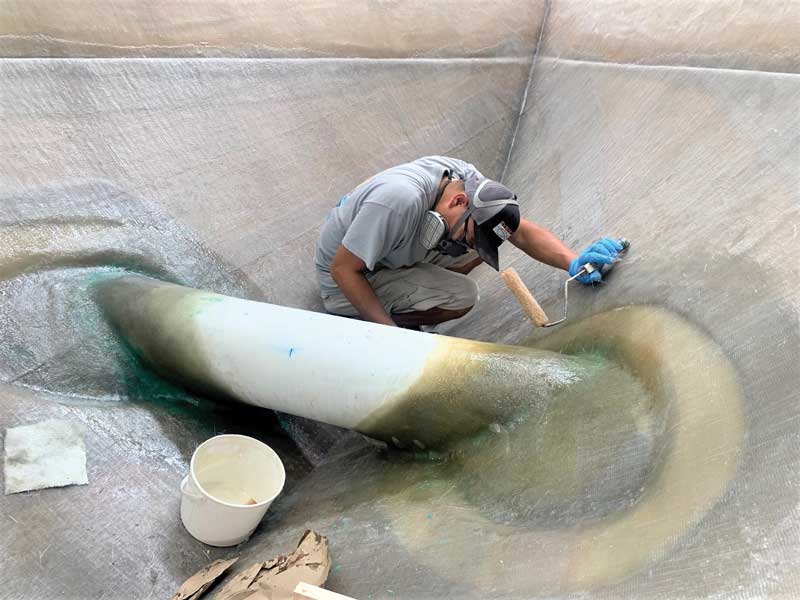 Patrick Callahan at Worton Creek Marina in Chestertown, MD, reports that they have been super busy with routine spring recommissioning work. In the shop they are finishing up a refit on a 72-foot Princess. As far as the rest of the summer goes, they have several major refits lined up and as Patrick puts it, "We're off the charts busy!"
Russ Garufi of Titan Custom Yachts, builder of custom sportfish yachts, in Bishopville, MD, reports that for the first time, his shop has three boats under construction at the same time. "The 63 is going to come out of the shed sometime in August and will be heading down to Sunset Marina. We should be turning that over around the end of September. We have the 70 in the new shed and are getting ready to flip the hull over. The hull is being faired, the house is built and faired and ready. I'm hoping to have that assembled in about 120 days. And we just started a 63 two weeks ago." When asked if he was busy with all this, Russ laughed, "I can't complain. It seems like when I get one project wrapped up, the phone rings and I get another one. The 70 and the new 63 will take us through the winter. In October I have three customers coming up to have a sit down and talk and I'm sure we'll do another contract by the end of the year."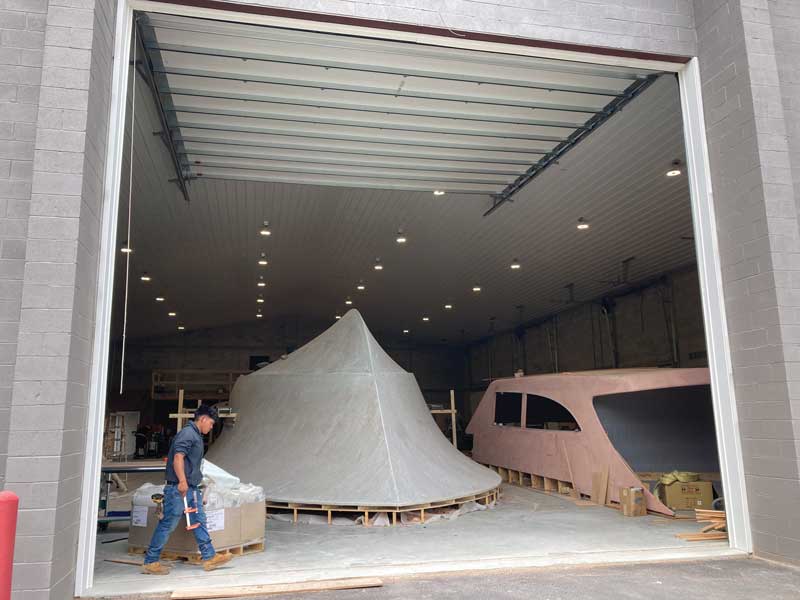 Pam Jones of P.L. Jones Boatyard and Marina in Fishing Creek, MD, reports that they have had a busy spring with lots of repair and commissioning work. In addition, they are finishing up a scallop boat for a waterman. They also just delivered a Chesapeake deadrise-style fireboat for the town of Ridge. This boat is the fourth deadrise-style fireboat built by the P.L. Jones shop. The Ridge boat is powered by triple Yamaha outboards and features a 2000 GPM Waterous pump powered by a Cummins QSL-9 diesel marine engine to provide enough water to douse fires. Fireboats were also built by the Jones shop for Tilghman Volunteer Fire Department, as well as Grasonville and Hoopers Island.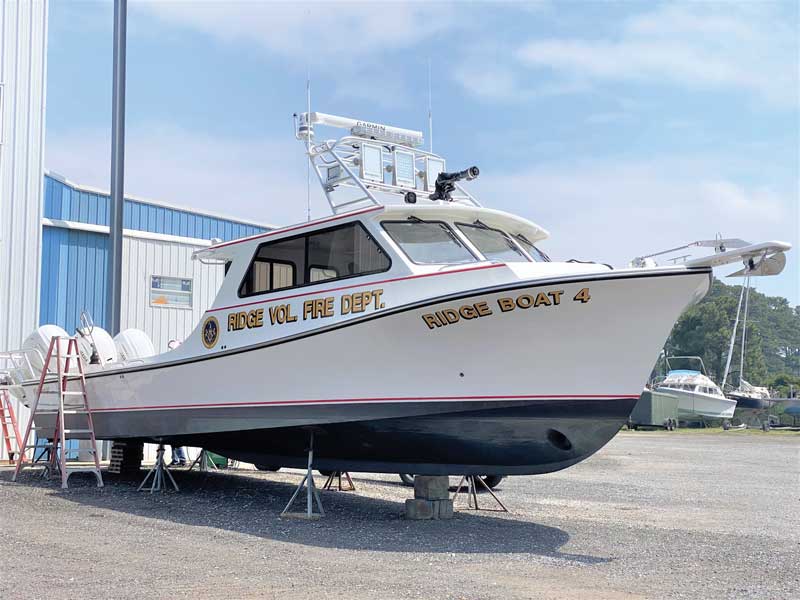 George Hazzard at Wooden Boat Restoration, LLC in Millington, MD, reports that, like most boat restoration shops, spring and early summer in his shop is pretty much devoted to getting boats ready to exhibit at the annual Antique and Classic Boat Festival over the Father's Day weekend. George planned to show Our Time, a 1954 20-foot Chris-Craft Sportsman; Gatsby, a 1940 18-foot Sportsman; and Pokety, a rare 1947 18-foot Galbraith built of cedar over oak frames. George's crew is also working to complete restoration of a 1964 16-foot Penn Yan.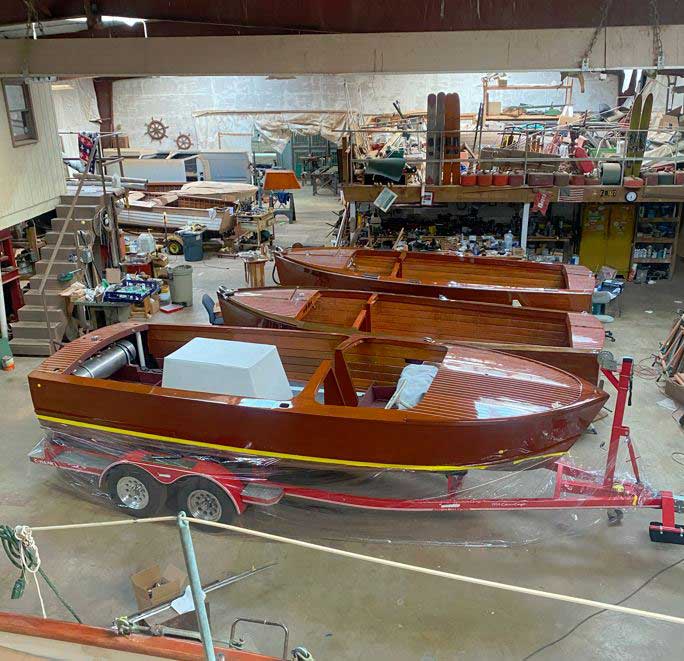 Here is a quick update from Smokey Glover at Lake Assault Boats in Portsmouth, VA. "We have three United States Coast Guard Boston Whalers in our shop to be repowered with Suzuki 175-hp outboard motors and hull and bottom refinishing. At the Lake Assault Boats Service and Warranty facility we work on not only Lake Assault Boats but other manufacturer's boats as well. Our customer base includes government, military, commercial, municipal, and private boat owners."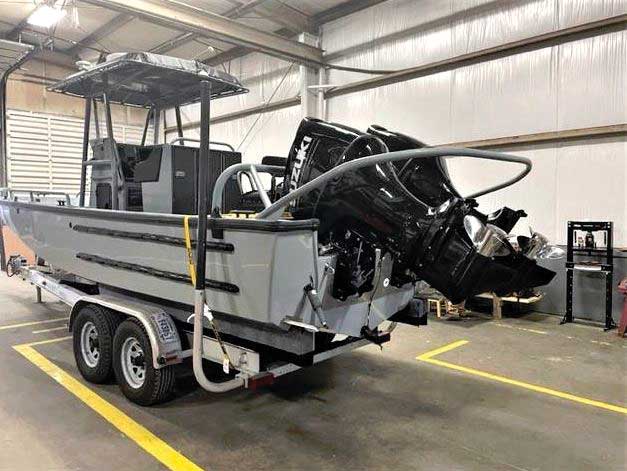 A telephone conversation with John Stefancik, the newly appointed executive director of the Marine Trades Association of Maryland, addressed a familiar problem. "I started April first," John explained, "And immediately began with producing the Safety at Sea seminar in conjunction with Naval Academy Sailing at the US Naval Academy. And then proceeded to attend four boat shows in five weeks. So, it's been just over two months and it has truly been a whirlwind." 
When asked about the challenges facing MTAM, John replied, "The executive director of the organization is always being tasked with being the voice of the marine trades. We have a multitude of issues within our industry, and there are many different communities within the industry as well. Boat dealers don't have the same issues to deal with as marine service providers. Different concerns confront marinas that don't have a boat yard. And there is a whole other arm of our industry to consider in marine lending and finance. But, without a doubt, the number one issue on everyone's mind continues to be workforce development. We are working with the state of Maryland, under a grant provided by them, to attract, retrain, and upgrade skills for people in the marine industry. Keeping a big pipeline of new people coming in is really what's on everybody's mind." 
When asked how MTAM plans to address the problem, John replied, "We have a company under contract which is dedicated to the workforce development effort. They will do career fairs, boat shows, and school programs. Also, it's my responsibility to do some of the work as well. So we have at least two people working on it. Lia Jaros was the program coordinator for several years and laid a great foundation for us to build on to make the program even more effective."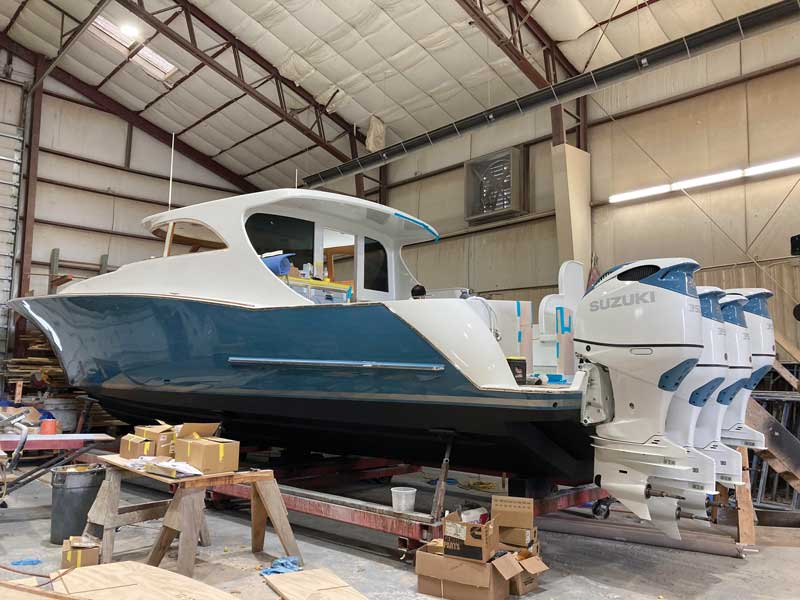 Spring weather was the catalyst for the fast and furious kickoff of railway season, a time when the Chesapeake Bay Maritime Museum's floating fleet of vessels, as well as some visiting hulls, receive annual care, inspection, and repair, reported CBMM vice president of shipyard operations Christian Cabral. "The season began with the hauling and service of Stanley Norman, a relative newcomer to St. Michaels now owned and operated by the Inn at Perry Cabin. Hot on the heels of Stanley Norman was the queen of CBMM's floating fleet Edna E. Lockwood for paint, care, and topside repair. Currently, CBMM's railway is occupied by the largest member of the fleet, the newly restored 1938 buyboat Choptank. Over the next few weeks, Choptank will undergo a complete hull refinish, running gear maintenance, and general annual care. Once returned to the water, Choptank will remain dockside while CBMM shipwrights install the vessel's new passenger accommodations and working rig. Never to be left idle, CBMM's railway team is next scheduled to haul and service CBMM's own skipjack, Rosie Parks.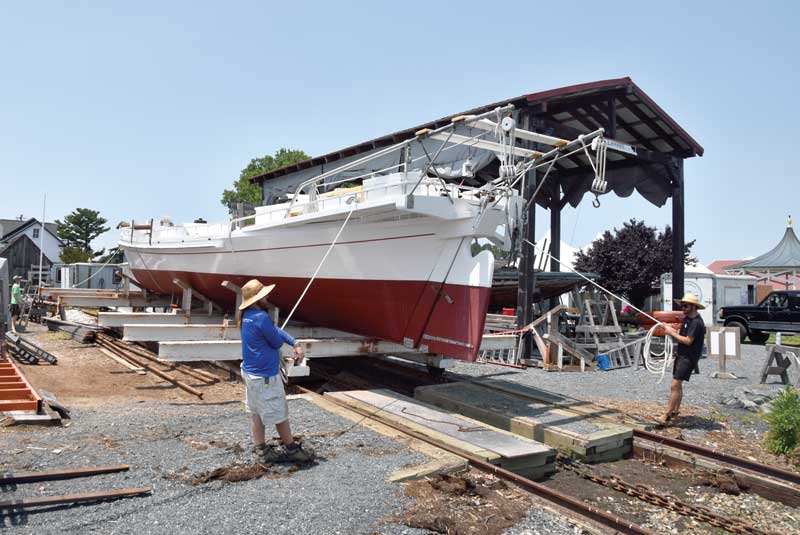 In concert with the flurry of railway activity, the shipyard team is focused on the ongoing construction of Mr. Dickie, the new 36-foot buyboat. With Mr. Dickie scheduled for launch in October, the summer and early fall months are dedicated to decking/superstructure installation, interior installation, engine installation, systems and electrical design, rig construction, and finally hull finish. During this final phase of construction, changes to the form and appearance of the vessel occur quickly. Guests are encouraged to come see the project progress. Never to be outdone, CBMM's senior apprentice Megan Mitchell oversaw the launch of the newly constructed St. Michaels Scow, reintroducing the design to its historic home port of St. Michaels. With the hull complete, Mitchell has turned her attention to the construction of the vessel's spars, rigging, and sails. The project will wrap up just in time to capitalize on the summer sailing season."
Congratulations to Hank Reiser and Jason Corsini at Marine Services, LLC at Pocohontas Marina in Edgewater MD. Their restored 1951 34-foot Chris-Craft Commander Argonaut won the platinum medal, and their restored 1951 Chris-Craft Sportsman Old and In the Way won a silver at the Antique and Classic Boat Festival June 16-18 at the Chesapeake Bay Maritime Museum, in St. Michaels, MD. Well done.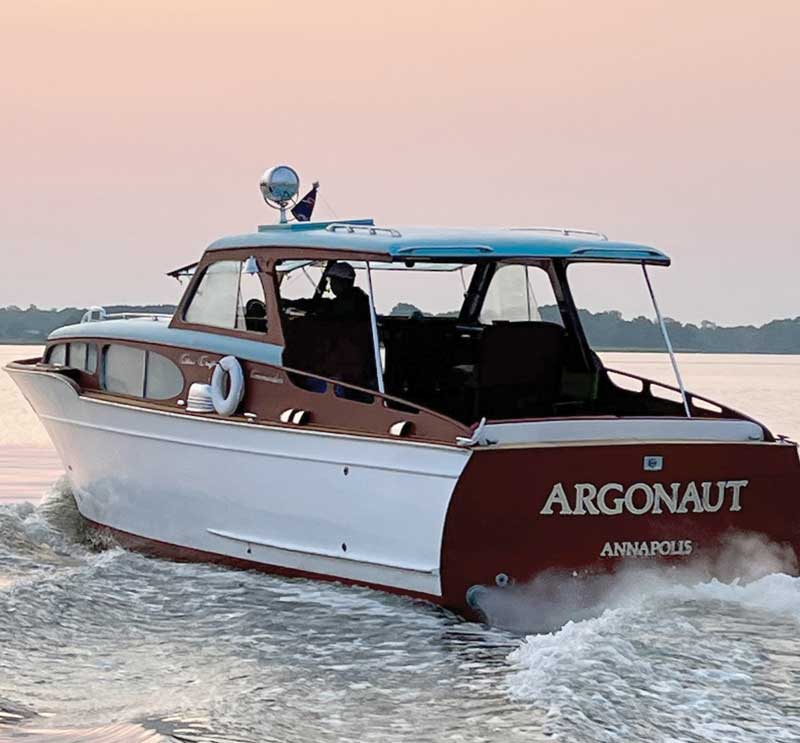 By Capt. Rick Franke