You may have seen that Chesapeake boater and Argo Navigation boating app creator Jeff Foulk went viral on TikTok after his daughter Megan, a college student who decided last minute to attend the show with her dad, posted a video of him at the Chicago Boat Show in January.
Argo, sponsor of PropTalk's Club Notes section, was doing well, but things shot to a whole different level after the TikTok post. The story has been picked up by local and national news outlets, including CNN, The New York Times, and The Washington Post.
Foulk says, "I really felt this was going to be a breakout year for us, having introduced a Premium version in September 2022 and more features coming, but there was no way I would have anticipated the attention and support that I have received after the 12-second TikTok video my daughter Megan posted at the Chicago Boat Show. It's truly been amazing! We now have almost 20,000 reviews and a 5.0 rating on the App Store. For a few days we were sitting as the number one Navigation app on both App Stores—sitting above Google Maps and Waze. Our downloads have also increased to over 300,000 in just 10 days.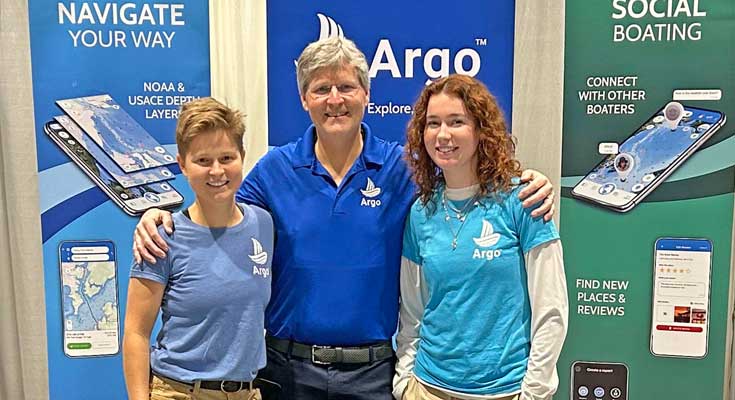 "It's really been a family affair," says Foulk, whose wife gave him a nudge to start building the app in 2019 after years of listening to him talk about it. "My older son, Matt, now a senior in college developed a dashboard for me a few years ago to track data analytics. My oldest daughter, Kelly, helped me with marketing, and my wife has always been there to help at the boat shows. Even my younger son, Andrew (now a senior in high school) came up with the slogan we used early on, "See where the water takes you;" it's still in the app when you sign on using email."
Learn more about the app at argonav.io.