The days are longer, daylight saving time is here, and shrink wrap is rapidly disappearing in area marinas, and with that, Captain Rick Franke brings us the April 2020 Boatshop Reports. As the winter that wasn't gradually gives way to spring, area boatshops are finishing up winter projects and preparing for the spring commissioning frenzy. Most report a busy winter and anticipate a busy summer season (*collected in March stay-at-home orders).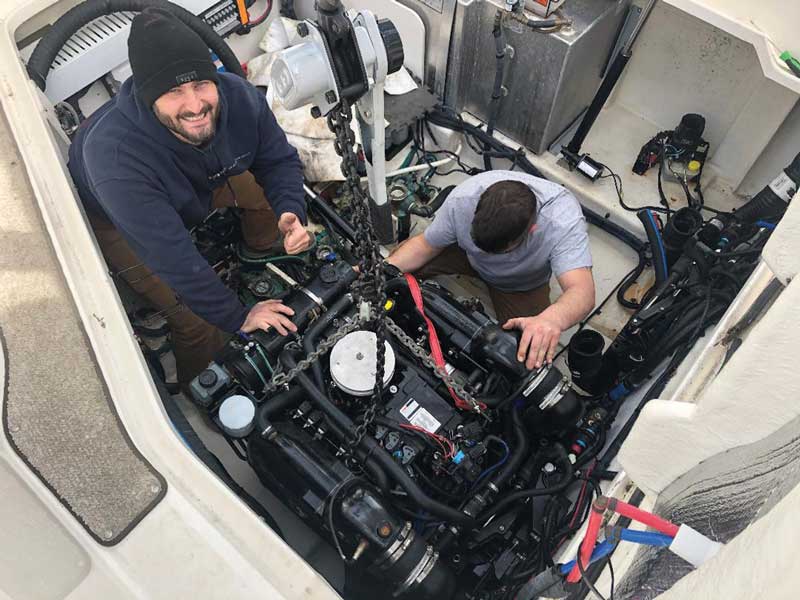 For example, David Jr. from Evans Boat Repairs in Crisfield, MD, sends us this busy update: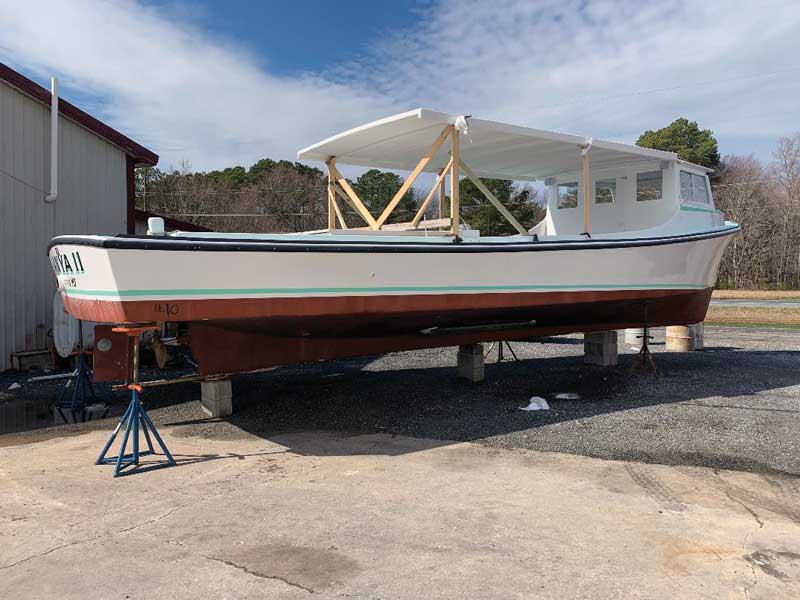 "Business is booming at Evans Boats. We currently have more than 10 larger-scale jobs in the shop, and this doesn't include the many smaller-scale jobs we are doing. We expect the spring rush to kick in sooner than later, too! For now, our shops are packed with several restoration jobs. We have a research vessel from Delaware State University on site getting a new floor and open back cabin. We are working on a new exhaust and hard top install for a fishing vessel out of the Smyrna, DE, area.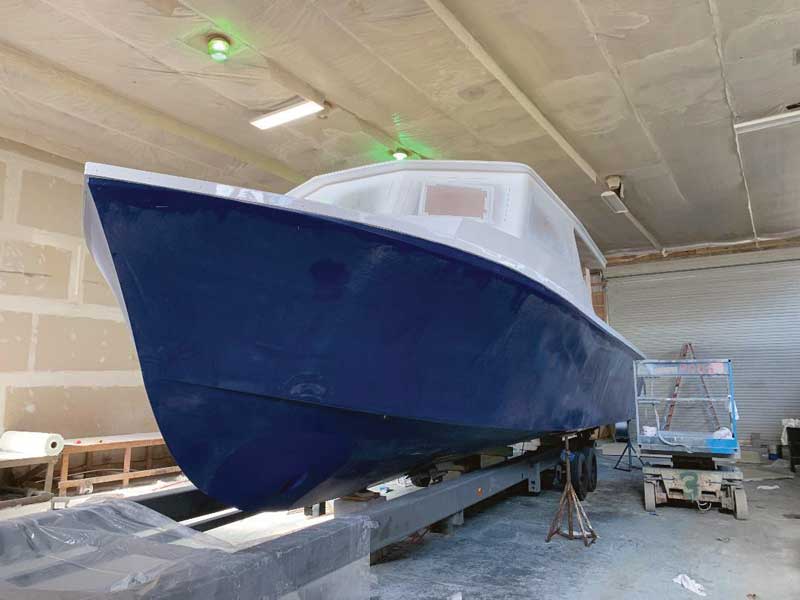 "We have one new 38-foot vessel under construction that will be heading to New York City when it is done, along with a new 43-foot custom Evans heading to Florida for Disney Cruise. We will begin laying up this vessel this month. We are constructing a few other hard tops, working on several repower jobs, and have another glass over wood job on deck for a March start time. We just recently finished the repair of a pleasure Bayliner that was involved in an accident, and our owner, my grandfather, Eugene Evans, is constructing his own new vessel for his 'retirement' job, as he has gone back to his roots working on the water."
Eastport Yacht Club member and former Lights Parade Chief Elf Babak Ragee sends us this newsy note. "You should check out my 1979 21-foot Chris-Craft Lancer undergoing full restoration at Hinckley in Oxford, MD. The boat's name is Never Learn. The shop has completely gutted the hull and has installed new stringers and floors. They are installing an all new interior with new teak trim. Never Learn is also getting a new engine and electrical system and a full glass cockpit (well, a small one). Then, she will be fully repainted and ready to go."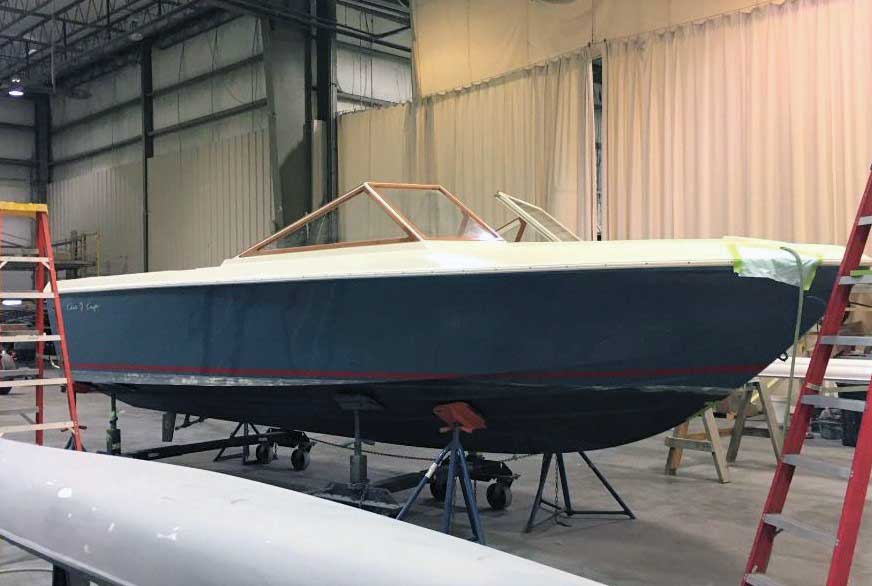 Speaking of Hinckley, Charlie Petosa of Hinckley Yacht Services in Annapolis, MD, brings us up to date. "Last month we reported on the Mercury engine and outdrive service for a Sea Ray 33. We are now in the process of reinstalling all of the major components. One of two engines is back in, as well as the new transom assemblies installed and ready to receive the outdrives. Scott Payne and Mike Nolan are installing the second engine. This boat, along with all other winter projects, are on schedule for their spring launch dates." Charlie informed us that their spring launch schedule started on February 29.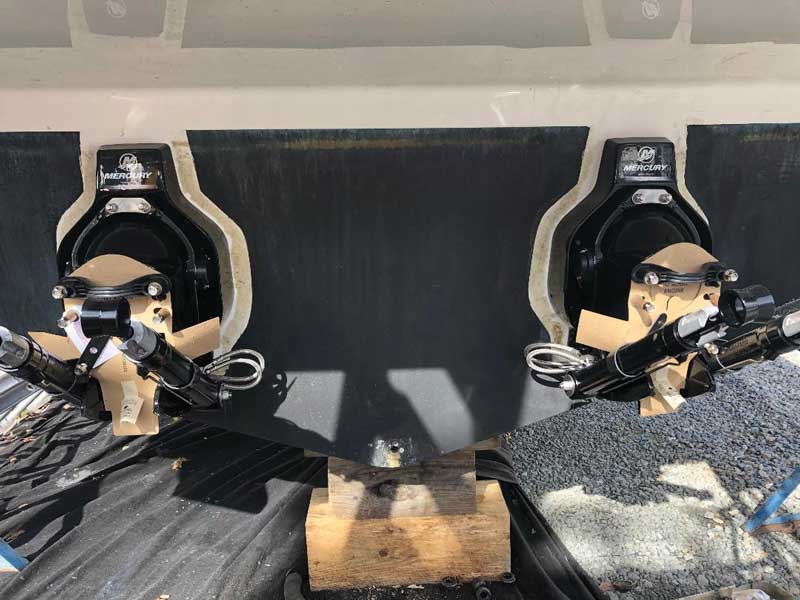 Mike Bickford from Campbell's Boatyards in Oxford, MD, sends us this update. "The Campbell's Marinas in Oxford are filling up with freshly commissioned and launched winter storage boats. A wide variety of work has been accomplished over the past few months. Several complete electronic packages will be seeing their initial use this summer. AIS systems are all the rage and come in a variety of colors to match whatever your mood is. Our well-loved and highly experienced composite crew at Bachelor Pt. added a set of 'rolling chocks' (bilge keels) to the bottom of a Benford-designed trawler. The initial tests point to a lessened amount of roll as the chocks will add longitudinal resistance to the motion of the hull. There are no moving parts, unlike active stabilizers, and there will be little additional drag on the forward movement. We are looking forward to seeing our many returning slip holders and transient boaters this season!"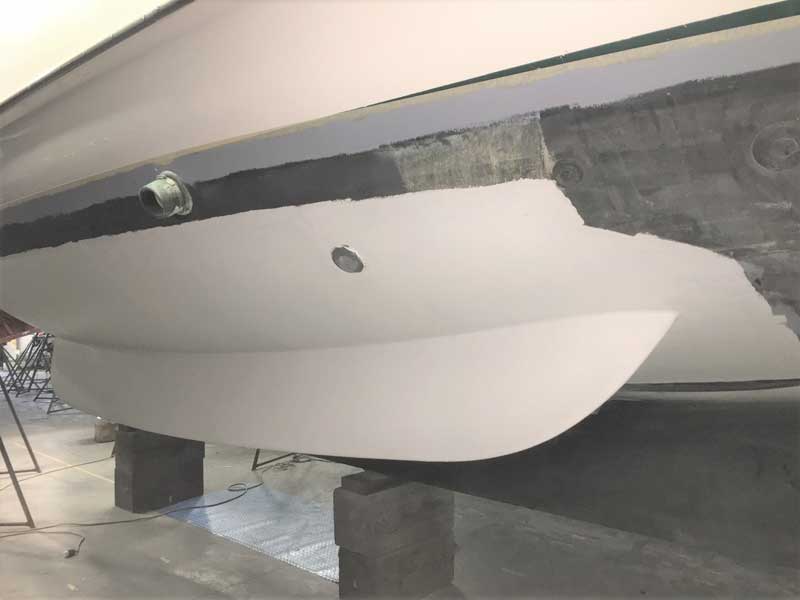 Smokey Glover of Willard Marine in Virginia Beach, VA, sent us this report of a refurbishing of an aluminum Sea Ark work boat. "Attached are before and after pictures of a survey boat belonging to Delaware DNREC (Delaware Natural Resources and Environmental Control) that was refinished by our crew at Willard Marine in Virginia Beach and just delivered back to Delaware. The boat was stripped to bare aluminum, prepped, primed, and top coated as per a drawing provided by DNREC. If we get pictures of the boat in the water before the next deadline I will send them."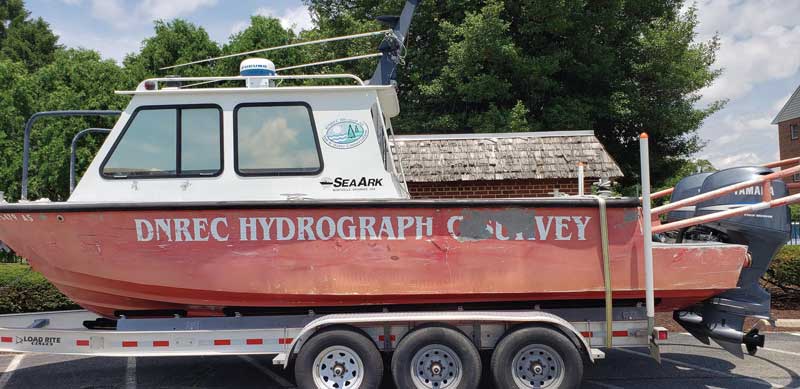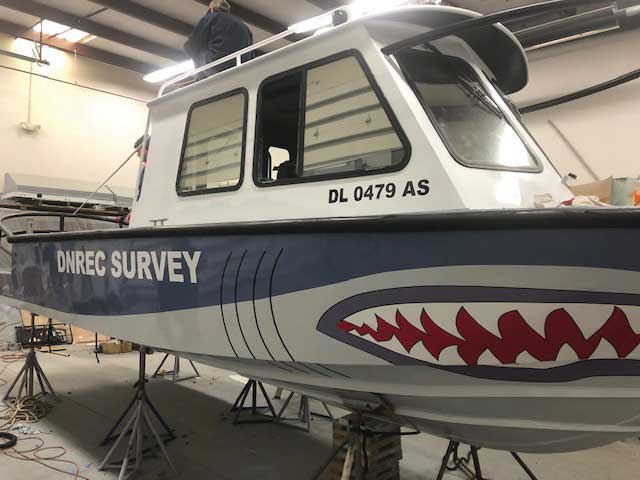 A recurrent theme we hear in talking to area boatshop operators is the shortage of new workers coming into the field. Several organizations, both local and national, have taken on this challenge. Lia Jaros, workforce development coordinator for the Marine Trades Association of Maryland sent us this interesting report. "MTAM in partnership with the National Marine Manufacturer's Association (NMMA) and the Annapolis School of Seamanship held their sixth annual Marine Career Discovery Day at Progressive's Baltimore Boat Show on Friday, January 24. Twenty-seven high school students from North County High School (NCHS) in Glen Burnie attended the event. The Marine Career Discovery Day consisted of two panel discussions moderated by MTAM's executive director Susan Zellers, an interactive experience with the Progressive footprint, and an NMMA guided tour.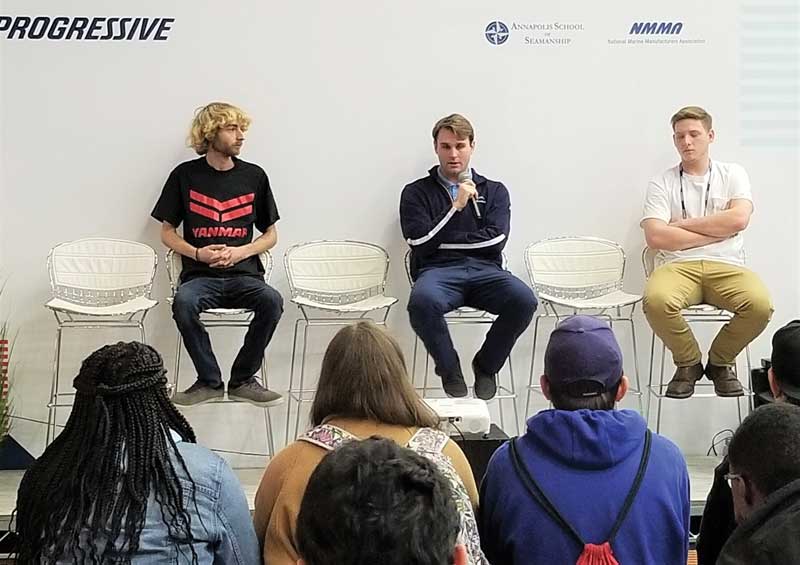 "The second panel featured individuals who had completed MTAM's On-the-job Training program within the past five years and have grown considerably within the industry since then. Hayden Foy is an engine mechanic at Maryland Marina. He is currently working on his Yanmar Certification. 'If you like working with your hands and being by the water, the marine industry is probably the best place for you,' he said. 
"Andrew Riina of Oasis Marinas is the manager of Harbor East Marina in Baltimore. He talked about his experience in MTAM's On-the-job Training Program. 'The on-the-job training was very helpful because it served as the avenue for my career start in the industry,' he explained. 'I was in the industry before I entered the program, but on a much smaller scale. MTAM connected me with a job that helped me grow my career by bringing me into the service side of the industry, which ultimately made me very valuable to my company.' 
"Garrett Tate is a marine technician at Pasadena Boat Works. 'If you're interested in this industry, I would definitely recommend getting in now while you're young because there is so much opportunity for young people. MTAM's program is a great thing to get involved with to grow your knowledge of the industry.'"
One final thought as spring approaches. If you are a do-it-yourselfer getting ready for spring, contact the nearest marina for assistance in properly disposing of old shrink wrap.
By Captain Rick Franke