The late winter scheduling of the Miami International Boat Show makes it the ideal event for manufacturers to introduce new products and services to the recreational boating public. This year was no different. Two trends in boating which we have observed and commented on dominated the news coming out of Miami: the shortage of trained technicians and the growing popularity of outboard propulsion for ever larger boats. The trained manpower shortage was addressed head on by the following announcement by industry giant Evinrude. 
"Evinrude, the American Boat and Yacht Council (ABYC), and the National Marine Distributors Association (NMDA) announced today that Evinrude will donate two million dollars' worth of Evinrude ETEC G2 3.4L V6 outboard engines to the ABYC Foundation supporting next generation marine technician training. The donation, which is the largest of its kind in history, will support students in high schools and colleges across the U.S. and Canada. NMDA will provide funds for schools to purchase related materials and to transport the engines."
The ever growing popularity of modern, high tech, outboard motors is reflected in the following announcement from Mercury Marine, released during the Miami show.
"In 2019, Mercury Marine launched the 400-hp Verado outboard engine, the company's largest mainline outboard engine and the perfect complement to the widely popular 350-hp Verado. Weighing just 668 pounds, same as the 350-hp Verado, the 400-hp Verado is also the lightest outboard in the 400-plus-hp category by nearly 300 pounds. The new 400-hp Verado maximizes noise and vibration dampening with a 5.44-inch-diameter gear case with a 1.75-to-1 gear ratio. In addition to the 400-hp Verado, Mercury also launched the 1100-hp sterndrive racing competition engine and showcased the 5-hp propane outboard as well as the new V8 outboard line for the first-time in Miami.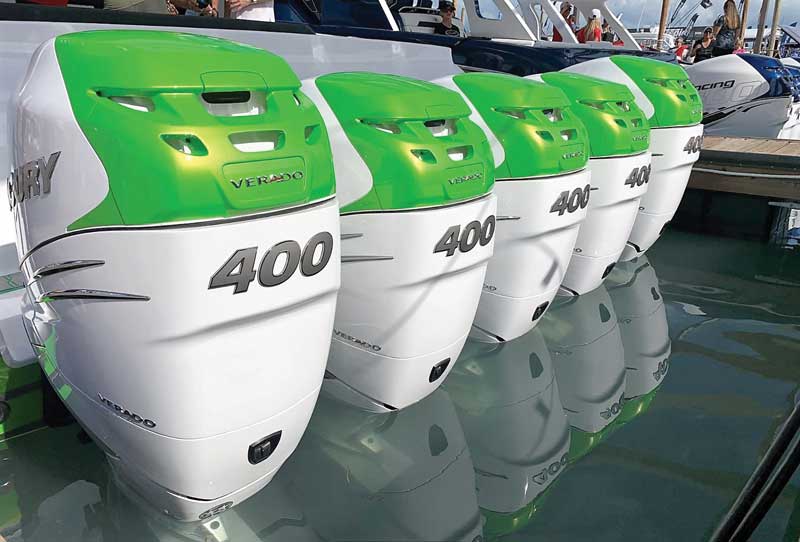 "'I talked to boat builders and dealers during the show who marveled at Mercury's growth, and that was fantastic to hear,' said Randy Caruana, Mercury Marine vice president of the Americas and Asia Pacific. 'These are builders who wouldn't have considered powering their boats with Mercury five years ago, and now they are turning into key partners of ours.' Mercury continues to take advantage of new or expanded relationships with key boat builders, including the showcase of two different six-engine applications in Miami. Both Cigarette and Scout displayed a center console boat powered by six Mercury outboards—an industry first."
Meanwhile, back on the Chesapeake, winter work and planning for the spring commissioning season continues in our boat shops. 
Higgins Yacht Yard in the heart of St. Michaels, MD, reports that they have had a busy winter. In addition to their normal winter boat work, new owner Jonathan Clarke has been updating the boat yard and doing some major restoration on the 1894 log canoe Magic. Higgins Yacht Yard sits on a site that has been building and repairing ships and boats since the late 1700s. Legend has it that the yard built some of the fast privateering schooners, known as Baltimore Clippers, which preyed on British commerce during the War of 1812. This notoriety led to the British bombardment of the town in 1813 when lanterns hung in the branches caused the gunners to fire on a grove of trees, thus sparing the town and giving rise to the town motto, "The Town that fooled the British."
Dennis Elzey of Elzey Custom Boats in Cambridge, MD, sends us this report: "The plug for the molds of a new Elzey 31 is finished. She's 31 feet and six inches long over all with a 10-foot seven-inch beam. The first one will be powered with an inboard diesel and finished as a work boat. We have a new Shore Built 24 done and ready for delivery: 24 feet length over all with a nine-foot, six-inch beam. When powered with a 150, she will top over 40 mph. This one is the number 26 of the Shore Built 24s we have built, and people from New York to Florida love them. We did a lot of repair work and restoration as well."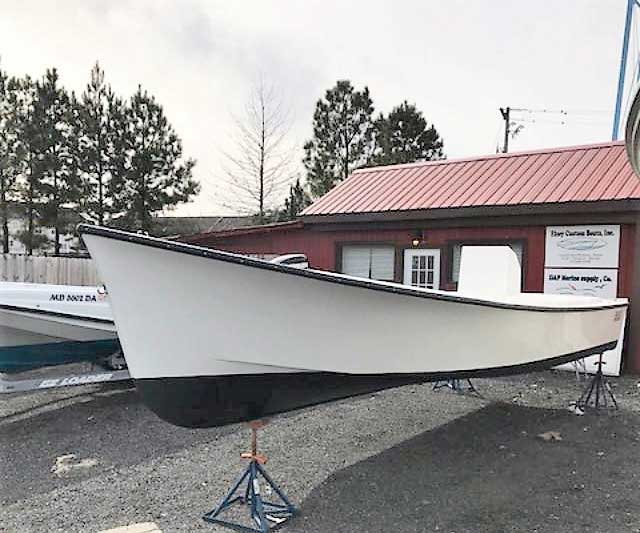 Shipwright Duncan Macfarlane of the Chesapeake Bay Maritime Museum (CBMM) in St Michaels, MD, reports that shipwrights and apprentices have moved 1912 river tug Delaware to sit on the hard adjacent to CBMM's marine railway, where she'll stay for the duration of her restoration. "With the help of Bridges Site & Utilities, this new hard stand next to the marine railway has been graded to prevent it from being as easily flooded, allowing the space to be of better use to shipwrights. Following the completion of work to the ground, a timber-frame structure built through one of CBMM's Apprentice for a Day Shipyard Programs was moved to the area next to the railway to be used as a floating fleet maintenance shed. This summer, an additional pavilion will be built around Delaware to protect the boat from inclement weather.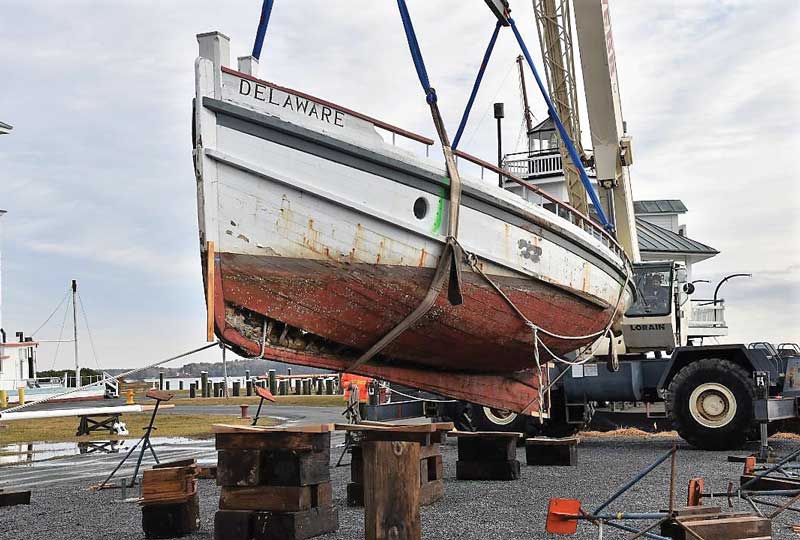 "Work on the project is expected to begin again in earnest in September 2019. The boat's pilot house was removed in 2018 to give shipwrights more access to complete the full stem-to-stern restoration. In February, shipwrights and apprentices reinforced Delaware's hull to prepare for the stress of moving her by crane."
This month we welcome a new shop to our column, Valentino Custom Boats in Manteo, NC. The company recently displayed its Valentino 26, a classic cold-molded outboard powered center console at the Richmond Boat Show. Valentino's website makes an introduction:  "Founded in early 2017 by Manuel Estrella, Valentino Custom Boats has set out to produce upscale marine vessels that are handcrafted and built-to-order. Everything can be changed. Length, beam, power, layout, luxury features, and any additional customer desires are customizable. Manuel hired the best in the business to work on all of his clients' hulls. Manuel's crew comes from Harrison and Spencer Yachts—two of the most prominent sportfish yacht manufacturers. Each Valentino Hull is a work of art. Elegant lines, open layouts, countless luxury features, and well-performing hulls are featured in every boat produced." Valentino also does repair and restoration work and is an Evinrude dealership.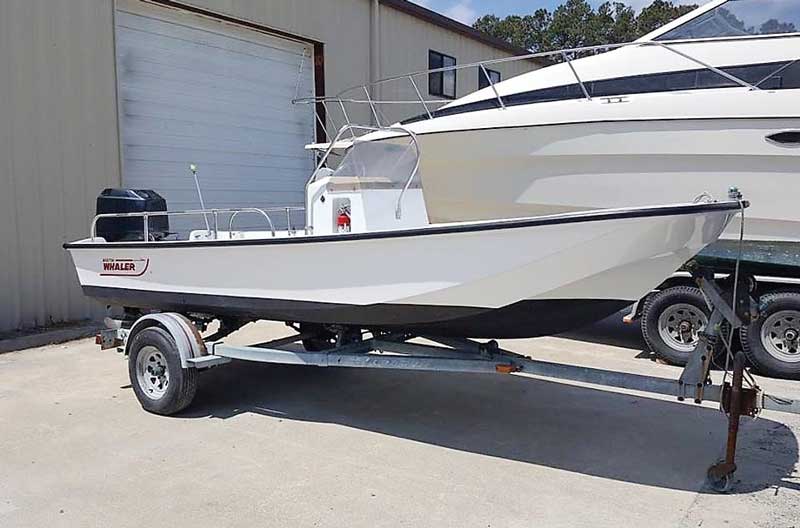 Now that the Weaver 97 18 Reeler is complete and has been delivered, Weaver Boat Works of Deale, MD, has three boats under construction. A Weaver 70, a Weaver 50, and the bay built inspired Weaver 43 are all in various stages of completion and keeping the shop busy for a while. 
Zimmerman Marine of Tracys Landing, MD, is doing a repower job on the Chesapeake Bay Foundation's oyster restoration vessel, the Patricia Campbell. Built of aluminum by Midship Marine in Harvey, LA, the Campbell is 60 feet over all with a beam of 19 feet and commissioned in Shady Side, MD, in 2002. This unique vessel is equipped with some unusual features to facilitate her mission of oyster restoration. Her bow has a center line conveyer belt which feeds an oyster shell spreader, allowing her to place as much as 40 tons of seed oysters per load. In addition she has a forward-mounted, two-ton capacity deck crane to handle artificial reef materials such as concrete reef balls. Her shallow draft of three feet allows her to work the thin water that comprises much of the Chesapeake. After more than 16 years of hard work, her original twin John Deere 375-hp diesels are ready for retirement and will be replaced by 575-hp Caterpillars with a redesigned exhaust system. The increase in horsepower should boost her 12.7-knot cruising speed a bit. If all goes according to plan, Patricia Campbell will be back at work this summer.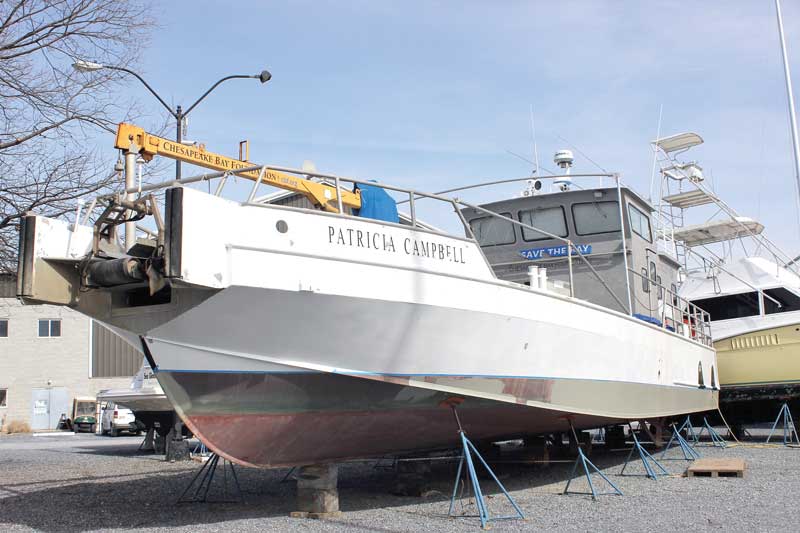 By Captain Rick Franke