Watersports have become incredibly popular, and the latest craze is wake surfing. But when you compare wake surfing to wakeboarding, water skiing, or plain old tow-toys, there's one big problem: You need a dedicated, straight-inboard boat, with ballast tanks and serf tabs. At least, you did until now. Volvo-Penta has found a way to turn stern-drive boats into wake surfing machines, and we got our first look at it on a Four Winns TS222.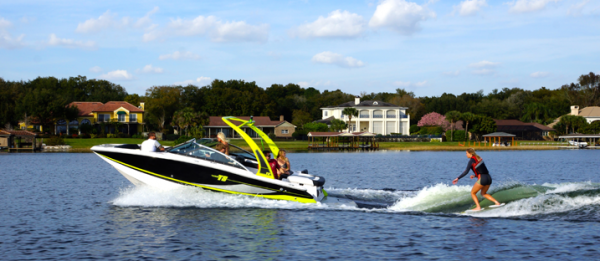 Why do you need a dedicated boat for wake surfing? There are two issues. First off, when surfing behind a stern drive boat, you'd be worrying about falling forward, into the spinning blades that stick out behind the transom. And secondly, those inboard boats are designed specifically to create the right kind of wake for surfing. Forward Drive solves both of these problems.
From the anti-ventilation plate up, Forward Drive looks like a regular stern drive. The engine is under a motorbox in the stern, andthe drive goes out through the transom. From that plate down, it's a different story. The lower unit faces forward instead of aft and has forward-facing Duoprop propellers (which are set over two feet farther forward than the norm). It looks more or less like an IPS drive (though a bit smaller), and since it moves the turbulence forward and still allows for drive trim and multi-directional thrust (unlike those fixed-shaft inboards), the wake can be both clean and "shaped."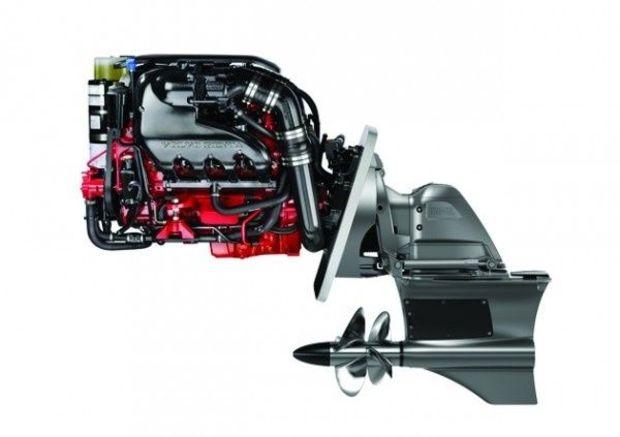 Performance-wise there isn't much of a noticeable difference between Forward Drive and a stern drive. Fuel efficiency and top end are about the same. But there is an improvement in handling. When I drove the boat, I did think there was a lot less wandering at low speeds. What about the wake? To prove just how good the system worked Volvo-Penta had a surfing pro on hand during our demo, and within seconds of getting out of the hole she tossed the tow rope and surfed a clean curl with no problem.
Afterwards, she swam back to the Four Winns and climbed back up onto the large aft sun pad. One of the beautiful things about using a stern drive boat for watersports is that big cushioned area it provides for tanning and lounging, and Four Winns also designed in an aft-facing seat on the starboard side of the motorbox. The rest of us stayed in the cockpit—we were on-hand to judge the NMMA Innovation Awards (yes, Volvo did win one for Forward Drive), and we weren't exactly dressed for jumping overboard. The surprising thing was that between the aft lounge, passenger's chair, and bow cockpit, all seven of us found a seat without feeling cramped.
Before you guess that Four Winns merely slapped a Forward Drive onto a runabout and called it a watersports boat, know that the TS222 comes with an onboard ballast system that can add over 1300 pounds of ballast, pumped in and out at the flip of a switch, so you can boost your wake size. Another important standard watersports feature is the arch with an elevated towing point. Even the little details watersports aficionados crave have been added: stereo speakers and a waterproof remote on the transom, an extended swim platform, and Zero Off speed control (which uses GPS to maintain ideal wake-creating speeds) are also standard features. In fact, the only option you'll need to add to wake surf with the best of them is the wake-enhancing trim tabs.
Like other Four Winns, the TS222 is designed around their "Stable Vee" hull design, which features a stepped running surface, after pods, and uniquely shaped chines which Four Winns says nets their boats a performance, handling, and stability boost. I'm not inclined to parrot marketing gibberish (even though I think I just did), but what I can tell you for sure is that the TS222/Forward Drive combination handled exceptionally well and took a moderate Biscayne Bay chop about as smoothly as you'd expect from any quality-built 22-foot runabout. With the ballast tanks full, lots of people onboard, and the throttles set to wake surfing speed, the hull mushes steadily through the waves without any pounding or slamming. It maintains a relatively high bow attitude, but visibility is never lost at the helm.
There's one apparent down-side to the Forward Drive rig, and that's an inability to tilt the drive unit up beyond the bottom of the boat. The props and drive increase draft even when tilted as far as possible. It may have more flexibility than a fixed-shaft inboard, but beaching the boat and in some cases, loading it onto the trailer, could be challenging.
Is this the right kind of rig for you? That's your call. But if you don't want to give up your stern drive power system and you covet that perfect wake surfing experience, this is an option you'll certainly want to check out.