Annapolis Yacht Sales (AYS), one of the largest yacht dealers on the Bay, is marking 65 years of business. However, this busy team isn't resting on past accomplishments. Though the team is proud of the milestone, the focus at AYS is on the future.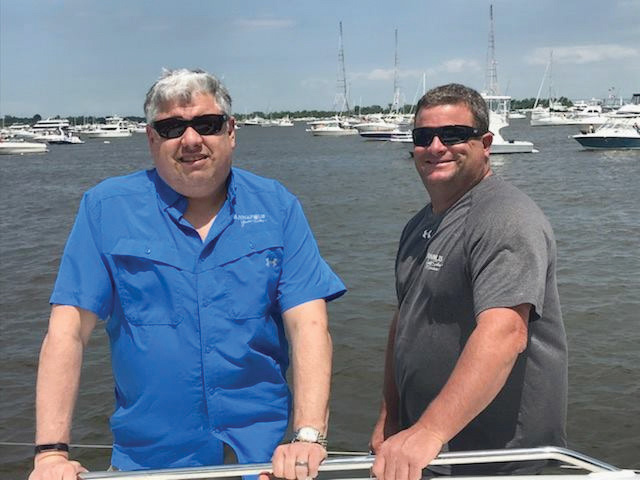 Kate Dawson, director of operations, began working at AYS when she was a teen, when her parents owned the business. Dawson says, "We are excited and proud to be marking 65 years in business, but our focus is really on going forward. We've had many transitions in the last two years and put new structures in place to be sure we are listening to and meeting the needs of all our customers." 
Dawson stresses, "The AYS family relationship with our customers is a working relationship that lasts for years. It's based on our commitment to understanding their needs." This attention to the customer is what stands out in Dawson's mind as the common link between the past and present at AYS. "John and Peggy Burgreen, who owned the business before my parents, always said, 'Let there be not one unhappy customer.' And we still feel that way."
AYS began in 1953 when Lawrence Hartge opened the business in a corner of Fawcett Boat Supplies in downtown Annapolis. In 1970 he sold the business to Dodd and Marjorie Boyd, who in turn, sold it to their daughter Peggy and her husband, John Burgreen, in 1983. 
The Burgreens moved the business to Edgewood Road, off of Back Creek. John worked closely with Garth Hichens, whose rigging company was commissioning new boats for AYS. When John was ready to retire in 1999, he sold AYS to Hichens and his wife Sue. A few years later the couple combined the sales and service locations and relocated them to Bert Jabin's Yacht Yard. Garth and Sue's daughter, Kate, joined the team in 2008.
Current owners, Rob Taishoff and Chris Humphreys, took the helm along with Tim Wilbrecht at the end of 2012. Today, under Traishoff's and Humphreys's leadership, AYS operates out of locations in Annapolis, Kent Island, Deltaville, and Virginia Beach, and is also the largest Mid-Atlantic broker of pre-owned premium yachts.