Annapolis Yacht Club's Keels and Wheels event draws enthusiastic, appreciative classic boat and car enthusiasts.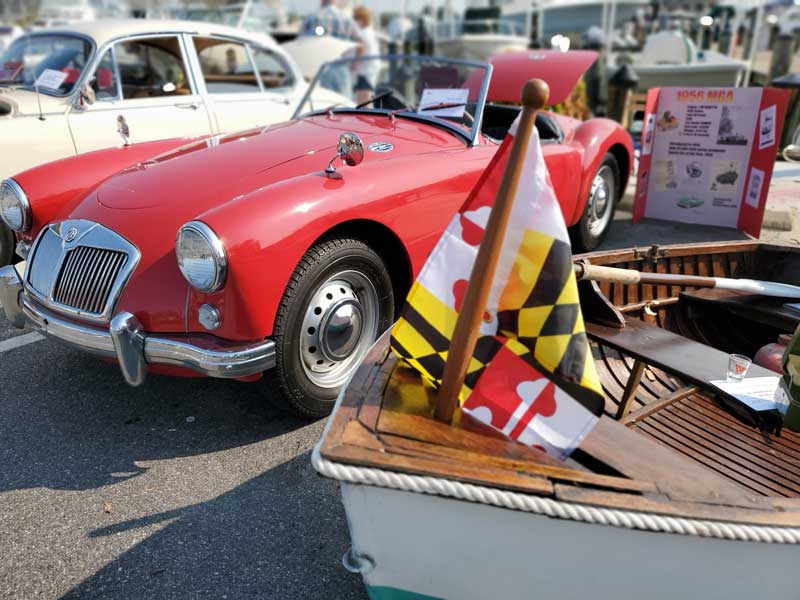 It's a ritual of the fall that was welcomed back by a crowd of more than 500 on September 17: the annual Annapolis Yacht Club's (AYC) Keels and Wheels on-land and in-water car and boat show. The event is open to AYC members and guests. Anyone is welcome to walk through and view the displays at no charge.
The crowd was treated to a multi-million dollar display of gleaming chrome, highly polished steel, and the throaty sounds of finely-tuned magnificent works of art disguised as some of the most sought after machines in the world.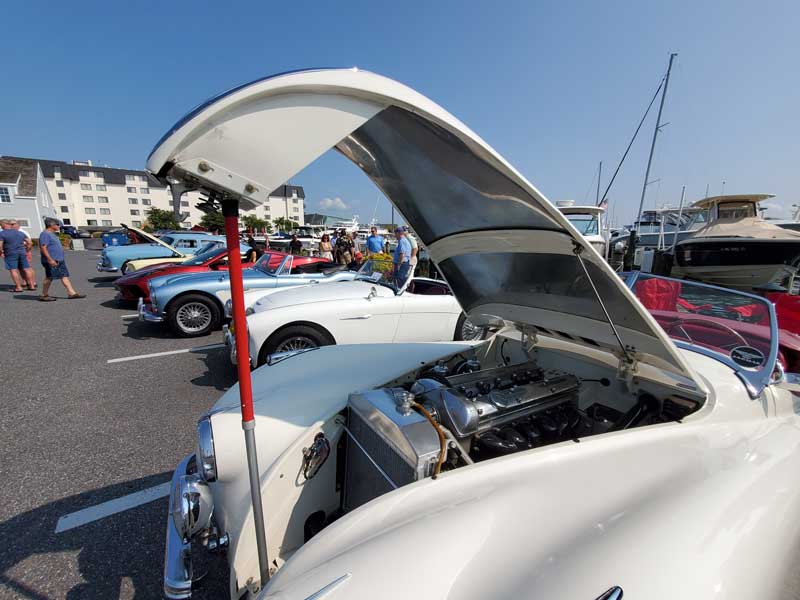 The event has been staged in the AYC main parking lot and docks for the past 20 years. This year's edition featured 54 antique and classic automobiles and 24 in-water and on-land boat displays.
This year featured participation of the Chesapeake Bay Chapter of the Antique and Classic Boat Society. Bob Hamilton and Alicia Boardman spearheaded that effort. Howard Johnson, a well respected local car and boat enthusiast, brought his 1956 14-foot Whirlwind. Cars on display were mostly correctly restored/original, with a sprinkling of moderns.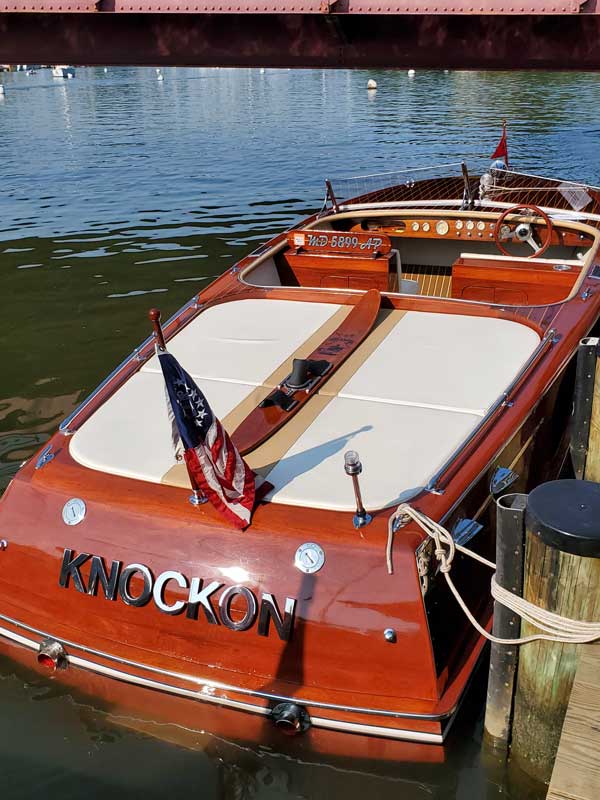 There were five on land boat displays. Ebby's Chris-Craft triple cockpit, hooked up to a trailer hitch on Fawcett's 1928 Ford Model A, was a standout. Also drawing attention was an early 1950's tableau featuring a 1952 nine-foot Thompson cartop rowboat, a 1953 Mercury 6-hp engine, and appropriate early 50s memorabilia.
The event was started about 25 years ago Dee by Murray, Howard Brooks, and Bill Nalley.
Boats and cars winning crowd-favorite awards were: Favorite Italian, Steve Schuh 1983 Ferarri 512 Bbi; German, Patrick Meekin VW Kombi; American, Bob Boardman 1957 Chevrolet Nomad; British, Robert Atkins 1967 Jaguar E-Type; People's Choice (Boat) Ebby Dupont 1931 200 Tri Cockpit; People's Choice (Car) Mark Circo Evil Diesel Rat Rod.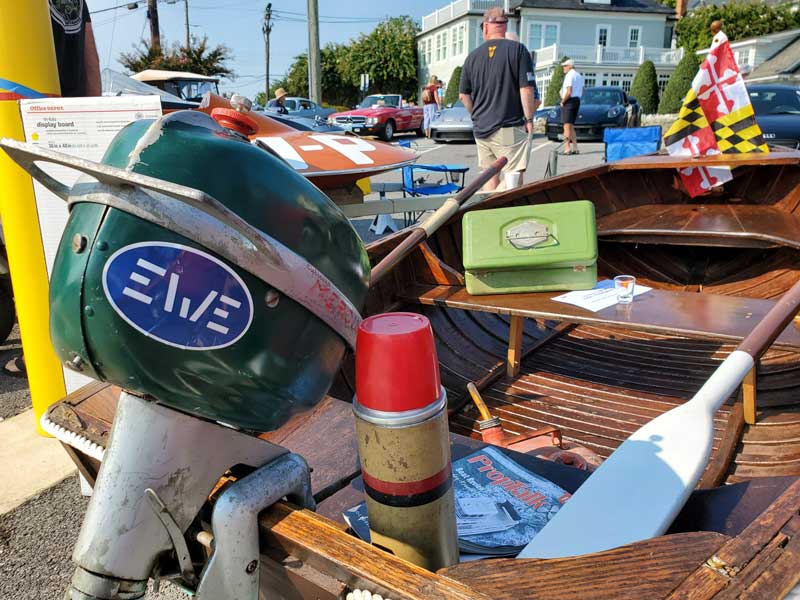 Commodore's Choice awards included: Bart Hiltabidle 1986 Porsche 944 Turbo (car); Rodrick Jabin, Jr. 1963 Bertram 31 Sportfish (Boat); Best in Show Eric Arbuckle 1911 Stanley Steamer (Car); Don Schaaf 1962 Staudacher 20 (Boat).
Next year's show promises to be even bigger and better. Watch the AYC calendar for times and dates.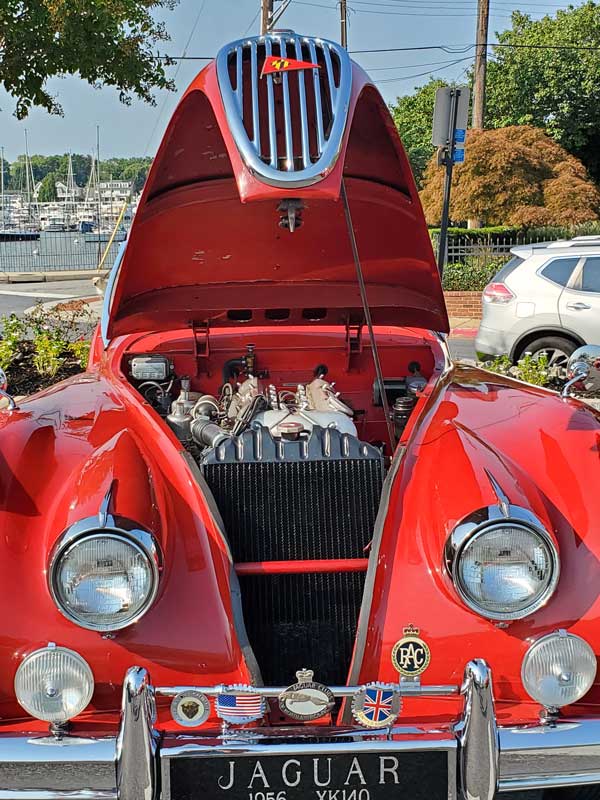 For more photos, visit Craig's Smugmug page. 
Recap and Photos By Craig Ligibel