Standup paddleboard enthusiasts of all levels look forward to the East of Maui – Eastport Yacht Club (EYC) Chesapeake Standup Challenge, an open-water SUP race set in Annapolis Harbor and the mouth of the Severn River July 13.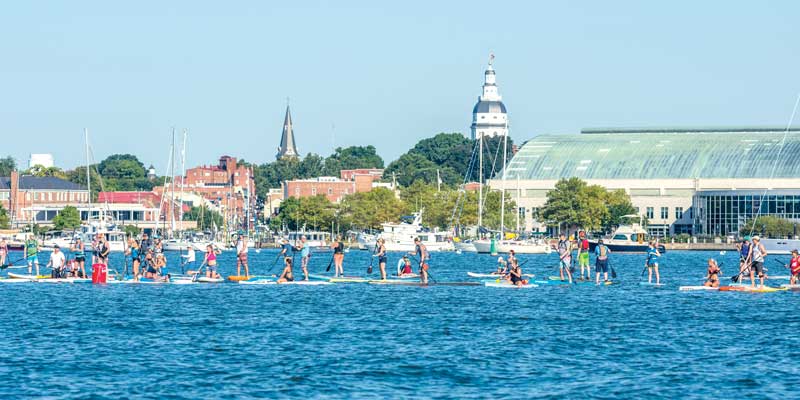 Racers have three course options: the seven-mile challenge for more experienced paddlers and a three- to 3.5-mile challenge suitable for more recreational paddlers. There is also a one-mile "Just for Fun Race." All courses can be subject to wind, chop, and boat traffic.
This is the eighth edition of this race, which attracts more than 120 paddlers. When asked about his favorite part of this event, East of Maui co-owner Mark Bandy says, "Seeing so many people have fun on boards. It's been incredible to see the growth in the sport. Really, I was probably the first to paddle across Annapolis Harbor on a board. My business partner Mark Saunders was probably the second one the next day. And now we can get 120 people out there at a time. It's amazing. Now it's rare not to see people on the water on a SUP."
"We're super stoked and appreciative for all the racers who participate, and our relationship with Eastport YC is terrific. Without EYC and their support, we could not hold this event."
Bandy and Saunders are also celebrating East of Maui's 40th anniversary this summer. 
"Our business has evolved and changed, but we're still helping people having fun on boards," says Bandy.
Racers who'd like to save themselves time in the morning of the event may pick up their registration packages (race number, tee shirt, and meal tickets) Friday July 12 at East of Maui Boardshop (2444 Solomons Island Road, Annapolis) from 4-7 p.m. On race day, competitors may pick up registration packages from 6:45 to 8 a.m. at EYC. 
The three race course starts are between 8:30 and 8:40 a.m. Afterward, racers enjoy an awards party with food, drinks, awards, and live music. PropTalk will be on the water and at the parties taking photos.
There's no registration on race day, so register beforehand at paddleguru.com.