2018 Maryland Striped Bass Regulations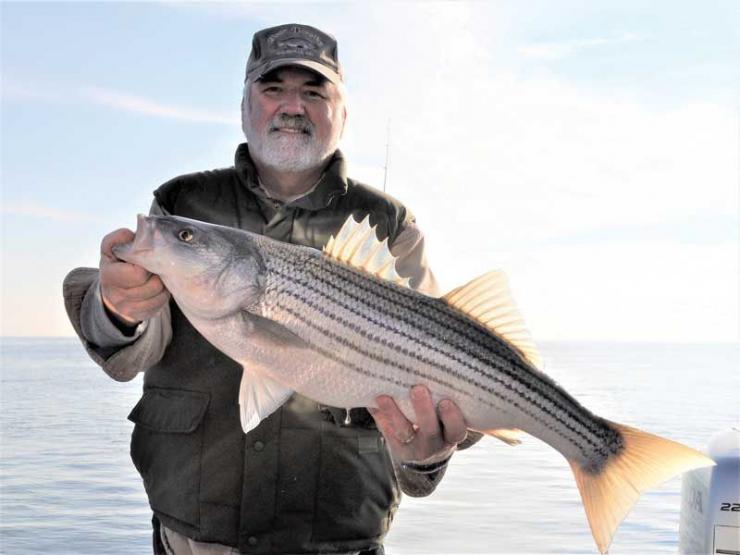 Spring Trophy Season April 21-May 15. One fish per person per day, minimum size 35 inches.
Chesapeake Bay from Brewerton Channel to the MD-VA Line, excluding all bays, sounds, tributaries, creeks, and rivers, except Tangier Sound and Pocomoke Sound.
May 16-May 31: Two fish per person per day between 20-28 inches OR one fish between 20-28 inches and one fish over 28 inches.
Chesapeake Bay downstream from a line drawn from the south corner of Hart-Miller Island Dike to the end of MD Route 21 at Tolchester and south to the MD/VA line, excluding all bays, sounds, tributaries, creeks and rivers. EXCEPT: Tangier Sound and Pocomoke Sound; Chester River and its tributaries downstream of a line drawn from Hail Point to Long Point to Ferry Point; Patuxent River and its tributaries downstream of a line drawn from Point Patience to the west point of land at the entrance of Little Kingston Creek; and Choptank River and its tributaries downstream of a line drawn from Holland Point to a point of land at the west entrance of Chapel Creek are open.
***UPDATE: On April 11, the Maryland DNR submitted revised regulations that aim to reduce the minimum size requirement of striped bass for recreational anglers and charter boats during the summer and fall fishing seasons in the Chesapeake Bay and its tidal tributaries from 20 to 19 inches. The changes, approved by the Atlantic States Marine Fisheries Commission in February, are proposed to take effect May 16, 2018, and would sunset after two years. Summer/Fall Season June 1-December 20: Two fish per person per day between 20-28 inches OR one fish between 20-28 inches and one fish over 28 inches.
All Maryland Chesapeake Bay waters and tributaries open to fishing.
December 21-December 31: No harvest, catch and release only.
Susquehanna Flats
December 20-May 3: Catch and release only. May 4-15: Susquehanna Flats closed to striped bass fishing; no catch and release fishing. May 16-31: Susquehanna Flats reopen to striped bass fishing. Creel is one fish per person per day between 20 and 26 inches. June 1-December 20: Susquehanna Flats and all Bay waters including tributaries open to striped bass fishing. Creel is two fish per person per day between 20–28 inches OR one fish between 20–28 inches and one fish over 28 inches.
Opening Day Fishing Previews
As spring trophy season for striped bass approaches, April 21 (in Maryland) and May 1 (Virginia), we reached out to a handful of professional charter fishing captains to see what they had in store. Here's what they shared with PropTalk: When we spoke to Capt. Dave Mogel of Mary Lou Too Charters (Chesapeake Beach, MD), he was preparing for the season. "The boat's in the yard getting waxed and painted. We're having our prop readjusted and are prepping for Coast Guard inspections. We're stressing out because the weather has not yet cooperated this spring." For Maryland's opening day, Mary Lou Too will fish out of Chesapeake Beach. "In the spring, we will be using assorted sizes and colors of parachutes and umbrella rigs. Maybe throw a Tony #21 out on a long line."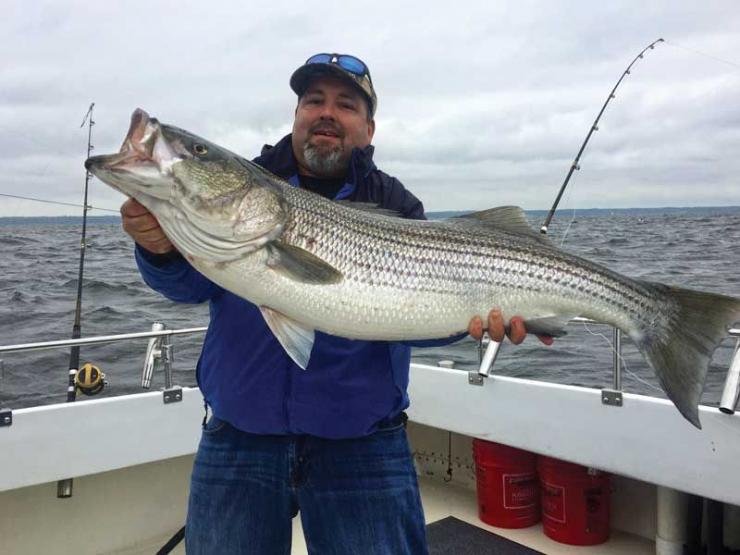 As for tips for first-time anglers, Mogel says, "Have fun! We can't control when the fish bite, so you have to have fun first. If you're fishing with planer boards, your boat is 10 times wider now, so be aware of your surroundings. As a general rule of thumb, if charter boats are there, that's probably a good place to fish." What does he love most about running a charter boat? "I am lucky enough to watch people catch their first big fish of their lifetime, watch kids catch their first fish. I can never get enough of the sunrise."
Capt. Mike Cassidy of Miss Edie Fishing Charters (West River, MD) was busy getting his boat bottom painted and ready to splash. Miss Edie (named for the captain's "lovely wife") runs out of the West River next to the captain's house, as she has for 35 years. "We tend to have family type parties," says Cassidy. This spring he'll fish "wherever the fish are!" and troll artificials, such as bucktails, spoons, and parachutes. Cassidy's tips for first-time anglers are: "Be ready for the weather. You never know—can be sunny where you wear tee shirts and shorts or pretty chilly. I like the pants that you can zip off and turn them into shorts and have a bunch of other layers. Layer up."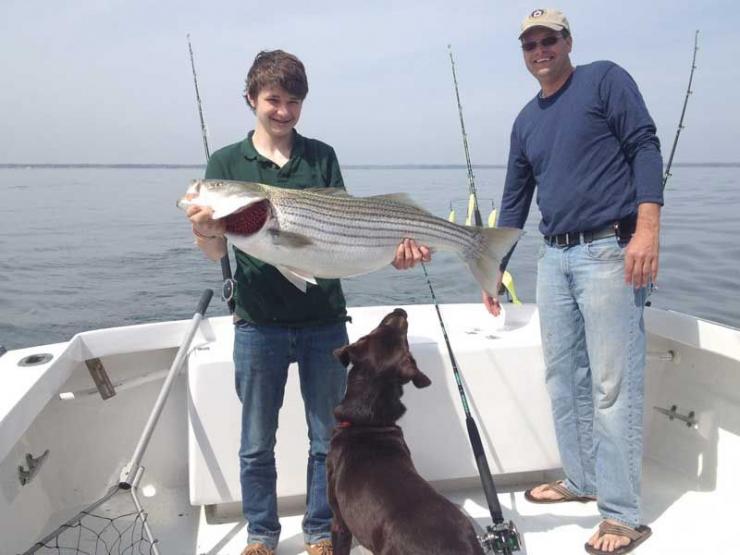 What's Capt. Mike excited about? "When I think about last season, there were slim pickings for the trophy season. Hopefully, this year there'll be plenty of fish who haven't headed for the ocean. I think it's more promising than last year. The DNR doesn't go by water temperature, but the fish do!
Capt. Brian Hardman of Lead Dog Charters (Stevensville, MD) runs Lucky Dog out of Kentmorr Marina on Kent Island. When we contacted him, he was having difficulty getting topside painting done due to the cold and rain and was settling with bottom painting and getting new zincs on. When trophy season starts, he heads out of Kent Island to deeper water. "We will have an assortment of baits: typical umbrella rigs and parachutes run in tandem and some single lures," he says. When asked to tell us about something memorable from last year's season, Capt. Brian says, "We almost started doing sightseeing cruises last year. A lot of days in the summer there were so many dolphins to see, we would stop and go adrift just to let the party take pictures. We would have 100 or more come to the surface while underway. It added an extra benefit to the party to go fishing and get to see dophins."
Capt. John Whitman of Patent Pending Charters (Deale, MD) had his boat in the water and was gearing up. Whitman runs out of Herring Bay. "We will probably be working the edge right outside of Herring Bay in 25 to 50 feet of water," he says. He'll use umbrellas, 15-inch on planer boards and some larger umbrellas and tandem baits… "The fish will be in near the surface where the water is warmer."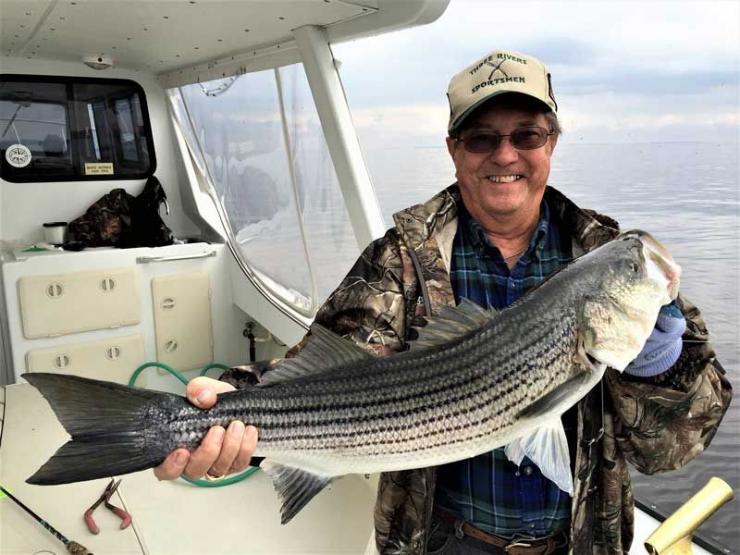 Whitman's tip for angers is to "keep their baits up closer to the surface at a trolling speed of two to two and a half knots. Fish east to west to cover different lanes, rather than north to south." The best part of his job? "Being out on the water and watching people get excited or experience it for the first time. It's wonderful."
Capt. George Bentz Drizzle Bar Charters (Pasadena, MD) does fishing charters for up to 20 passengers. "Last year's trophy season happened too fast, but this year will be different. If I was those fish I would be scared," he says. His go-to gear this spring? "My 'top secret' spread is probably tandem parachutes in three-, five-, or eight-ounce combinations, white and chartreuse, and everything dressed with nine-inch shads; we're looking for the big fish." Bentz enjoys the great fishing in the Upper Bay all year and likes to fish when the tide is running. "Early in the morning is also a happy time for me because there's less traffic." His favorite boat snack is a PB&J sandwich. "It's pretty much the only thing that gets past the fish smell. If I bring a meat and cheese sandwich, it just ends up tasting like fish." We asked him how he celebrates a really good day on the water. He says, "With an ice cold beer! But only after we get back to the dock."
Capt. Stan Gold of Blind Date Charters (Little Creek, Norfolk, VA) specializes on fishing the Lower Bay and ocean. "We won't be fishing (for stripers) Opening Day down in Virginia, but by the first of May we'll be targeting blueline and golden tilefish and seabass offshore when the season starts," he says. "My favorite species to catch is golden tilefish." What's the one boat snack he won't leave the dock without? "Pringles!"
Find more Chesapeake fishing charter boats at proptalk.com/charter-fishing and more details on striped bass regulations at eregulations.com/maryland/fishing/striped-bass.