This month's classic boat is a classic Rybovich, one of three famous open cockpit day boats. Built to order in 1964 as hull number 58, she is a 36-foot boat. Since July of 2000, Sam V has been owned and enjoyed by Bob and Betsy Melton of Edgewater, MD, and Palm Beach Gardens, FL.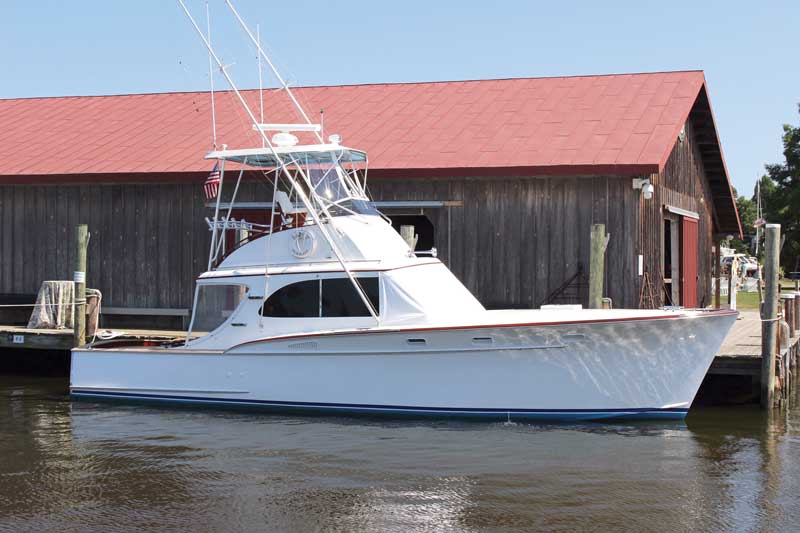 John Rybovich & Sons Boat Works of West Palm Beach, FL, built boat number one, Miss Chevy II, after World War II in 1947. A 34-foot sport fisherman, she since has been destroyed. The yard was sold 28 years later, after building hull number 77, a 58-foot yacht. That yacht is currently named Toy Won.
John Rybovich came to the U.S. from Yugoslavia via Ellis Island in 1900 at the age of 16. He was a carpenter and worked in New York at first. By 1911, he had moved to a rented house in West Palm Beach, FL, where he became a fisherman. Other fishermen asked him to work on their boats after seeing him working on his own. He eventually left commercial fishing to launch a full-time business repairing other people's boats. During the Depression, his staff grew to 10 despite the difficult economic conditions
In the meantime, John and his wife, Anna, raised a family of three sons and two daughters. They all worked at the yard, including the women at various times. After WWII, the three sons—Johnny, Tommy, and Emil—continued their work at the family business. Each of the sons had his specialty: Johnny managed the company; Tommy was the artist and boat builder who supervised the carpenters and painters; and Emil ran the mechanical and electrical work.
Since 1975, when John Rybovich & Sons Boat Works was sold, new ownership has carried on the Rybovich name, both in the original company and in spin-offs started by various family members. Hull numbers would be in the hundreds if the various spin-offs used a single numbering system. The Rybovich spin-offs also do repairs and re-builds, in addition to building new boats. One of these companies that stands out is Michael Rybovich and Sons, started by John's grandson, Michael. 
Working as the owner and caretaker of a stunning Rybovich such as Sam V is certainly a special joy. Work you do yourself sometimes means learning unique skills, such as installing a new headliner to factory standards. It also sometimes means learning the "tricks" that make for a successful job.
Vendors must be chosen so their work meets the highest of high standards. Over the 18 years that Bob and Betsy have owned her, they have had to do much more than painting and re-varnishing to present this highest-quality, custom boat at its showpiece concours level. It is a special responsibility.
An example was the re-powering process. After deciding that a more efficient solution was needed, twin Cummins 370 hp diesels were selected. And that triggered a new challenge: They had to fit height-size in the yacht. New props also had to be fitted. The result was a better cruising speed of 24 knots and a better top speed of 31 knots.
Over the years other mechanical specs have been replaced like the fuel tanks (340 gallons) and the fresh water tanks (48 gallons). The electronics have also been updated. Radar, electronic compass, GPS, fathometer, radios, TV, autopilot, speed log, antennas, two A/C units, genset, and more have all been replaced.
Let's take a look at the aesthetic qualities of this yacht. We begin with the mahogany covering boards and the recently installed teak side board areas. Plus, a new teak deck in the cockpit and in the upper cabin have been added. When seeing the boat, notice the quality of the flawless, highly varnished mahogany pieces that accent the teak. And don't miss the mahogany pod in the cockpit that houses the steering wheel, throttles/shifts, and engine gauges.
The boat has a dinette at cockpit level, galley, head and shower, and over and under berths as well as various lockers, lower. She's elegant and stunning!
Sam V has won the Triple Crown for classic boats at the annual Antique and Classic Boat Festival in St. Michaels, MD, and the Ocean Reef Best of Show awards.
By Chris "Seabuddy" Brown