The Maryland Department of Natural Resources is providing $12.5 million in Waterway Improvement Fund grants to enhance and improve public boating access, facilities, and navigation throughout the state.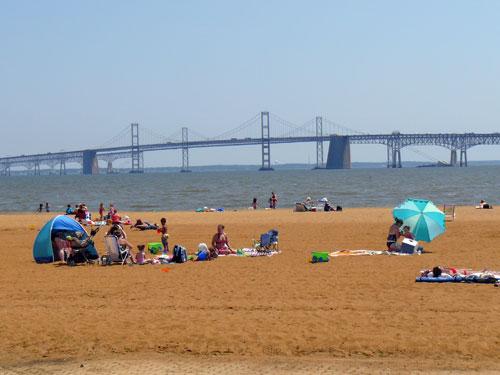 This critical Fiscal Year 2019 funding will go toward 57 projects in 18 counties, from Garrett to Wicomico counties as well as Baltimore City.
"Boating is a cherished way of life our state, both as an industry and for recreation," said Governor Larry Hogan. "We are committed to expanding opportunities for our citizens and visitors to appreciate all that our waterways, coastal bays, the Chesapeake Bay, and the Atlantic Ocean have to offer, and these grants will allow even more Marylanders to make memories out on the water."
Funded projects include the dredging of local and federal navigation channels, maintaining public boating access facilities, improving and upgrading existing infrastructure such as bulkheads, parking, piers and ramps, and purchase of rescue equipment for emergency and first responders.
"Boating is a way of life in the Old Line State, with the boating and maritime industries supporting thousands of jobs in Maryland and contributing billions of dollars to our economy and environment," Maryland Natural Resources Secretary Mark Belton said. "The Waterway Improvement Fund is a vital state resource that ensures that residents and visitors alike can access world-class recreational boating opportunities safely and enjoyably."
Waterway Improvement Fund Projects Include:
Anne Arundel County
Solley Cove Park, Curtis Bay
Bodkin Creek, Pasdadena
Cypress Creek, Severna Park
Eli, Sloop, and Long Cove, Pasadena
Lake Ogleton, Annapolis
Cornfield Creek, Lake Shore
Sandy Point State Park
Cox Creek, Curtis Bay
Snug Harbor, Shady Side
Cattail Creek, Severna Park
City Dock, Annapolis
Baltimore City
Middle Branch Park
Baltimore City Fire Department
Baltimore County
Merritt Point Park, Dundalk
Bowleys Quarters Volunteer Fire Department, Middle River
Calvert County
Calvert Marine Museum, Solomons
Hallowing Point State Park, Prince Frederick
Calvert County Department of Public Safety Fire-Rescue-EMS
Caroline County
Choptank Marina, Preston
Crouse Park, Denton
Cecil County
Charles County
Smallwood State Park, Sweden Point Marina
Dorchester County
Cambridge Marine Terminal, Cambridge
Elliott Island Marina
Town of Vienna Waterfront, Vienna
Taylors Island Road
Town of Secretary
Garrett County
Deep Creek Lake, Arrowhead Cove
Deep Creek Lake State Park, Swanton
Harford County
Otter Point Creek and Bush River, Abingdon
Otter Point Creek Boat Launch, Abingdon
West Taylors Creek, Joppa
Rumsey Island and Taylor Creek, Joppa
Havre de Grace City Yacht Basin
Kent County
Chestertown Marina
Quaker Neck Landing Road, Chestertown
Montgomery County
Seneca Landing Park, Poolesville
Prince George's County
National Park Service, Fort Washington Marina
Queen Anne's County
Princes Creek, Stevensville
Kent Narrows, U.S. Army Corps of Engineers Channel, Chester
Chesapeake Heritage and Visitor Center, Chester
Matapeake Marine Terminal, Stevensville
Centreville Wharf
Grasonville Volunteer Fire Department
Somerset County
Rumbley Harbor
Ewell County Dock, Smith Island
St. Mary's County
Leonardtown Wharf
Ridge Volunteer Fire Department
Talbot County
Tongers Basin, Knapps Narrows, Tilghman Island
Oxford Boating Facilities
Back Creek Park, St. Michaels
Washington County
National Park Service, Four Locks Boat Ramp, Clear Spring
Greenbrier State Park, Boonsboro
Wicomico County
Cedar Mill Marina, Bivalve
For specific project details and grant amounts, visit the Maryland DNR.