As summer ramps up for another pass closer to the sun, we all want to get it going, and a taste of the season starts it off with a sample of the fun to come. Once we can all get a little time on the water, we'll want to kick summer off with some sweet fun. The joy of an ice cream cone on a bench in the sun captures the season's delight and bliss. Visiting one of these shops and sitting on their benches with a cold goodie will help you find what you're looking for.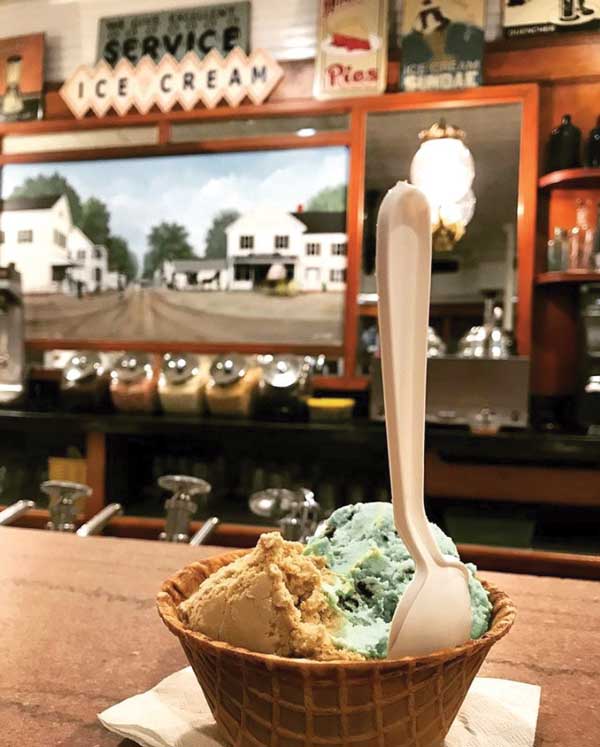 1. Beanie's Ice Cream-Candy Parlor, Dundalk, MD
This long-established neighborhood ice cream shop has plenty of yummy flavors and a variety of treats. Its storefront, conveniently enough, faces north, so there's always a shady spot to enjoy your treat on their red benches out front.
2. Bomboy's Homemade Ice Cream, Havre De Grace, MD
The ice cream is delightful and delectable. And a big porch and old-time soda-shop feel to the dining area are certainly part of the draw here.
3. Boxcar Avenue Ice Cream, Perryville, MD
Along a train line, a few blocks inland, you'll find this shop serving some of the best ice cream for miles around. It's well worth the journey, however you get there. This shop boasts a family tradition and a great location in historic downtown Perryville.
4. Brown Dog Ice Cream, Cape Charles, VA
They present handcrafted ice cream using locally sourced ingredients, and they do it all in this hidden gem of an Eastern Shore town. They have the perfect summer ice cream shop experience.
5. Get the Scoop, Rock Hall, MD
A little stroll up Main Street will bring you to a collection of brightly colored buildings. They have tons of flavors and a nice grassy lawn with a gazebo to enjoy it in. (Editor's Note: We also love Durding's Store on Main Street in Rock Hall, circa 1925! ~K.J.)
6. JohnnySweets, Crisfield, MD
They do lots of amazing sweets here, not the least of which is the great ice cream. You can stop in for ice cream and take home some baked goods, too. It's right along the main drag and an easy stroll from the marina. 
7. Justine's Ice Cream Parlour, St Micheals, MD
On a summer day, you'll find a line out the door and onto the historic street. The ice cream is well worth the wait. The experience is completed by the benches out front to sit on and eat your sweet treat.
8. Scoops Ice Cream Shop, Onancock, VA
The nice folks will get you a hand dipped or soft serve treat. And the patio is decked out in colorful flowers and tables with umbrellas.
9. Scoops Ice Cream & Café, Portsmouth, VA
If you are cruising south from the Bay, pull into the free docks in Portsmouth and take a little walk for some ice cream. Near the Children's Museum, you can cover all the bases for an amazing day out for the kids.
10. Scottish Highland Creamery, Oxford, MD
Their handcrafted ice cream wins a variety of awards and their location, right out on the end of the dock, provides a view across the harbor that can't be beat. If you dock up here, you won't have far to walk to get this great stuff.
11. Spanky's Place, Tangier Island, VA
Tangier Island is a not-to-be-missed destination for a wide variety of reasons, not the least of which is this yummy ice cream shop. They do ice cream sandwiches made with two homemade chocolate chip cookies.
Sitting on a porch bench and eating ice cream is a rite of summer. When my kids and I want to partake in this seasonal sacrament of ice cream on a hot day, we'll find one of these amazing places around the Bay, all just a short walk from a marina. These stores have the ice cream and the atmosphere to capture the summer feeling you're looking for.
*Due to the ongoing coronavirus pandemic, be sure to check business websites directly and/or call ahead to make sure they are open before visiting. Some ice cream shops might be temporarily closed or operating under new hours or guidelines.
By Elizabeth Kelch