First, realize it's not as easy as it looks.
You see photos in advertisements of muscled men running the rapids in kayaks, or lithe young women doing yoga poses on stand up paddleboards (SUPs) at sunrise. Reality is usually a bit different. Most new paddlers struggle with just launching without falling in. (Yours truly has fallen in.)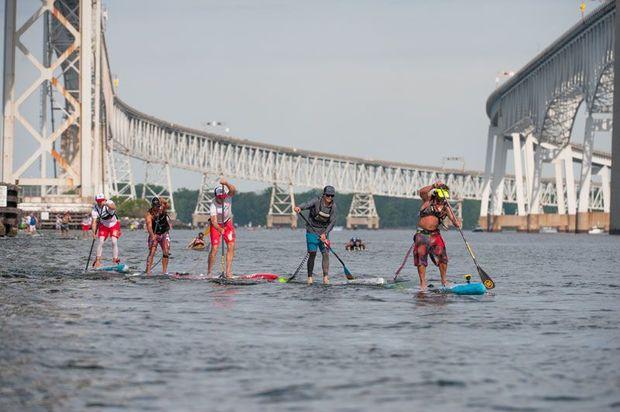 Get yourself trained up.
In the old days, people bought canoes and kayaks (there weren't any SUPs) from sporting goods stores. There were old timers around to offer advice on what else to buy, what to watch out for, and how to learn the ropes. Now, you can buy a kayak online and have it shipped to your house. I've even seen kayaks for sale in the garden department at Walmart. It's a great idea to take a class that includes on the water practice. Any reputable school with certified instructors is vastly preferable to learning on your own. At the very least, take the state safe boating class. Even though they are muscle powered, paddle craft are boats and share the water with other boats. A great resource for finding classes is ACA and their website americancanoe.org. Check out the Paddle Smart WebTV Series videos.
Don't be a speed bump.
Yes, that is the terminology some "go fast" boat skippers use to refer to kayaks and SUPs. Smart paddlers do whatever they can to make themselves more visible, and they know that standing on a SUP doesn't help much, if at all. A bright orange or yellow-green vessel is a great start. Brightly colored paddles help too. Wearing a high visibility color T-shirt and hat are also good ideas. Next, stay out of channels, shipping lanes, and marina fairways. If you must cross a channel, cut across at 90 degree angles to reduce your transit time.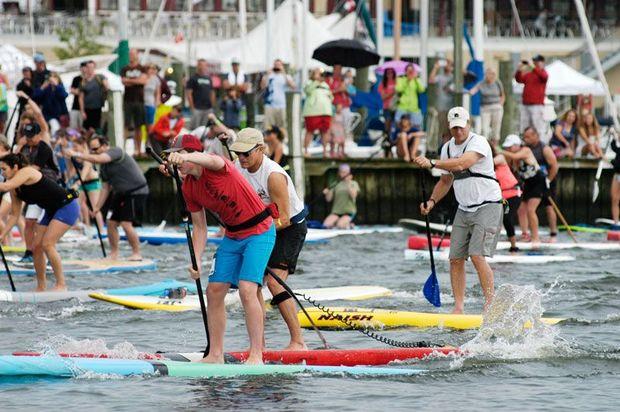 Get a vessel safety exam.
What? For a kayak? Yes! Both the Coast Guard Auxiliary and the US Power Squadrons will do vessel safety checks on paddle craft. And, they're free. You might learn a lot. It's really hard to beat free. No reporting or enforcement activity. You can view the exam form on the American Canoe website. Did I mention that they're free?
Use the required equipment.
To be legal, you must have a serviceable life jacket, a 360 white light, and a sound signal, such as a whistle or horn. It's a good idea to tether a whistle to your life jacket, so you know where it is and it won't go to the bottom if you fall in.
Always Wear It.
If you are under 14, you must wear a life jacket. If you are older, don't make the mistake of just keeping your life jacket handy. No one gets a warning before they fall in. Even if you are an Olympic swimmer, you may be up against multiple challenges that make it difficult to keep your head above water. When you shop for your life preserver, make sure you will wear it. If it's not comfortable or if it restricts your movement, you'll be too tempted to take it off. Once you have it, make sure you wear it correctly. Yeah, I know that sounds like tort lawyer talk, but people have worn them incorrectly, with bad results. An example is SUP paddlers who wear the "belly bag" self-inflating life preservers. When these deploy, a "horseshoe" inflates that the wearer can put his or her head through to float face up. Unfortunately, if you wear the belly bag on your back, well… it pushes your face down.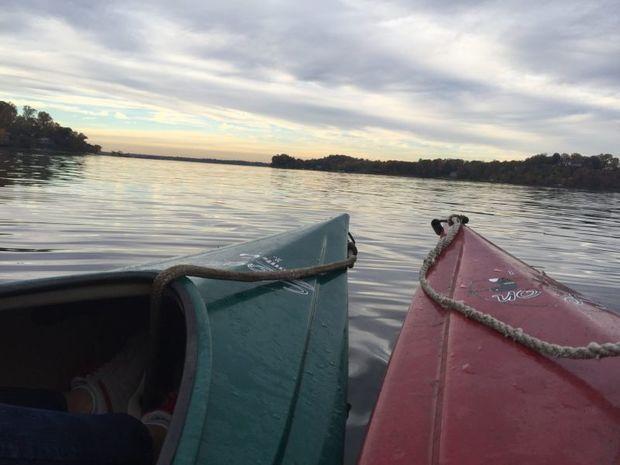 Think about what could go wrong.
It's not unusual for new paddlers to tell their friends "I'm only going up the creek," or "I'm just going out on the lake to fish." Ask what if questions, and if something negative has a reasonable chance of happening, plan a way to avoid it. An example would be thunderstorms and lightning. Check the weather forecasts and take a marine radio (see below).
Make sure your vessel is in shape.
The hull and deck should be sound, no cracks, dents, or leaks. If you have hatches, the covers should be secure and keep water out. Positive flotation in the form of bulkheads, airbags, or foam should be in working order. Your paddle or oars should be in good shape and effective. Use leashes to make sure they don't float away.
Get geared up.
Make sure you have what you might need along. A pump or bailer could be pretty handy if you take on water. If you take an anchor, make sure you have a track to move the anchor rode to your bow. An anchor over the side can turn your vessel sideways to the waves, swamping you. Flares, flashing LEDs, and orange flags can summon help. A marine VHF-FM radio, preferably waterproof and floating, could be your lifesaver. If your radio isn't waterproof, use a clear plastic dry bag designed for the purpose. A food storage bag is not enough! Marine radios can be purchased that have built in VSC – Variable Selective Calling. In an emergency, you lift a shield, press a button, and your identity and location are broadcast, before you speak a word. To be known, you must register the radio. Some radios also have built in GPS, allowing you to get and give an accurate position. All will have weather forecasts. Of course, the marine radio is another thing to learn about to make sure you use it correctly. It has major advantages over a cell phone, in that your distress calls could be heard by other boaters in the area who might be able to reach you before emergency responders.
Don't go out alone.
It's more fun to go out with other people, as long as they're sober and responsible enough to avoid trouble. If you really want to enjoy nature alone, leave a float plan with a reliable friend or family member.
About the Author: Beth Dumesco identifies herself as a "boat nut." She sold her house and moved aboard her 36-foot trawler, Compass Rose and has been hanging around the water since moving to the Chesapeake area back in the '80s. Beth belongs to several boating groups, including the USCG Auxiliary, Sail and Power Squadrons, and SOS. She likes living in the small towns in South Anne Arundel County, or SoCo.