Most of these apps are free and available for both iOS and Android devices. Make sure you have phone charging capabilities while using as many apps can drain phone batteries fairly quickly. Start the downloading.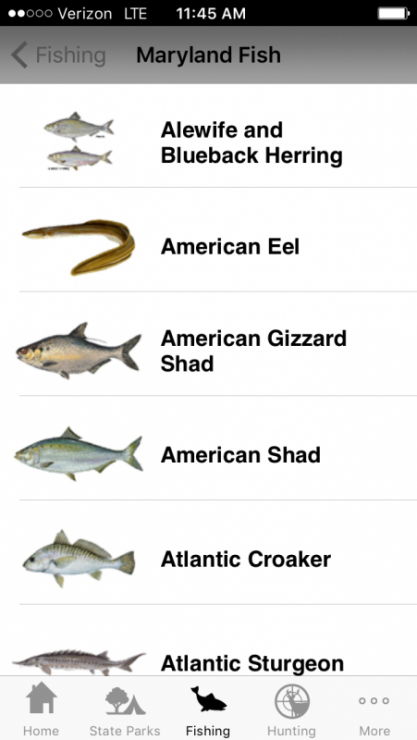 Access DNR: The official app from the Maryland Department of Natural Resources for the State's outdoor enthusiasts. Features include: maps/directions to state parks, hiking trails, boat launches, and water access sites; amenities by location; MD fish and shellfish identifier; tide time tables; state fish record information; hunting, fishing, and boating regulations; breaking DNR alerts, and more. Free. iOS and Android; certain features require data access.
BoatUS Towing App: One push of a button connects you to the nation's largest network of on-water towers with over 300 ports nationwide. Also view weather and tide conditions, search local services for member discounts, share your GPS coordinates with family/friends, and view your latitude and longitude coordinates even when out of cell phone range. Free; iOS and Android.
DragQueen Anchor Alarm: When anchoring, you set the anchor position in the app, which then uses your device's GPS to monitor the boat's position and sets off an alarm if the boat moves too far, indicating that the anchor may be dragging. Sleep with the confidence that you'll be awakened in time to reset your anchor or take action if a problem occurs. Free; iOS and Android.
A similar app solely for Android users is My Anchor Watch. FishHunter: This app boasts a military-grade smartphone fish finder system that will allow you to see exactly what the bottom looks like, where the structure is, and where the fish are (when paired with the portable fish finder sold separately). Identify hazards, find marinas, log every fish you catch, browse the Catches area to see what anglers around you are catching, and stay up-to-date on weather, water temperature, and depth. Free app; iOS and Android.
Float Plan EZ!: Filing a float plan is always a good idea; remember what happened to the 127 hours guy? This app makes it simple to input your route plan, crew, vessel info, and destination which you can then email to selected recipients before departing. Once you arrive in your destination, simply tap the mail button again and select the pre-composed 'safe landing' message. $0.99; iOS and Android.
GPS Phone Tracker-GPS Tracking: Need to track your kids or a family member/friend cruising on a solo voyage? With the basic version, track two other iPhones (only users who have activated the GPS Tracker) and display their whereabouts on your phone's map or Google Maps app. Upgrade to follow up to 10 people. Free; iOS and Android.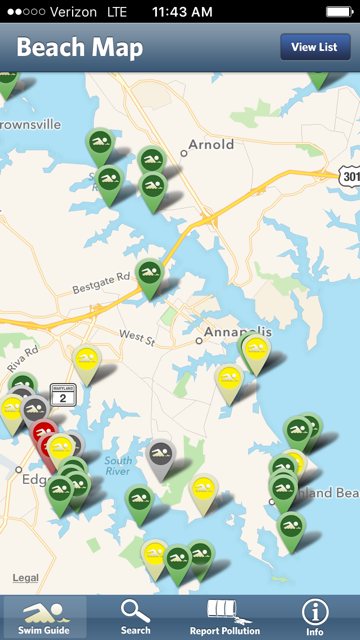 Smart Buoys: The NOAA Chesapeake Bay Interpretive Buoy System (CBIBS) "smart buoys" project collects and transmits real-time weather and water data. Created by the Chesapeake Conservancy, the app features 11 NOAA buoys spanning the Bay with data on water and air temperature, wind direction and speed, humidity, wind chill, water quality, currents, wave heights, and more at the buoy location. Free; iOS and Android.
Trimble GPS Fish Free: For your next angling adventure, track your entire trip with this virtual fishing diary. Keep a daily report of your catches, mark GPS waypoints (docks, fishing hotspots), track trolling routes, share fish photos with friends, view topographic and aerial maps, see basic weather reports, and more. This app uses the GPS built into your smartphone and works even in remote places without the need of data or cellular signals. Free; iOS and Android.
USCG Boating Safety App: Features of the app include: safety regulations, safety equipment checklist, requests for a vessel safety check, navigation rules, requests for emergency assistance, report pollution and/or suspicious activity, and the file a float plan option. This app is not designed to replace a boater's VHF radio. Free; iOS and Android.
Waterkeeper Swim Guide: The Swim Guide provides you with current recreational water quality information for your favorite beaches and swimming holes. Every beach is marked with a green (beach has met water quality criteria), yellow (beach passes water qaulity tests 60-90 percent of the time), or red (water has failed latest water quality test) icon so you know when the water at your favorite beach is clean for swimming. Date/time stamp tells you when a beach status was last updated. You can also use the app to report pollution. Free; iOS and Android.