This year, sadly, many fireworks shows around the Chesapeake Bay have been canceled due to the ongoing Covid-19 pandemic, making for a slightly different Fourth of July. We will list the cancellations that we have been made aware of, but as information continues to change, please be sure to check event websites directly for the most up-to-date details. We hope you and your family have a safe and fun Independence Day on the Chesapeake.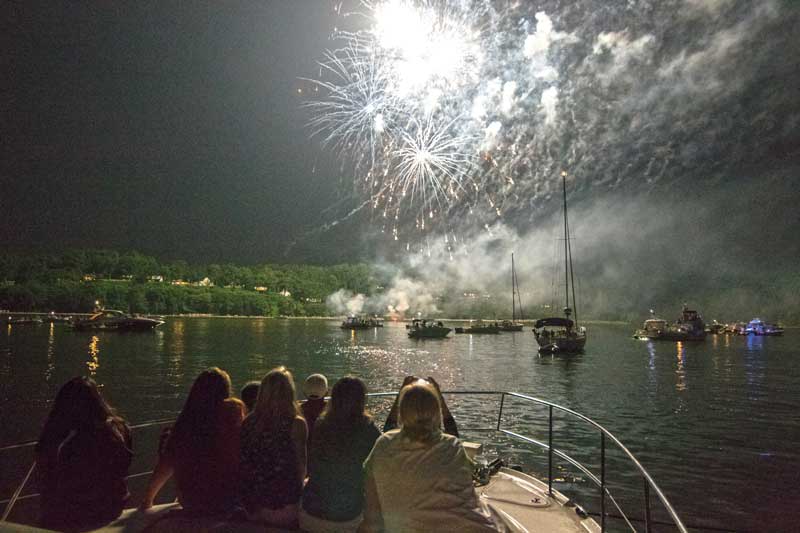 Fourth of July Fireworks, Still On:
Crisfield, MD: At print time, the annual Crisfield Freedom Fest was still undecided, but the fireworks show is set to continue on schedule, July 3 at 9 p.m. at Somers Cove Marina. Hosted by the American Legion. 
Middle River, MD: July 4 at dusk over Middle River in the Upper Chesapeake Bay. Presented by the Marine Trades Association of Baltimore County. To support this year's show, donations can be made at mtabc.org.
Miles River: July 4, with a rain date of July 5. The Coast Guard requests that all mariners maintain a 750 foot safety distance from the fireworks barge at all times.
Easton, MD: July 4 from 8:30 to 10:30 p.m. For the best viewing the public should plan to arrive at the field at the corner of Marlboro Road & St. Michaels Road no earlier than 8:30 p.m. to get settled. Fireworks will launch at approximately 9:30 p.m. and last for 23 minutes. Be prepared to follow safety instructions from event staff and officers of the Easton Police Department.
Canceled or Postponed:
Annapolis, MD: Canceled. The fireworks show and parade have been canceled. 
Baltimore's Fourth of July Celebration: Canceled. Returning July 4, 2021 over Baltimore's Inner Harbor. 
Big Band Night and Fireworks at the Chesapeake Bay Maritime Museum in St. Michaels, MD: Canceled. 
Chesapeake Beach, MD: Canceled. Residents are encouraged to show their patriotic spirit by decorating their homes with red, white, and blue and to display an American flag for all to see. 
Chesapeake City, MD: Rescheduled to September 5, 2020. Enjoy an evening of food, music, and fireworks. Festivities begin at 5 p.m. in the Pell Gardens with food and music. Fireworks display starts around 9 p.m. Best viewing is anywhere along the C&D Canal on either the north or south sides of town. 
Chestertown, MD: Canceled. While the fireworks might be canceled, the town of Chestertown is determined to show its patriotic spirit through the Safer at Home Fourth of July Decoration Contest. Any decorated door, house, or business in town is entered to win cash prizes, which will be granted based on "wow" factor, originality, and aesthetics. Judging takes place on July 4 and winners will be announced on July 6. 
Great American Picnic in Norfolk, VA: Canceled. Returning in 2021. Festevents is working closely with city staff to bring events back to Town Point Park and Ocean View Beach Park when it is safe to do so. 
Havre de Grace, MD: Canceled. 
Ocean City, MD: Postponed. A future date will be considered to celebrate our nation's independence at a later date. An update will be announced when a decision is made. 
National Independence Day Parade in Washington, DC: Canceled. The parade will return in 2021 to celebrate America's 245th birthday. 
Newport News, VA: Canceled. The City of Newport News invites residents to "celebrate together, at home," with festive at home celebrations, interactive activities, and special "Light up the City" illuminations for our Nation's birthday. On July 4 from 10 a.m. to 1 p.m., families can drive up to one of three sites and pick up American flags and LED wands (one each, per person in vehicle) and a Fourth of July yard sign (one per vehicle). Food trucks will be selling items at these community centers during the pick-up hours. In lieu of fireworks, residents are encouraged to decorate their homes and help to "Light up the City" at 9 p.m. There will also be daytime aerial flyovers with banner (times TBA).
Rock Hall, MD: Postponed. The Town of Rock Hall wishes to assure everyone that they will still have the fireworks event later this year, when restrictions are lifted, and the proper permits may be issued. The Fourth of July fish fry will continue as planned. 
Salute to Cecil County Veterans: Canceled. Returning July 3, 2021 in North East, MD. 
Solomons, MD: Canceled. The town hopes to celebrate with fireworks when complete restrictions are rolled back later this year. 
Virginia Beach, VA: Canceled. The Fourth of July fireworks at both the oceanfront and Mount Trashmore Park locations are canceled. 
Yorktown, VA: Canceled. 
---
Alternatives to Fireworks Shows:
Spend the night on the hook.
Decorate your boat with red, white, and blue streamers and American flags.
Enjoy docktails with family or friends at anchor or in your slip.
Have a backyard cookout.
Roast marshmallows over a campfire.
Enjoy sparklers on the beach (if you have little ones around, consider using safer alternatives such as glow sticks or colored streamers).