Winter has not yet completely loosened its grip on Chesapeake country, but there are encouraging signs. Longer days, warming water, the reappearance of do it yourselfers in marinas, along with piles of discarded shrink wrap are all reliable predictors of warmer days to come. Soon the ospreys will reappear almost like magic, and spring will indeed be here.
Area shops
have had a busy winter, and this month's reports reflect that activity.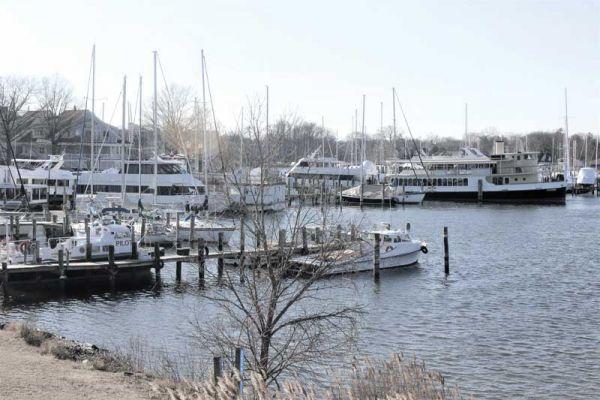 George Hazzard of Wooden Boat Restoration in Millington, MD,
checks in with the following update: "Things are busy at the shop this winter.
Trouper II
, a 1939 39-foot Consolidated, is back in the shop to get a fresh coat of paint and varnish as well as paint on the interior. We are building a Chesapeake Light Craft 15-foot Chester Yawl for a customer. We installed new sky light panels as well as replacing some. The shop lights have been upgraded to LED bulbs which have brightened up the shop considerably. We installed the "Whiskey" plank on Ralph Cattaneo's 25-foot 1948 Chris Craft Sportsman. (In traditional boat building the "Whiskey" plank is the last hull plank installed, completing the first major step in construction. The event is often celebrated with a toast of the builder's favorite whiskey.) Ralph brought a 1969 vintage bottle of whiskey to celebrate the occasion. Other projects include varnish and interior work on a 1991 26-foot Hacker Craft, and paint on a 1956 22-foot Chris Craft Sea Skiff. [gallery columns="2" link="file" ids="24532,24528"]
Craig Brittenham of Lowery Boat Shop in Tilghman, MD,
is just starting a big project. "Lowery Boat Shop on Tilghman Island is in the process of building a 41-foot by 13-foot beam pleasure/commercial wooden boat. She'll have a fir bottom and decks, sides of cedar over white oak framing, and a mahogany stern, all fastened with silicon bronze. She should be completed late summer 2018."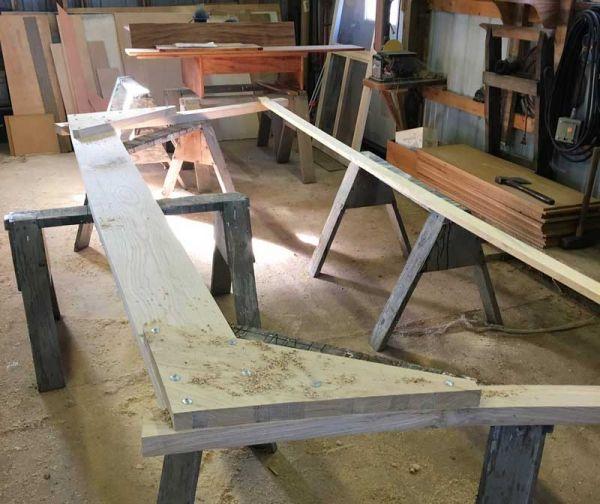 Dave Hannam with Classic Watercraft Restoration in Annapolis
recapped a few completed diverse projects for end of year including "a re-power of a 1961 Century with an AMC 327-cubic-inch fly-wheel forward; a mechanical upgrade to the fuel system and a major fix on an outdated electrical system on a really old Chris-Craft from Western Maryland; and a console on a new Garwood 16-foot build, out of Texas. Next up in the shop for 2018 includes the return of 
Gin Mill
, the 1990s Hackercraft, for additional coatings and repair from good ole wear and tear from having fun from the last few years out on the Chesapeake. A 17-foot Century Resorter is scheduled to get a new mahogany engine box and seat framing replacement and new upholstery in time for spring. We put a slick polish on the DV8 2XS Garwood. Additional upgrades to the shop this winter included an increased capacity and length of the gantry, a major dust collection system, and a crane in the engine shop."
Joe Connor, shipwright at the Chesapeake Bay Maritime Museum (CBMM) in St. Michaels, MD,
reports that the 1926 trunk cabin cruiser
Isabel
is undergoing an engine swap. The classic Mathews motor yacht's original horsepower was in the 60- to 70-horsepower range. Through advancements in marine engines,
Isabel
has been operating for more than a decade with a six-cylinder Cummins diesel registering a remarkable 215 hp. The purpose of this engine swap is to restore her to a more suitably sized power plant. The CBMM shipyard is still shopping for her replacement engine, but has removed the existing engine.
Isabel
 was built in 1926 by Mathews in Port Clinton, OH, but was brought to the Chesapeake as an exhibit boat for a boat show in Baltimore. Extensive work was done to the hull by the Cutts and Case Shipyard around 2000 to 2002."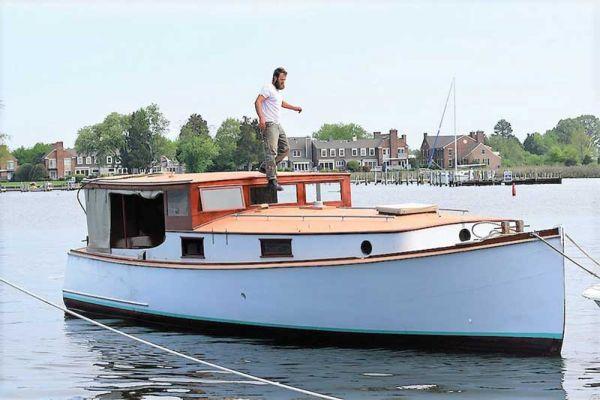 John Panovic brings us up to date on this winter's work on the salvaged Spencer 74,
A Fun Day
, in the shop at
Worton Creek Marina in Chestertown, MD.
"The major repair we made on the port side of the bottom. The inside skin has been laminated and post-cured. We have completed all of the major repairs to the bottom except for a section of the keel which we are working on currently. We will start the lamination of the outer skin in a few weeks. The brand new MTU96L, 2600 hp engines are scheduled for installation in mid- February." [gallery link="file" columns="2" ids="24536,24537"]
Rob Hardy of Composite Yacht in Trappe, MD,
is on schedule with the custom CY 55 he's developing. "We were at the Stevens Institute in New Jersey (recently) having a new model tank tested. Tank testing isn't typical, but the size, propulsion, and desired speeds demand it. As of now, we're waiting for the report from the institute to supply to the propeller manufacturers to ensure that this new model, a 55-footer, will in fact provide the performance the client seeks. In other news, the all new CY46 has been pulled from the mold and is in the shop for finishing. The new CY34 is also moving along, and we'll be finishing her as a Walk Around Express powered by Yamaha F300s. We have the usual projects that you've come to expect from a full-service yard: a complete refit of a Brewer 44 sailboat, repairs and all over paintjob on a 50 Viking, as well as the typical repowers and paint jobs. Another interesting project is that we're building a number of nine-foot-long, battery-powered pirate ships to replace an aging fleet of rental pedal boats. It's a busy time." [gallery link="file" columns="2" ids="24539,24538"]
Nancy Noyes of Chesapeake Light Craft in Annapolis
shares its spring plans with us: "CLC's shop has a half-dozen build-your-own-boat classes booked this spring. In these classes, students work with a skilled boat builder instructor to complete kayaks or rowing boats in just five and a half days. The students take home completed hulls at the end of the week, ready for final finish work. Students come from all backgrounds and from all over the world. Annapolis Mayor Michael Pantelides built a boat in a class in 2016, and film actress Kerry Bishé built her own boat in a CLC Annapolis class not long ago. The CLC calendar usually includes 30 or more of these build-your-own-boat classes."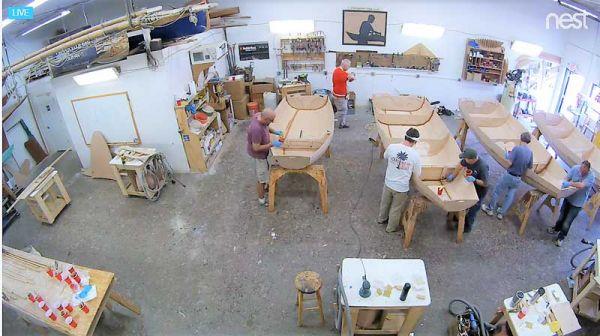 "The spring session in Annapolis gets under way March 12 with a two-week build-your-own Teardrop Camper class, followed by a series of kayak, dinghy, canoe, and rowing craft classes through mid-May. June brings the start of summer sessions at the Wooden Boat School in Brooklin, ME; the Great Lakes Boat Building School in Cedarville, MI; the Center for Wooden Boats in Seattle, WA; and other spots around the country before the start of fall boat building sessions from September through November back in Annapolis. If you're not participating, stop by! Classes in CLC's Annapolis workshop, along with other boatbuilding projects in between class sessions, can be watched live on the ShopCam."
Nancy Bray Booth of Hartge Yacht Harbor in Galesville, MD,
reports in, "Hartge Yacht Harbor has been busy, and on January 22, we were still hauling the last two boats squeezing them on what little land space was left. Winter projects continue with the on-site carpenter doing an outstanding job on the repair of a teak table that opens on hinges. The deck replacement job on the Viking 44 Sportfish is complete, and the Beneteau 47 has been Awlgripped and is looking beautiful. We have been painting boats nonstop in the building all winter. Weather challenges didn't stop us from staying on track and keeping up with all of the winter repair work.  Here's to spring arriving early!"
We couldn't agree more, Nancy!
by Captain Rick Franke