The Chesapeake Bay, with all of its quaint towns, is a great place to watch Fourth of July fireworks. Whether you are anchoring out or kicking back on the shore, we wish all of our readers a safe and happy holiday.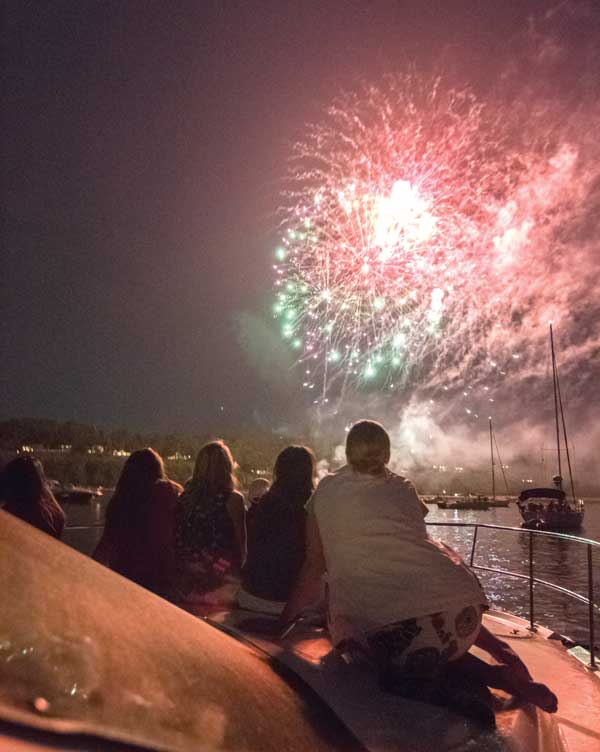 Tips for Anchoring Out:
Pay attention to off-limits areas, such as the restricted zone around the Naval Academy seawall. If no boats are anchored in a particular spot, there may be a reason for it.
Have a chart with you to monitor water depth.
Mooring and docking prices vary by town, so inquire before you go.
While your boat is at anchor, running lights should be off and a single white anchor light on. As soon as the anchor comes up, the running lights should be on.
Use a spotlight sparingly and keep it aimed low. Avoid shining it directly at other boat operators.
Try not to anchor too close to other boats, and make sure you've let out enough line to ensure your anchor will hold. Dragging anchor through the spectator fleet will definitely make you unpopular.
Kids and poor swimmers should wear a lifejacket at all times.
Give commercial vessels, such as water taxis and tour boats, room to maneuver.
Use common sense and courtesy. Avoid collisions, keep your speed down, and have a non-drinking designated operator at the helm.