It's rare we see a new boat that's truly unique, but right now we have two on the radar that are one of a kind. If you're looking for a boat like no other, check out the Veer and the Switch.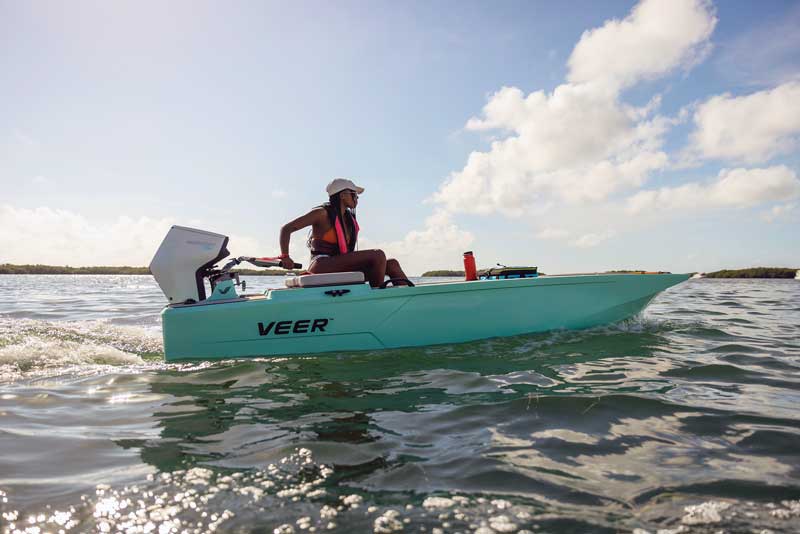 Veer
Veer is a new Brunswick brand being marketed by Lund Boats, and it's intended to be an eco-conscious fishing and exploration platform for one or two people. For now, there's just one model, a 13-footer with a foam-filled polyethylene hull. It comes standard with a trailer at an uber-attractive base price of around $12,000 with a 9.9-horsepower Mercury four stroke. With a $2100 upgrade, however, you can get the boat rigged with Mercury's new 7.5e Avator electric outboard. This new powerplant, the first electric offering from Mercury, gets its juice from a one-kWh battery that drops into the cowl (and creates thrust equivalent to around 3.5 horsepower), to reduce your carbon footprint to virtually nil when you hit the water. 
The boat comes covered in MarineMat foam decking, has a bench seat aft, and a casting deck on the bow. Options include a standing bar, shallow water pole anchor, Sporttrak accessories for mounting cup or tool holders, and mounting plates for items like rod holders and electronics. For a lone angler or a couple searching for a small rig that can be trailered behind a Prius, the Veer will be a winner.
Veer Specifications: 
LOA: 13'0"
Beam: 4'0" 
Draft (min.): 6.3"
Displacement (approx.): 382 lbs.
Fuel Capacity: 3 gal. w/gas or 0 with electric outboard
Max HP: 9.9
Learn more: veerboats.com
---
Sea-Doo Switch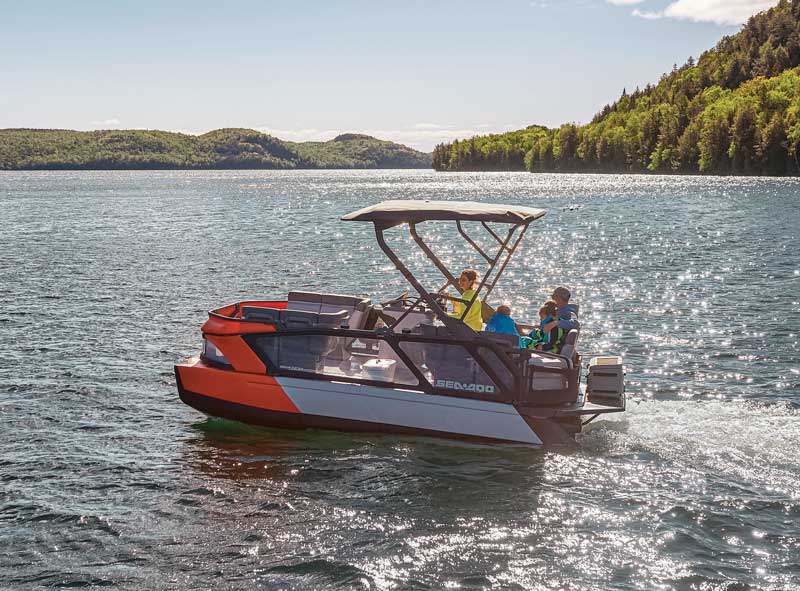 If you had spent your life searching high and low for a tri-toon pontoon boat made of PolyTec (a mix of polyproplyne and glass fibers), which is jet-powered and steered with PWC-like handlebars, you would have had zero luck—until Sea-Doo introduced the Switch. This ingenious little 'toon (13- to 21-foot models are available) is a cross between a pontoon boat and a PWC. That alone is enough to call it unique, but the surprises don't end there. The Switch has a modular deck with the company's LinQ quick-attachment mounts, which allows you to rearrange and secure everything on the deck from the furniture to coolers to cocktail tables. So, this boat is customizable not only out of the box, but for each and every voyage you take.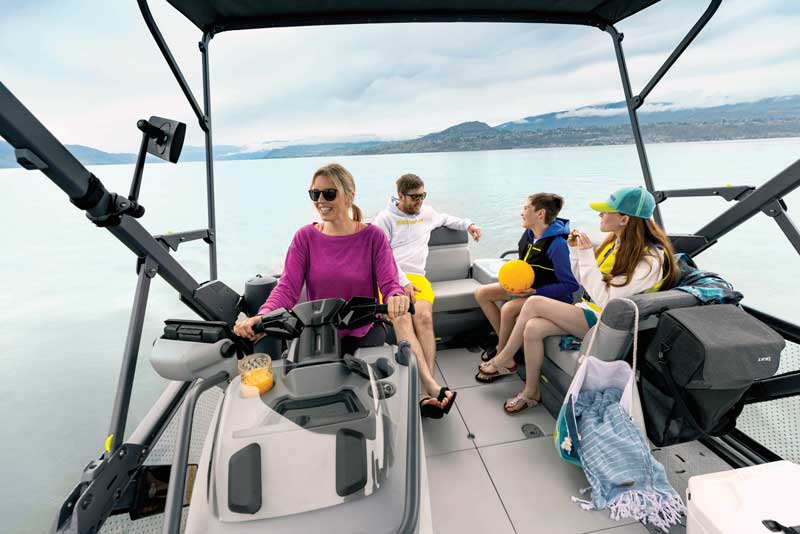 The Switch is sold with a trailer, has Rotax 1630 ACE jet-drive powerplant (with 130 to 230 horsepower), and includes Sea-Doo PWC perks like iBR brake and reverse and cruise control. Pricing ranges from around $22,000 to just over $41,000 depending on size and outfitting. Additional items optional on some models but standard on others include lounge areas with sunpads and backrests, Bimini tops, ski-tow pylons, touchscreen MFDs, and stereo systems. To say that this boat is "unique" may be the understatement of the century.
Sea-Doo Switch Specifications: 
LOA: 12'8" to 20'4"
Beam: 7'8"
Displacement (approx.): 1667 lbs. to 2548 lbs.
Fuel Capacity: 29 gal.
Max HP: 130 to 230 hp
Learn more: sea-doo.com
By Lenny Rudow
---