Late winter in Chesapeake country can be a weather roller coaster: 70 degrees one day and thirty degrees the next. This year is no exception, but through it all our boat shops continue to buzz with activity.
Rob Hardy of Composite Yacht in Trappe, MD,
sums it up well. "Things are humming along at Composite Yacht. Hull number one of the all-new CY46 is out of the mold and is in the shop getting her twin 500 hp Cummins C Series engines fitted, bulkheads in, etc. Also, we recently went to the Stevens Institute of Technology in Hoboken, NJ, to tank test our all new CY55, designed by renowned Marine Architect, Lou Codega. Of course the typical boat yard operations continue as always with an all-over paint job on a Viking 50 underway, which is also getting a cockpit mezzanine reconfiguration. Our new CY34 is still underway, and we have the usual refits and repowers that keep things hopping year round." [gallery link="file" columns="2" size="medium" ids="24884,24885"]
Buster and Robin Phipps at Phipps Boat Works in Deale, MD,
report, "The work just keeps pouring in, and you can't find workers to do the job:" An all too common observation among area boat shops. At the moment Buster has
Lil' Angel
, a 1940 Hacker Craft in the shop for new topsides varnish.
Patent Pending
, a 2010 Markley 46 is also in the shop having all her deck hardware re-bedded and getting a general spruce up before the charter fishing season starts. [gallery columns="2" link="file" size="medium" ids="24887,24888"]
David Low of Herrington Harbour North in Tracys landing, MD,
reports "… upgrading property with new bathrooms, customer lounge, R dock getting major face lift with new composite decking, and full length finger piers being added. Travelifts are getting serviced in advance of the launching of over 600 boats during the next 10 weeks."
Dave Hannam with Classic Watercraft Restoration in Annapolis
reports that his spring varnish season has just begun. "Right off the bat, CWR has started on a 22-foot gorgeous mahogany Hacker-Craft that has been cruising the Chesapeake and the Potomac for the last few years by the name of
Gin Mill
. She is in the shop for all new fresh coatings, topside and hull, and a change in the bottom color to a richer green. Next up is a 1964 classic Century Resorter 17-foot ski boat that will get new varnish all over and re-assembly for delivery in May. She's another old woody that will be back on the South River and spending some time on the road for some antique classic boat shows this summer. Also trying to sneak the Garwood Speedster in for a quick checkup when the weather breaks."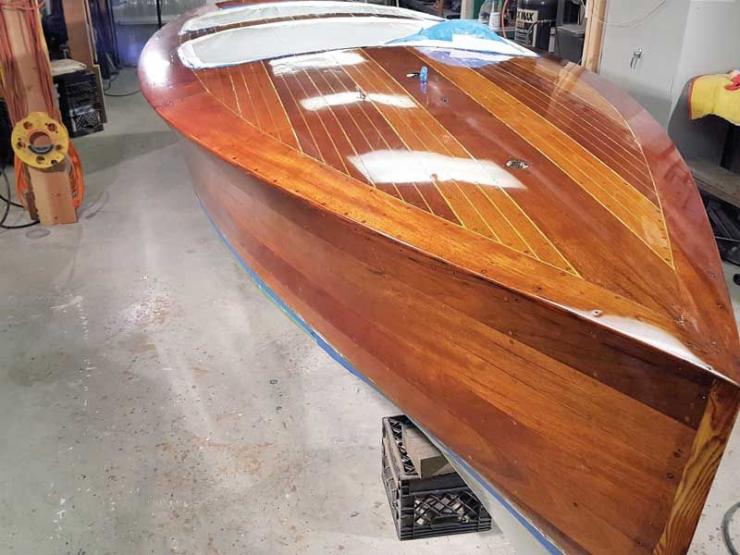 Chesapeake Bay Maritime Museum (CBMM) Shipyard Manager Michael Gorman
reports much work has been done on the historic restoration of 1889 Bugeye
Edna E. Lockwood
in St Michaels, MD. "
Edna's
new bottom has been permanently fastened to the original topsides with bronze bolts, each made from scratch out of half-inch bronze rod, with soldered nuts and washers forming the head. CBMM shipwrights and apprentices will fabricate more than 300 bolts when the restoration is complete later this year. Shipwright James DelAguila led new shipwright apprentice Zach Haroth in fabricating
Edna's
new centerboard case. The case's four-inch thick sides were pinned every 18 inches with bronze, in the same manner that her logs are held together. The inside of the centerboard case was also lined with more than 200 feet of 16-gauge copper for antifouling and preservation purposes. "Seip Family Foundation second-year apprentices Michael Allen and Spencer Sherwood have teamed up to install her new double-sawn frames and mast steps. Made of White Oak and bolted with custom bronze bolts, the frames and steps keep the masts in place and handle tremendous loads when underway. Planking
Edna
has begun in earnest—all rotten wood ends have been staggered back, and the inner stem and sternpost replaced—thus the gap between old and new will be closed. Shipwright Joe Connor will be handling the stern, while Gorman will plank the bow, with the work of the two meeting in the middle. All new planking will be sawn out of the leftover
Edna
logs.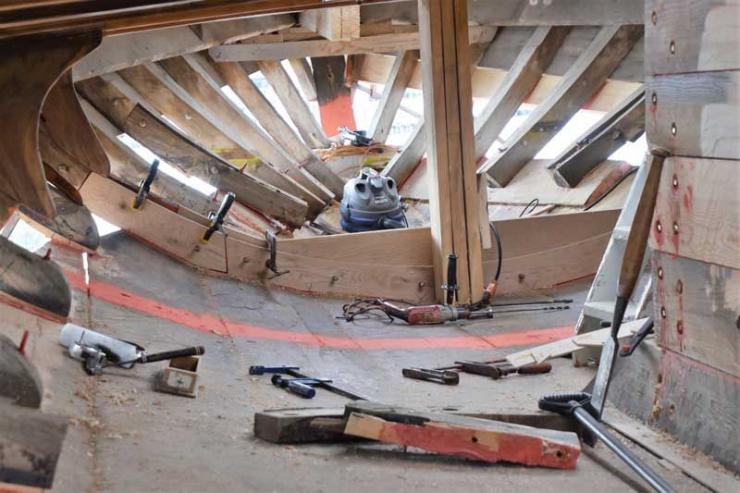 "With the end in sight,
Edna's
new sails have been ordered, with an arrival date of August 1. Traditional Rigging Co. of Appleton, ME, has been selected for its specialty in period sailmaking and handwork. Traditional Rigging Co. has also agreed to document the process of the sail making, so that the public can access pictures and progress on
ednalockwood.org
. Next up for the team is constructing new cabin houses and hold hatches. A new deck beam will need to be made and king plank reinstalled, now that the centerboard case is completed. Once the planking and final fairing are completed, sanding and painting will finish off the project.
Edna
will re-launch in St. Michaels at CBMM's OysterFest on Saturday, October 27. To learn more, visit
cbmm.org
."
Joe Reid in Edgewater, MD,
checks in with the following report. "The Mast and Mallet shop is housing two early Thomas Point boats this winter: One 34, built in 1997 and a 38 built in 1999. Both are receiving repairs, upgrades, and new coats of paint. The 34 was originally built for cruising and fishing. The 38 is an express cruiser. Both are cold-molded construction and have held up well through 20 some years. They are powered by their original Cummins diesels. We've also rebuilt two large original hatches for a Hinckley Bermuda 40." When
Weaver Boatworks expanded operations to Hidden Harbor Marina in Deale, MD,
they faced a problem. The fixed bridge over Rockhold Creek's 14-foot vertical clearance would not accommodate the large sportfishermen that Weaver builds. The solution was both obvious and ingenious. Weaver builds some hulls at their Deale location in Hidden Harbor Marina. The partially completed boats are then loaded on to a custom extra-large trailer and transported by road a little over a mile across bridges over Rockhold and Tracys creeks to Herrington Harbour North. The boats are off loaded at Weaver's facility there for completion, fitting out, and launching. On a recent otherwise quiet Thursday morning I (Rick Franke) watched the process as a Weaver 97 was transported, under police escort, along this route. It was an impressive display of planning and careful operation, with the 97-foot hull on the trailer and the deckhouse and flying bridge following on a second eighteen wheeler flatbed to avoid overhanging trees and powerlines. The move was accomplished smoothly with a minimum of drama. [gallery link="file" columns="2" size="medium" ids="24893,24894"]
Tricia Bittinger of Shady Oaks Marina in West River, MD,
also reports a busy winter. They are brokers for Sabre and Back Cove yachts as well as the Canadian built Coastal Craft all aluminum trawler yachts. Commissioning newly delivered boats as well as refurbishing trade-ins have kept both their covered railway and their heated wet shed full all winter and into the immediate future. Currently there is a Back Cove 37 on the covered railway having a hydraulic dinghy lift installed and a Sabre 42 in the wet shed for a varnish spruce up. [gallery link="file" columns="2" size="medium" ids="24895,24896"]
Alex Schlegel of Hartge Yacht Yard in Galesville, MD,
brings us up to date. "As usual in a boatyard, when spring is here, we are finished our winter work and the spring work is going full blast when the weather permits. In addition to the huge job on the Trumpy previously written about, we have stayed busy with lots of smaller jobs. Some of them that come to mind include installing an SE 80/185T 12-volt twin prop Side Power stern thruster on a 2004 American Tug 34 and replacing rotten wood hull stringers with Coosa Board Bluewater 20 panels fiberglassed in place in a 1979 Lippincott 32 bay built designed by Ernest Tucker. Unfortunately we have to cut up the fiberglass-covered plywood cockpit sole to gain access. We are also removing worn out teak decks from a 1991 Grand Banks 46, filling the screw holes, and finishing with Awlgrip nonskid. Fortunately water did not seep down the screw holes, and the core is dry. After painting a number of sailboats, we are starting on a 1984 Californian 43 Trawler that gets painted with Awlgrip 'from top to bottom' including the fly bridge, cabin, decks, hull, and engines." [gallery link="file" columns="2" ids="24897,24898"] By next month's reports the spring commissioning and spring boat show seasons will be in full swing, and there will be no doubt that winter is far behind us.