Nothing says summer quite like anchoring out to watch Fourth of July fireworks over the Chesapeake Bay. Currently, these are the events we have been made aware of. Be sure to check event websites directly for updates, and if any new events are added, we will post them here.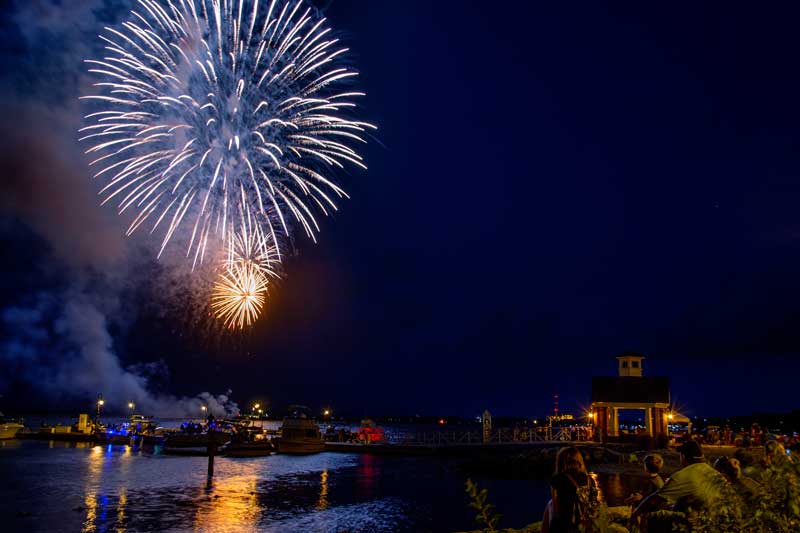 July 3:
Crisfield, MD
9 p.m. at Somers Cove Marina in Crisfield, MD. Hosted by the American Legion: (410) 968-2415. Please remain in your car or boat to practice safe social distancing. Details at crisfieldevents.com.
Middle River, MD
Presented by the Marine Trades Association of Baltimore County (MTABC). MTABC was able to reignite the fireworks over Middle River in 2019 and 2020 with the help of donations from the community and local businesses. The community's support will be needed again this year to make this a spectacular event. Visit mtabc.org to make a donation.
Rock Hall, MD
The Rock Hall Volunteer Fire Company will host the Rock Hall Fireworks Show on July 3 at 9:15 p.m. Please consider making a donation to keep this tradition alive by visiting rockhallvfc.org. This year's show will last a full 30 minutes. For updates, visit facebook.com/rockhallfireworks.
St. Michaels, MD
The Chesapeake Bay Maritime Museum (CBMM) welcomes the community to its waterfront campus to watch the annual St. Michaels fireworks display. Hosted this year by the St. Michaels Fire Department, the fireworks show will launch after dusk on July 3 from 5 to 10 p.m. CBMM's campus and facilities will be open to the public free of charge starting at 5 p.m., and guests are welcome to bring their own food or drink. There will be no food vendors or live music this year. A rain date has been set for July 4 at the same time. For safety reasons, non-service dogs should be kept home.
July 4:
Annapolis, MD
The celebration will span July 2-5 in Annapolis, MD, and include a parade down West and Main Streets July 3 at 10:30 a.m., music and concerts hosted by the Art in Public Places Commission, and fireworks on July 4 at 9:15 p.m. in Annapolis Harbor. The best viewing areas include public spaces northeast of the Severn River, City Dock, along the Naval Academy Bridge (limited parking area), any of the street-end parks facing Spa Creek, and aboard a boat in the Annapolis harbor. The Spa Creek Bridge will be closed to traffic from Eastport into Annapolis beginning at 6 p.m. The bridge will remain closed until the conclusion of the fireworks, at approximately 10 p.m. The city will provide shuttle service from the Navy-Marine Corps Memorial Stadium (Gate 5) to Lawyers Mall from 5 p.m. to midnight. The shuttle will charge $1 per ride for adults with children 12 and under riding free of charge. Find a full list of events at visitannapolis.org.
Havre de Grace, MD
Battle of the Decades 80s vs. 90s fireworks concert at Hutchins Park. Gates open at 5 p.m., concert starts at 7 p.m. $15 in advance, $20 at the gate; children under 10 free. There will be another concert at Concord Point Park with patriotic music performed by the Maryland Military Band. Free, no tickets required. Concert starts at 7:30 p.m. Food and drinks available for purchase. Fireworks shot from a barge directly in front of this location, starting at approximately 9:30 p.m. Learn more at explorehavredegrace.com.
Kent Narrows, MD
6 to 9:30 p.m. at the Chesapeake Heritage and Visitors Center in Kent Narrows, Queen Anne's County, MD. Free parking at the "old outlets" at 59 Piney Narrows Road in Chester beginning at 5:30 p.m. Shuttle also starts at 5:30 p.m. and family fun starts at 6 p.m. There will be face painting, balloon twist and bounce houses for the kids, free of charge. Food trucks will be available with food to purchase. You may also bring a cooler (alcohol is not permitted on county property). Rain date July 5. Visit QAC.org for more info.
Norfolk, VA
Bring your family and friends down to Town Point Park for the 38th annual Fourth of July Great American Picnic and fireworks. Guests can buy traditional all American fare, including hot dogs, hamburgers, barbecue, seafood, buttered corn on the cob, juicy watermelon, lemonade... with all the fixin's and much more available for purchase. Relax on the lawn and enjoy the live entertainment, then watch as the sky lights up with the fireworks display at 9:30 p.m.
Ocean City, MD
Celebrate at two locations in Ocean City, MD, with music and fireworks. 9:30 p.m. downtown on the beach at N. Division Street and 9:30 p.m. uptown at Northside Park. Visit ococean.com for updates.
Solomons, MD
The Solomons Business Association (SBA) is proud to continue this favorite tradition of celebrating Independence Day with a spectacular firework display in Solomons on Sunday, July 4. Find updates at solomonsmaryland.com.
Virginia Beach, VA
Multiple live performances on oceanfront stages attract tens of thousands of visitors and residents of Hampton Roads to a star-spangled salute to this great country of ours at Stars Stripes Explosion July 2-4. Live music locations: 17th Street Stage and 24th Street Park. Fireworks launched at 9:30 p.m. July 4 at 24th Street and the Boardwalk. All performances are free. Find a full schedule of musical performances at vabeach.com.
Washington, DC
The National Park Service will set off 17 minutes of fireworks by the Lincoln Memorial on Sunday, July 4, starting at 9:09 p.m. The annual parade will not take place this year, and the traditional Capitol Fourth concert will be pre-recorded and aired on television. Find more details here or visit nps.gov.
Yorktown, VA
This free family-friendly event has activities on Historic Main Street and also at the waterfront at Riverwalk Landing. Activities include an 8K run/walk (virtual and in-person) beginning at 8 a.m. at Surrender Field, a patriotic parade at 9 a.m. along Water and Main Streets, outdoor family games and activities beginning at 1 p.m. at Riverwalk Landing, a jazz band concert at 8 p.m., and fireworks at 9:15 p.m. over the York River. Fireworks will be visible from the Yorktown waterfront and Victory monument.
Beginning at 4 p.m., unless you are a Yorktown Village resident, Riverwalk Landing business owner, or have an official pass, you will not be able to enter Historic Yorktown. Visitors attending the evening activities must park on the Yorktown Battlefield at the corner of Cook Road and Ballard Street, which can be accessed by Cook Road on the Colonial Parkway. The Battlefield will remain open to the public until it reaches capacity. Check out Visit Yorktown for more details and updates.
Canceled: