If you're looking for a way to beat the winter cold and you love boat show deals, how-to seminars, oodles and oodles of gear vendors, or even just a cold beer and some oysters with fellow fishing fanatics, you'll want to put these winter boat shows on your calendar. Be sure to check event websites before venturing out as some shows could be affected by inclement weather.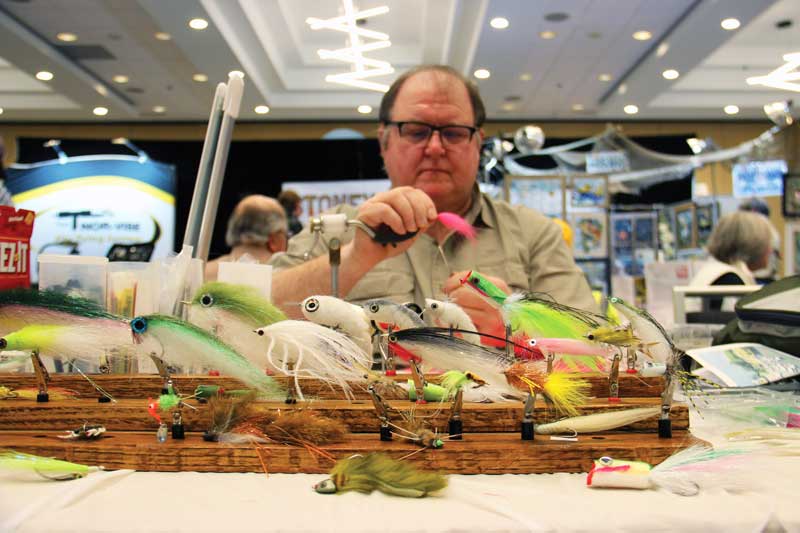 January 
8 a.m. to 4 p.m. at the Frederick County Fairgrounds in Frederick, MD, building #9. Tackle vendors; charter captains; boating, fishing, and crabbing supplies; rod and reel vendors/repairs; raw oysters and hot food; speakers; and more. Lenny Rudow, FishTalk Magazine will speak at 2 p.m. on cobia fishing.
At the Roland E. Powell Convention Center in Ocean City, MD. $15 per day. Pre-registration admission $25 for three days.
At Meadow Event Park at the State Fairgrounds of Virginia in Doswell, VA. Over 60 vendors, retail, specialty tackle shops, and fishing boat dealers in attendance, seminars, a trout pond simulator for the kids, and more.
At the Odenton Volunteer Fire Department in Odenton, MD. Freshwater, Chesapeake Bay, and offshore fishing equipment; new and used gear; guest speakers. Admission $4 donation at the door. Proceeds benefit and stay local with the Maryland chapter of Heroes on the Water.
At the Baltimore Convention Center in Baltimore, MD. More than 300 boats, virtual fishing contest, boating career days, a crab pickin' contest, a children's boatbuilding station, and more. Stay tuned for our full Baltimore Boat Show planner!
All new boat show at the Richmond Convention Center in Richmond, VA. Adult tickets $8, kids 12 and under free. First 100 kids each day receive free cane poles.
8 a.m. to 3 p.m. at the American Legion in Stevensville, MD. Everything from fishing rods to crabbing supplies will be up for sale and there will be food, drink, raffles, and free parking. $4 admission, 16 and under free.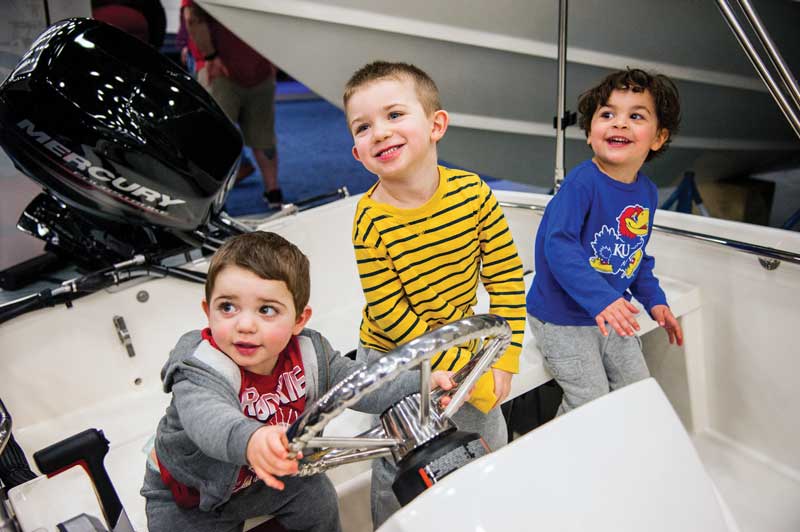 February
8 a.m. to 1 p.m. at the Hillendale Fire Department in Dale City, Virginia. The area's largest and oldest fishing flea market! See, buy, trade. Huge discounts. Presented by NHBA Youth Foundation.
The Great American Outdoor Show is a nine-day event in Harrisburg, Pennsylvania that celebrates hunting, fishing, and outdoor traditions treasured by millions of Americans and their families.
Several vendors unveil the latest and greatest gadgets, gizmos and gimmicks to catch you more fish! 7 a.m. to 2 p.m. Free admission. Tri-State Marine, Deale, MD
At the Virginia Beach Convention Center in Virginia Beach, VA. Adults $10, children 12 and under free.
At Miami Marine Stadium in Miami, FL.
At the Ocean City Convention Center in Ocean City, MD. Admission $10; weekend pass $15.
8 a.m. to 2 p.m. both days at the Earleigh Heights Fire Hall in Severna Park, MD. New and used fishing tackle and crabbing supplies, nautical arts and crafts, charter boat captains, over 190 tables full of discount items for sale, and food (pit beef and ham, oysters, cold beer). Admission $5 each day, kids 12 and under free.
At the Greater Philadelphia Expo Center in Oaks, PA. Fresh and saltwater fishing tackle, lodges, guides, apparel, travel destination, boats, kayaks, RVs, free seminars, fly casting pond, fighting chair challenge, and more! Admission $10 adults, kids 6-12 $5, kids 5 and under free.
10 a.m. to 4 30 p.m. Saturday and 10 a.m. to 2 30 p.m. Sunday at the BWI Marriott in Linthicum Heights, MD. Three seminar rooms, fly shops, industry pros, salt and freshwater guides.
At the Atlantic City Convention Center in Atlantic City, NJ.
At 3485 Golden Hill Road in Church Creek, MD. Friday evening show, Saturday matinee, and Saturday evening show (separate admission required for each show). Admission $8 adults, $4 children. Chainsaw carving, pageants, cooking demonstrations, police K-9 demo, duck and goose calling, muskrat skinning demos, and more.
At the Annapolis Elks Lodge #622 in Edgewater, MD. Presented by the Annapolis Anglers Club. Latest gear offered at show prices from local tackle dealers, seminars on fishing, food and beverages, raffles, and more.
Feb. 29: Fishing, Hunting, Boating Flea Market
8 a.m. to 12 p.m. at the Cambridge Elks Lodge on Elks Lodge Road in Cambridge, MD. $3 admission; children 12 and under free. Presented by the Mid-Shore Fishing Club. For more information, call (410) 404-3426.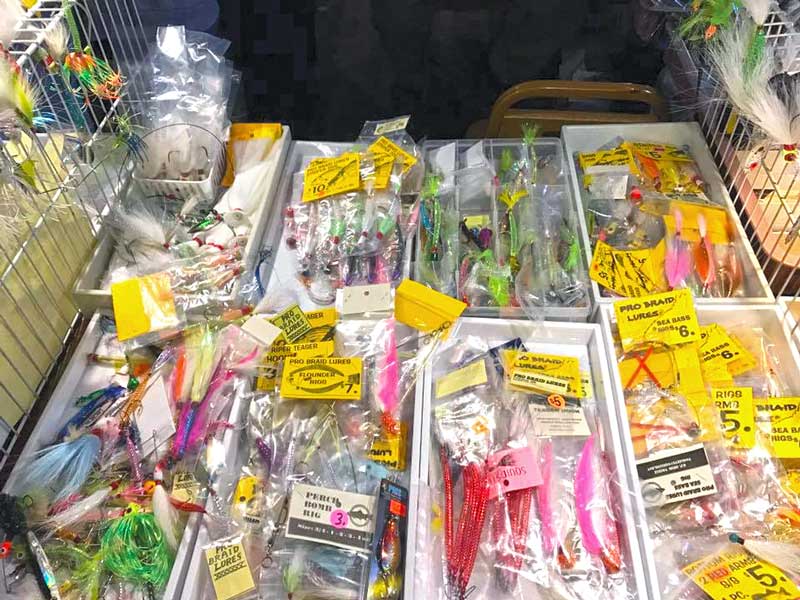 March
9 a.m. to 3 p.m. at the Cheswold Volunteer Fire Company in Cheswold, DE. Hunting, Fishing, Camping, and anything to do with the outdoors is featured at this event. $5 admission, kids 12 and under free.
March 7: Essex Fishing Flea Market
8 a.m. to 1 p.m. at the Back River United Methodist Church in Essex, MD. Sponsored by the Middle River Bass Club Anglers. Admission $3, under 12 free. 
At the Lancaster County Convention Center in Lancaster, PA. Free fly fishing instruction at the Learning Center, The International Fly Fishing Film Festival March 7 at 6 p.m., fly tyers, and more. Adult one-day pass $15, two-day pass $25, kids 6-12 $5, 5 and under free, discount for military, scouts.
At the Dulles Expo Center in Chantilly, VA. Adult tickets $10; multi-day pass $15; kids 12 and under free.
At the New Jersey Convention and Exposition Center in Edison, NJ. A NMMA Sportshow. Major and local tackle retailers in attendance, guides and charter captains, and more.
9 a.m. to 4 p.m. at West Village Commons, Towson University, in Towson, MD. Professional rod builders, tackle dealers, artists, authors, regional guides and local fly shops, speaker series, and more. Tickets $10, kids 12 and under free.
March 14-15: CANCELED - EMRFC Fishing Flea Market
Saturday 9 a.m. to 4 p.m. and Sunday 9 a.m. to 2 p.m. at the Rosedale Volunteer Fire Company in Rosedale, MD. New and used fishing tackle, boats and trailers, food and refreshments. Admission $4. Presented by the Essex Middle River Fishing Club.
8 a.m. to 3 p.m. at the St. Mary's County Fairgrounds in Leonardtown, MD. Vendors selling fishing rods and tackle, fishing trips, artwork, food, and more. Also boat safety prep, training, and demonstrations for boaters. Sponsored by the Southern Maryland Recreational Fishing Organization, Inc. Admission $4, kids 12 and under free.
At the Howard County Fairgrounds in West Friendship, MD. More than 100 vendors with great deals on hunting and fishing gear, clothing, ATVs, boats, RVs, and trucks.
April
At the state fairgrounds in Harrington, DE. Dock Dogs, Sportsman's auction, Salt Water Fly Anglers of Delaware, beer garden, firearms simulator, and more. Proudly supporting the DelMarVa way of life. Daily pass $5. Free parking.