What better way to get into the holiday spirit than decorating or watching lighted boat parades, with boats of all shapes and sizes, cruise along the waterfront on a cold winter's night? Some lighted boat parades around the Chesapeake Bay have yet to be finalized, while others have been canceled. Be sure to check event websites for updates before attending and stay tuned for more event additions on this page.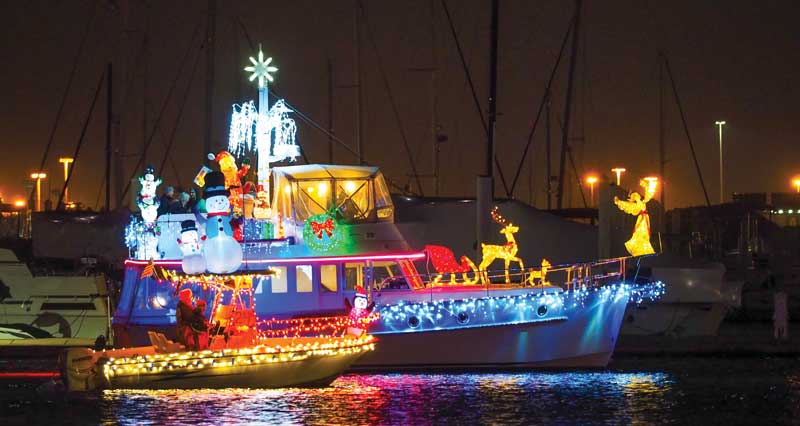 The Middle River Lighted Boat Parade: November 28
The Mid-Atlantic's largest boat parade (and possibly the largest in the USA this year) takes places  in Middle River, MD. To register, simply text your name, address, and boat size to (410) 463-2686.
PYY Marine Pasadena Lighted Boat Parade: November 28
In Pasadena, MD. Call the PYY Marina Office (410-255-1771) and ask for Amy or Tina to register your boat. First 20 boats to register, PYY will cover your registration fee! The registration fee is $25. First, second, and third place winners, along with an added "Best of Pasadena" prize this year. Winners will be announced Live on Facebook 30 minutes after the last boat passes PYY. Due to Covid there will not be an after party this year. Visit the Facebook event for more information.
Solomons Christmas Walk and Lighted Boat Parade: December 5
The Lighted Boat Parade, coordinated by Solomons Island Yacht Club, Patuxent River Sail and Power Squadron, Solomons Yachting Center, Sail Solomons, and Southern Maryland Sailing Association, will begin at dusk at the Solomons Yachting Center and end along the Riverwalk at approximately 7:15 p.m. Sail and powerboats are welcome, and a captain's meeting covering the route, safety issues, and rules for judging will begin at 5:15 p.m. at the Solomons Yachting Center. The parade can be easily viewed from many of the restaurants and establishments in Solomons or the Patuxent Riverwalk. For registration or information on the boat parade contact Anthony Baratta of SIYC at (814) 777-5654, [email protected]. Stay tuned for updates at solomonsmaryland.com.
First Annual Lighted Boat Parade Presented by Bear Creek Sailing Association: December 5
5:30 p.m., hosted by Hard Yacht Cafe in Dundalk, MD. Stay tuned to Bear Creek Sailing's Facebook page as the event gets closer for updates on the parade route and the best viewing locations.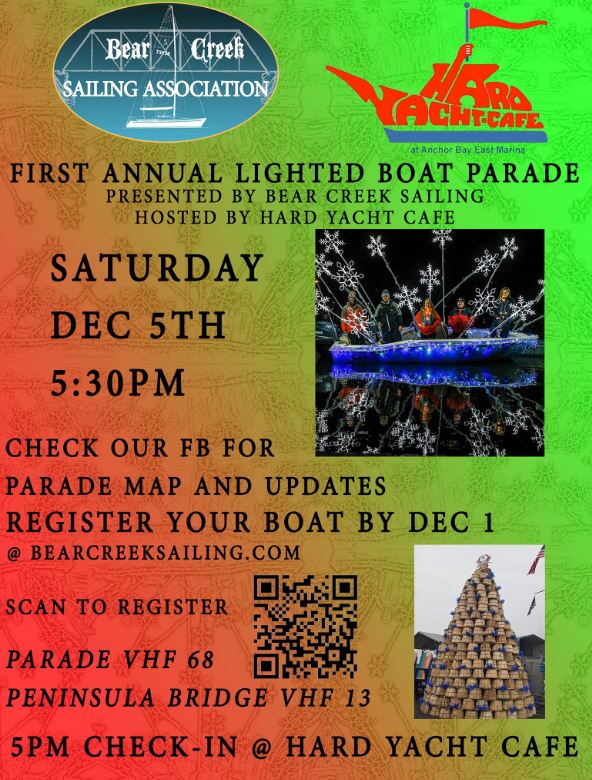 Christmas in St. Michaels Boat Parade: December 12
6 to 7 p.m. in St. Michaels Harbor, MD. Since many of the charitable events that Christmas in St. Michaels normally sponsors are not possible this season, they are presenting a boat parade to brighten the season and to raise money for local charities. If you can participate, contact Dennis Glackin at 610-608-1743 or [email protected] for more information.
---
Canceled
Alexandria, VA: Based on the public health environment with COVID-19 and nature of parades to attract large crowds, in order to prioritize the safety of spectators and participants, the City of Alexandria will not be hosting a boat parade on the Potomac River this year.
The 33rd Annual Baltimore Parade of Lighted Boats that was to be held on December 5 out of Anchorage Marina in Baltimore, MD, has been canceled.
The Deale Parade of Lights, tentatively scheduled for December 10, has been canceled.
The Eastport Yacht Club Lights Parade that was to be held December 12 in Annapolis, MD, has been canceled.